Succession's Brian Cox On The Future Of His Character And The Show - Exclusive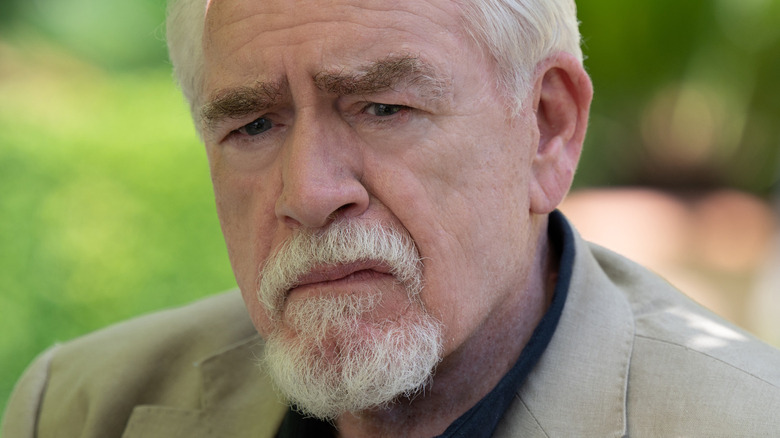 Graeme Hunter/HBO
Acclaimed Scottish actor Brian Cox has a career that stretches back to the 1960s, when he began working on the stage while still a teenager. His film and TV career goes back decades as well, and among his most famous roles are the first version of Hannibal Lecter in "Manhunter," Argyle Wallace in "Braveheart," Dr. Guggenheim in "Rushmore," Colonel William Stryker in "X2," famed attorney Melvin Belli in "Zodiac," and Winston Churchill in "Churchill."
But even with a long, esteemed, and award-winning career already behind him, Cox has shot to even greater heights of stardom as Logan Roy, the vindictive and ruthless yet aging head of a media empire on the hit HBO series "Succession." The narrative spine of the series centers on Roy's four adult children and their machinations to succeed him as head of the company, even as Roy himself refuses to let go of the reins of power.
With three award-winning seasons (13 Primetime Emmys and counting) already completed and the 4th season of "Succession" underway, Cox has become closely identified with "Succession" and Logan Roy to a whole new audience. So it wouldn't be that remarkable to learn that he probably has thoughts of his own about where he would like the character to go as the show heads into its fourth year.
Surprisingly, however, Cox doesn't necessarily need to see his ideas incorporated into the show. "My feelings about Logan Roy don't come into the picture," Brian Cox tells Looper in an exclusive interview. "It's about what the writers want, and you have to go down that road."
What lies ahead for Logan Roy and Succession?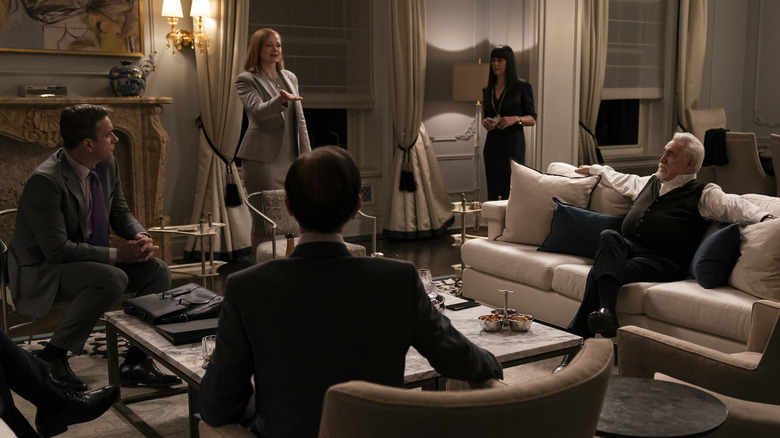 Macall B. Poley/HBO
Brian Cox says that while he thinks a lot about the future of Logan Roy on "Succession," the ultimate decisions about the character come from series creator and showrunner Jesse Armstrong, as well as the writing staff.
"Where I want Logan to go and where the writers want Logan to go are two entirely different things," Cox tells us. "I'm a bit possessive about Logan, so I have to constantly bow to the deference of the writers: 'Oh, you want to take him there, do you? Okay, we'll go there.' I don't always agree with it, but it's not my job. My job is to do what they've written, and my job is to realize what they've written."
Fortunately, the fact that he holds these writers in high regard makes it easier for him to perform the material they give him. "Quite a lot of the time when you work with bad writers, you're dotting the I's and crossing the T's. You're doing all that yourself," he continues. "In this case, there is absolutely not any point to that, because these writers are formidable."
As for the future of "Succession" itself, Cox recently suggested he did not want to see the series extend its run at the expense of its quality, controversially hinting that rival financial drama "Billions" had suffered that fate. "I think anything that's good has its sense of completion [and] sense of totality," he says. "I've been accused of attacking 'Billions,' but I didn't attack 'Billions.' I just said there are shows which have gone on for other seasons. ... Each show has its own lifeline, but it's also up to the writers."
Season 4 of "Succession" is filming now and will tentatively premiere in 2023.