Mayim Bialik's Favorite Amy And Sheldon Moment On The Big Bang Theory Is Quite Heartwarming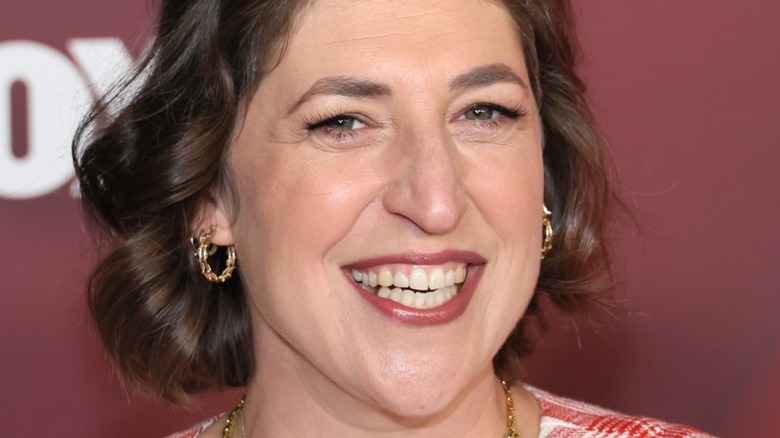 Dia Dipasupil/Getty Images
Amy Farrah Fowler (Mayim Bialik) and Sheldon Cooper (Jim Parsons) made for one of the most unique couples on television. After 10 years together on "The Big Bang Theory," the two characters jointly win the Nobel Prize in Physics in the show's series finale, "The Stockholm Syndrome." Bialik shared the secret to her great acting relationship with Parsons in a 2021 interview with Us Weekly: "Jim and I had a lot of nice moments together on set and I think one of the things that worked so well for us as actor partners, and maybe as producing partners too, is that we're not overly sentimental as humans, which I think is helpful."
Bialik and Parsons' working relationship didn't end with "The Big Bang Theory," though. After "Big Bang" ended, the two began working together as co-executive producers of the series "Call Me Kat." According to a 2020 interview with ET Canada, when Parsons first approached Bialik with the idea for "Call Me Kat," she didn't understand that he wanted her to star in it. "Jim approached me, and he said, 'Have you heard of this BBC show called "Miranda"?'" Bialik recalled. "And I literally thought he was just asking me for my opinion, as a friend. He said, 'No, I'm asking you because I would like you to bring this quirky, quirky, unusual woman to [American] television." And thus, "Call Me Kat" was born.
So what were Bialik's favorite scenes to shoot with her acting partner, Parsons? The answer is perfectly appropriate.
She loves their romantic moments together
In a 2015 interview with Variety, Bialik talked about her favorite scenes with Jim Parsons. "[Sheldon and Amy's] first cuddle was special," Bialik said. "When he said 'I love you' was special. Jim and I get to find a lot of those moments together, even if they're not scripted. That's the neat thing about working with someone like him."
The cuddling session she's referring to is the Season 5 episode "The Isolation Permutation," in which Amy is upset because Penny (Kaley Cuoco) and Bernadette (Melissa Rauch) go bridal shopping without her, sending her spiraling into a deep depression that can only be made better by Sheldon. The "I love you" moment she's referring to is the Season 8 episode "The Prom Equivalency," in which the gang decides to hold their own adult prom on the roof and before going up, Amy hints she's about to tell Sheldon she loves him, only for Sheldon to blurt out, "I love you too."
For the time being anyway, Bialik and Parsons will continue to work together since, according to Deadline, "Call Me Kat" was renewed for a third season in 2022. While it's unlikely that the show will go on to 12 seasons like "The Big Bang Theory," fans will get to see the latest collaboration between these two stars for at least a little while longer.