Abbott Elementary Works Thanks To Some Heartfelt Inspiration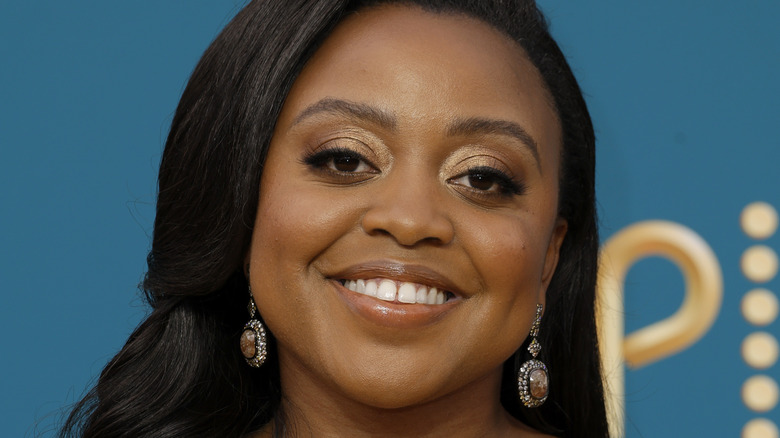 Frazer Harrison/Getty Images
Though it's only aired for one season, the ABC sitcom "Abbott Elementary," has already worked its way into the hearts of many. In the manner of other mockumentary sitcoms, like "The Office" and "Parks and Recreation," "Abbott Elementary" creates its humorous environment by allowing a diverse and eclectic cast of characters to share their own asides and sideways glances with the documentary film crew that follows them around.
"Abbott Elementary" is also a uniquely heart-tugging story. Series creator Quinta Brunson stars as protagonist Janine Teagues, a second grade teacher at an underfunded and predominantly Black elementary school in Philadelphia. Across each episode, struggles revolve around how to get the students the supplies they need, poor school infrastructure, and how underpaid and stressed teachers often have to wear other multiple hats, including parent and counselor. The series made such a strong impression in its first season, it got a full season order at ABC for its second season (via Deadline), and won three Emmys in 2022 (via IMDb).
As it turns out, Brunson's inspiration for the series has its own heartfelt story, one involving her family and own upbringing.
Abbott Elementary was inspired by Quinta Brunson's mom
In an interview with Deadline, Brunson shared the personal story at the heart of "Abbott Elementary." As it turns out, her mom was a teacher at a school similar to Abbott, and as one of her mother's pupils, she witnessed teachers' struggles firsthand. "I was in her kindergarten class and I went to the school where she taught from first to fifth grade, and so I would ride with her to school in the mornings and go be with her after school and just view a lot of her experience," Brunson said. She elaborated, "My mom is even surprised about how much I had taken in because when she sees the shows ... she hadn't realized I was paying that much attention."
Brunson was also very intentional about making sure "Abbott Elementary" was seen as a family show. She told Deadline, "I was very interested in it being on network TV, specifically ABC because I just think that ABC represents family viewing. I think that streaming and everything is fine, but I do think streaming Netflix or Hulu, or even HBO Max is not necessarily geared toward the family viewer."
As it turns out though, there was also another inspiration for the show, particularly its name: Brunson's middle school teacher named Ms. Abbott. She told The Los Angeles Times, "Ms. Abbott has always stuck with me throughout my life ... In a way, I didn't know why she was my favorite."