New Look At Young Dumbledore In Fantastic Beasts 2 Unveiled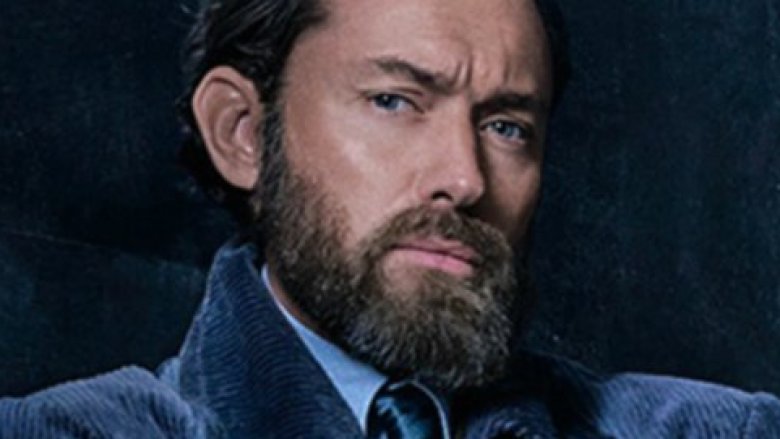 Jude Law looks pretty darn dashing as one of the wizarding world's most powerful spell-casters. 
Just a few weeks after we got our first look at the Fantastic Beasts and Where to Find Them sequel, Fantastic Beasts: The Crimes of Grindelwald, USA Today rolled out a set of pics teasing the upcoming film. 
The first photograph shows off Law as a young Albus Dumbledore, his hands in his pockets, leaning cooly against a wooden desk. Law takes over the iconic Harry Potter role from both Richard Harris, who played Dumbledore in Harry Potter and the Sorcerer's Stone and Harry Potter and the Chamber of Secrets, and Michael Gambon, who stepped into the part after Harris passed away in 2002. 
Fantastic Beasts: The Crimes of Grindelwald executive producer David Heyman previously explained why Law is the perfect fit for Dumbledore. "One of the reasons we chose Jude is he has many of the qualities we find in Dumbeldore in the Potter films," Heyman stated. "He's got authority, he's got a twinkle in his eye, he's sometimes a bit elliptical. So you have that but also have this youthful energy and jubilance. So he brings that twinkle, mischief, authority, and power, but at the same time brings far more youthful energy to the film. You understand why he would be your favorite teacher and be someone you believe is an extraordinary wizard."
Alongside the fresh peek at the short-bearded, dapper Dumbledore is another shot of Johnny Depp as the sequel's central villain, the dark wizard Gellert Grindelwald. While everyone seems to think that Law will do a bang-up job as Dumbledore, a great deal of fans are unhappy with Depp's casting and have begun to petition for him to be replaced. Both Fantastic Beasts: The Crimes of Grindelwald director David Yates and Harry Potter book series author J.K. Rowling, who also wrote the screenplay for the sequel pic, recently defended Depp's involvement and seemed to denounce allegations that Depp assaulted his ex-wife Amber Heard.
"Honestly, there's an issue at the moment where there's a lot of people being accused of things, they're being accused by multiple victims, and it's compelling and frightening," said Yates. "With Johnny, it seems to me there was one person who took a pop at him and claimed something. I can only tell you about the man I see every day: He's full of decency and kindness, and that's all I see. Whatever accusation was out there doesn't tally with the kind of human being I've been working with."
Rowling said in part in her own statement, "When Johnny Depp was cast as Grindelwald, I thought he'd be wonderful in the role. However, around the time of filming his cameo in the first movie, stories had appeared in the press that deeply concerned me and everyone most closely involved in the franchise. Harry Potter fans had legitimate questions and concerns about our choice to continue with Johnny Depp in the role. As David Yates, long-time Potter director, has already said, we naturally considered the possibility of recasting. I understand why some have been confused and angry about why that didn't happen... Based on our understanding of the circumstances, the filmmakers and I are not only comfortable sticking with our original casting, but genuinely happy to have Johnny playing a major character in the movies... I accept that there will be those who are not satisfied with our choice of actor in the title role. However, conscience isn't governable by committee. Within the fictional world and outside it, we all have to do what we believe to be the right thing."
Joining Law and Depp for the upcoming sequel are Eddie Redmayne as Newt Scamander, Callum Turner as Newt's brother Theseus Scamander, Dan Fogler as Jacob Kowalski, Katherine Waterston as Tina Goldstein, Alison Sudol as Queenie Goldstein, Ezra Miller as Credence Barebone, Zoe Kravitz as Leta Lestrange, and Claudia Kim as Maledictus.
Here's the movie's plot synopsis: "At the end of the first film, the powerful Dark wizard Gellert Grindelwald (Depp) was captured by MACUSA (Magical Congress of the United States of America), with the help of Newt Scamander (Redmayne). But, making good on his threat, Grindelwald escaped custody and has set about gathering followers, most unsuspecting of his true agenda: to raise pure-blood wizards up to rule over all non-magical beings. In an effort to thwart Grindelwald's plans, Albus Dumbledore (Law) enlists his former student Newt Scamander, who agrees to help, unaware of the dangers that lie ahead. Lines are drawn as love and loyalty are tested, even among the truest friends and family, in an increasingly divided wizarding world."
Fantastic Beasts: The Crimes of Grindelwald is set for a November 16, 2018 release.