House Of The Dragon's Emma D'Arcy Finally Opens Up About Taking Over From Milly Alcock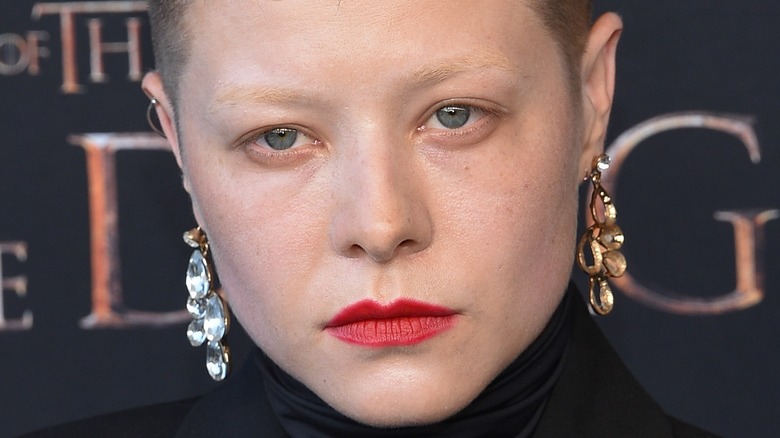 DFree/Shutterstock
The world of Westeros has a long history with complicated lineages that spread for centuries. Each family has their own unique story as depicted in the timeline of "Game of Thrones," but "House of the Dragon" takes it to an entirely new level. The series that revolves around the dragon-riding Targaryens weaves a complicated tale with broken loyalties and grievances that spans decades. These nuanced fractures between characters take so long to progress that a time jump was required halfway through Season 1. For the first five episodes, the Realm's Delight Rhaenyra Targaryen went through adolescence and was played in spectacular fashion by Milly Alcock.
But for fans of the actor, all good things do come to an end. In Episode 6 there is a 10-year time jump where viewers are introduced to new versions of many of the characters we got to know, as well as several of their children. Alcock handed off her role to Emma D'Arcy, who made their debut in Episode 6. Now that the new line-up is official, D'Arcy has remarked candidly about their ownership of Rhaenyra Targaryen.
D'Arcy acknowledges the significance of Alcock's tenure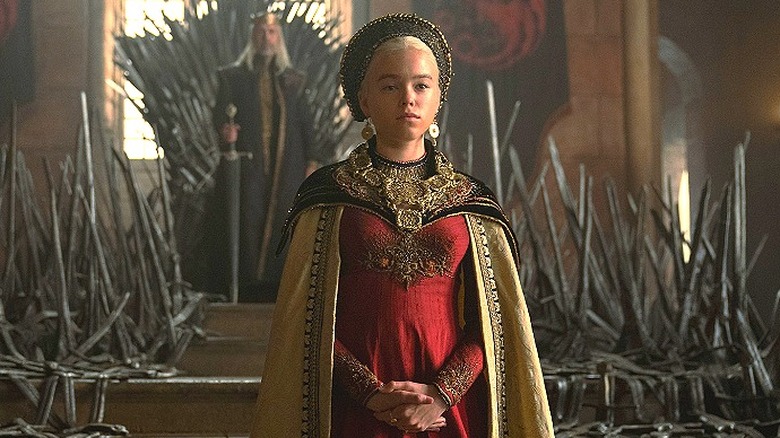 Ollie Upton / HBO
Warning: Spoilers for "House of the Dragon" Season 1, Episode 6
The last we saw Milly Alcock in "House of the Dragon," she was being married off to Laenor (Theo Nate) who was in the throes of grief over the murder of his lover Joffrey (Solly McLeod). It's not a "Game of Thrones" wedding if there isn't at least one death, and Rhaenyra's kept with tradition. Alcock's last scene is as memorable as Emma D'Arcy's first. Things aren't much better when Episode 6 picks up a decade later. Mere moments after giving birth to her third son, Rhaenyra is compelled to march her child all the way to Alicent (Olivia Cooke) at the queen's behest. And while the sequence is an impressive depiction of the difficulties of womanhood, D'Arcy acknowledges that many viewers are still in shock at losing Alcock.
"It's complicated, isn't it?" D'Arcy noted to the Independent. "It's a difficult point at which to meet an audience. They only get me when they lose Milly, so they meet me in a place of grief, of losing someone they just spent five hours with. I'm... I'm well aware of that." D'Arcy's replacement of Alcock is in a sense an entirely new series. In Episode 6 alone, many roles have also been recast, there's a whole new brood of children to meet, and even a few characters meet their untimely death. It is a lot to undergo, even when not saying goodbye to a beloved actor. Luckily for D'Arcy, there appear to be many shocking scenes in an explosive Episode 7 to pull the audience back in.