House Of The Dragon Episode 5 Keeps This Unfortunate Game Of Thrones Tradition Alive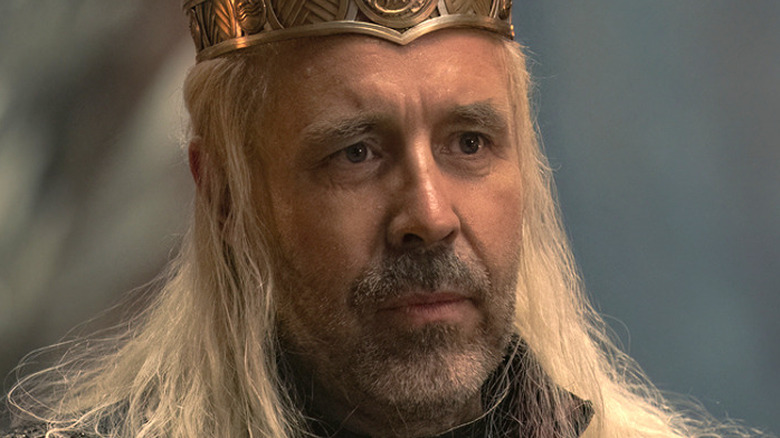 Ollie Upton/HBO
"House of the Dragon" certainly seems to be living up to the pedigree of its forebearer thus far. The "Game of Thrones" prequel has made good on what fans have come to expect from the franchise with plenty of royal scheming, brutal violence, and abject sexuality.
Furthermore, both viewers and critics alike seem to have cottoned to "House of the Dragon" (via Rotten Tomatoes) more than its fantasy series competitor "The Lord of the Rings: The Rings of Power," which has had a far more divisive reaction from fans of J.R.R Tolkien's masterwork and Peter Jackson's film adaptations (via Inverse). This factor bodes well for the longevity of the HBO series, which is based on George R.R. Martin's novel, "Fire and Blood."
Still, "House of the Dragon" can't escape the past any more than its central characters can, and fans are already noticing that a certain "Game of Thrones" tradition is also a major part of the prequel series.
Bloodshed almost always accompanies weddings in Westeros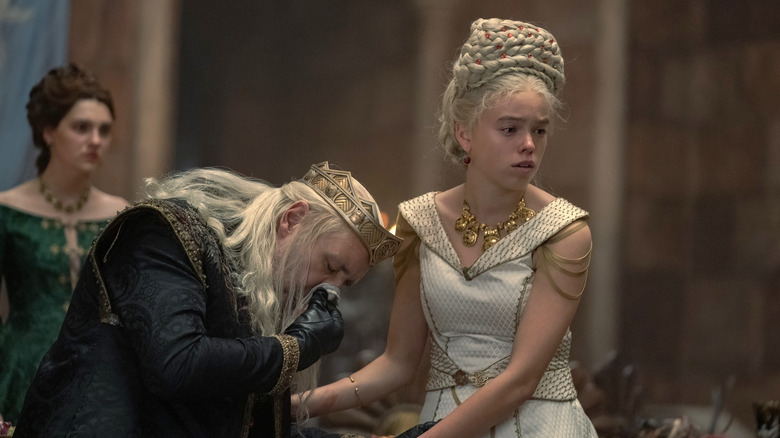 Ollie Upton/HBO
As fans of "Game of Thrones" will know, whenever there's a wedding in Westeros, tragedy and bloodshed will almost certainly follow. Naturally, the latest wedding in "House of the Dragon" was no exception. As Princess Rhaenyra Targaryen (Milly Alcock) was set to wed Ser Laenor Velaryon (Theo Nate), tragedy comes to pass.
First, and most notably, Ser Criston Cole (Fabien Frankel) snaps on Ser Joffrey Lonmouth (Solly McLeod) — the lover of Ser Laenor ~ after Lonmouth lewdly suggests a truce that Cole takes as slander against his honor. As Cole's rage and shame finally erupt, he violently beats Lonmouth to death, smashing his head to a pulp in the process. Of course, this emerges as a reminder that it's not a good idea to be named Joffrey when there's a wedding afoot, as a certain brat king of the Lannisters once learned the hard way. Furthermore, King Viserys (Paddy Considine) collapsed during the ceremony, suggesting his death is looming.  
While the most infamous wedding bloodshed took place at The Red Wedding in "Game of Thrones," an event that saw key characters like Robb (Richard Madden) and Catelyn Stark (Michelle Fairley) violently murdered, the wedding of Joffrey Baratheon (Jack Gleeson) to Margaery Tyrell (Natalie Dormer), and the marriage of Sansa Stark (Sophie Turner) to Ramsey Bolton (Iwan Rheon) also came with their fair share of awfulness. Truly, marriage is not the cause of celebration in Westeros that it often is in our own world but instead comes with a sense of awful foreboding at what might occur, as the latest episode of "House of the Dragon" plainly shows.