Whatever Happened To Butter Cloth After Shark Tank?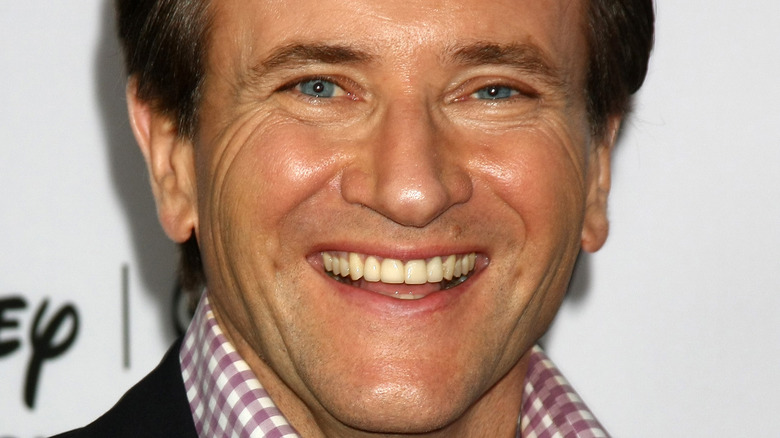 Kathy Hutchins/Shutterstock
"Shark Tank" is renowned as a reality show that exemplifies the American dream, where the most impossible of aspirations can come true with enough hard work and determination. While not every entrepreneur featured on the show reaches those heights, the success stories birthed on "Shark Tank" are what have kept it such a beloved fixture for ABC. One of these breakthroughs came on in Episode 4, Season 10, where we meet Danh Tran and his clothing business, ButterCloth. Developed in 2016 while working as a lead designer for Affliction Clothing, Tran's business was birthed from a desire for comfort after years of wearing stuffy dress shirts. The result would be ButterCloth, a 100% cotton made fabric dress shirt made to feel like a T-shirt. As Tran says, the shirt, "Makes you look like a Friday night, but feel like a Sunday morning."
He brings in business partner Gary Falkenberg and former NBA player Metta World Peace, who acts as the company's celebrity ambassador, to pitch their idea. They come onto the show seeking $250,000 in exchange for a 10% stake. The sharks are moved by Tran's story, as the Vietnamese immigrant cashed in his 401K and sold his home to get ButterCloth off the ground. Despite this, most of the sharks find the business venture too risky for them, but Robert Herjavec, another immigrant-turned-entrepreneur, seeks to help. He offers the $250,000 for 25% and stands firm, with Tran accepting the deal. So has ButterCloth remained a snug fit for Herjavec? 
ButterCloth remains a cozy investment
After appearing on "Shark Tank," ButterCloth only grew in popularity. In an update segment featured in the following season, we learn that ButterCloth has made $3 million in sales and sold 30,000 shirts in only seven months. At a pop-up event in Los Angeles, Tran presents a special collection inspired by Robert Herjavec who, in the segment, expresses how proud he is of Tran's success. "I saw a kindred spirit in Danh," he says. "We're fellow immigrants, I know how hard it is ... he started with nothing and he's creating the American Dream for himself, for his family, and making me proud." As of 2022, ButterCloth has attained a net worth of over $5 million (via SEOAves) and continues to excel through online sales and marketing, with a strong following on both Facebook and Twitter.
In 2021, the company would introduce the Cotton 10.0, an improved fabric that creates maximum comfort. Along with its already wide array of dress shirts, ButterCloth would also introduce underwear, socks, polos, face masks, and more to its line up, all of which are available on their website. 2022 would see TV host Jay Leno join the company as a brand ambassador, calling it his "favorite driving shirt." ButterCloth would even hold a giveaway that gives customers the chance to be flown to Los Angeles and tour Jay Leno's famous garage. Tran's story is inspiring to say the least, and we wish him and his business the very best.