How Pearl Director Ti West Set Out To Make One Movie And Ended Up With Two - Exclusive
When filmmaker Ti West set out to make a new horror picture in early 2021 called "X," the last thing he probably thought he'd end up doing was making two movies.
But that's exactly what happened: "X" was released in March 2022 to critical acclaim and modest box office success (earning a profitable $14.5 million against a $1 million budget), and just six months later, "Pearl" — filmed three weeks after shooting was completed on "X" — arrived in theaters as well.
Set in 1918, "Pearl" features Mia Goth playing a young version of the title character, who is introduced in "X" as an elderly woman with a psychopathic bent. (In "X," Goth also plays adult film actress Maxine, whose crew encounters the murderous Pearl on her decrepit Texas farm.)
We learn in "X" that Pearl is embittered by her life and jealous of Maxine's youth and ambition. In "Pearl," we find out more about the traumatic upbringing that turned Pearl into a monster, capable of killing anyone who stands in her way without a second thought.
So how did West end up with two movies when he was initially making just one? Ti West tells Looper in an exclusive interview, "It occurred to me that [there's] a way to cannibalize everything that we have here and take the villain from the one movie and make her the star of another movie."
Ti West got the most out of his production value for Pearl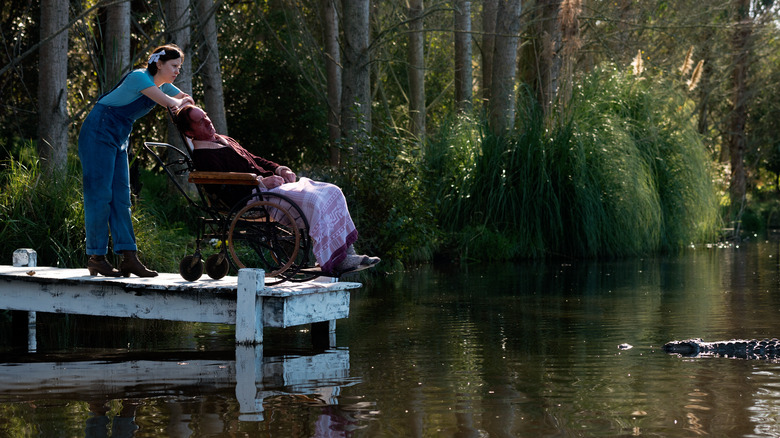 A24
"X" was filmed in early 2021 at a farmhouse in New Zealand, with some extra construction done to accommodate the movie, and while waiting in quarantine (per New Zealand's COVID protocols), writer-director Ti West had an idea.
"We built a barn, we built a bunkhouse, we were putting a lot of effort into the infrastructure to make this movie 'X," he says. "When the future was so uncertain of whether we would ever be able to make a movie again, it was like, 'We're fortunate enough to be here. What if we made two movies?' Then it was like, 'How would such a thing happen? How would that make sense?'"
West wasn't enamored at the time with the idea of a direct sequel to "X," but he realized there was a way to explore the backstory of the movie's villain while using the same sets and locations already established in that film. With Mia Goth not yet in the country, he began communicating with her online to hash out a story (Goth receives a co-writing credit with West on the screenplay).
Next was getting the studio's blessing: "I showed [the script] to A24 and they were very intrigued and excited about it, but they weren't ready to commit," says West. "There came a point where it was like, 'If we're going to do this, we should decide now, because then we can make "X" better for it. We can put things in "X" and the connective tissues of the movie will be bigger. ...' Miraculously, to the credit of A24, they took a deep breath and they bet on it, and before we shot even a frame of 'X,' they greenlit 'Pearl.'"
"Pearl" is in theaters now.