Ti West's X Sequel MaXXXine Is Giving Fans An Opportunity To Become Part Of The Horror Trilogy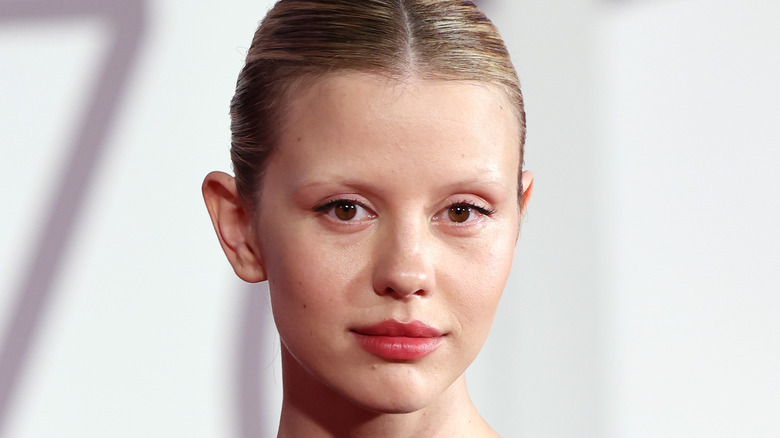 Vittorio Zunino Celotto/Getty Images
In March of 2022, A24 released "X," a horror film written and directed by Ti West. Set in 1979, it follows Maxine "Max" Minx (Mia Goth), an aspiring actress, and her group of friends who travel to a rural town in Texas to use the guest house of an elder couple's property to film a pornographic film. While there, they then find themselves fighting for their lives against the elderly woman, Pearl (also portrayed by Goth), who is jealous of the youth and beauty of the young group — especially Max.
After the release of "X," it was announced that a prequel film called "Pearl" — which was directed by West and co-written by West and Goth — had been filmed directly after "X," with Goth returning to portray Pearl in her youth (via The Los Angeles Times). "Pearl," slated to be released on September 16, is set in 1918 and showcases Pearl's villain origin story.
Then, ahead of the release of "Pearl," there was another announcement to be made about the world of Max and Pearl — one more film, "MaXXXine," is officially in the works (via Deadline). The third installment is set after the events of "X" and will follow Max (with Goth reprising her role once again) setting out to Los Angeles to try to make it as an actress.
But wait, there's more — one more exciting announcement has been made about "MaXXXine" — here's what we know.
Fans have an opportunity to be in MaXXXine
As if the announcement of "MaXXXine" wasn't enough excitement for horror fans, A24 has now released a casting call asking for fans to apply to participate in the upcoming film as an extra. As reported by Bloody Disgusting, in order to apply, fans need to recreate the final standoff between Pearl and Maxine in "X" and post the reenactment to social media — including Twitter, TikTok, and Instagram — using the hashtag #XCastingCall.
As to what fans will be reenacting, the climax of "X" sees Max, the sole survivor of her group of friends, facing off against Pearl, who is also left on her own after her husband dies of a heart attack. After finding the keys to Pearl's truck, Max points a gun at Pearl while Pearl warns Max that she is doomed to have the same sad fate as Pearl. Max then declares that she knows she's going to be a star before attempting to shoot Pearl, but the gun isn't loaded. Pearl then grabs the pistol and shoots at Max, who ducks just in time. Meanwhile, the recoil from the gun causes Pearl to be thrown backward and land on the ground by the porch. She begs Max to help her, but Max refuses before getting into the truck and running over Pearl's head.
Fans have until September 28th, 2022 at 11:59 p.m. ET to submit their reenactments.