Celebrity Wheel Of Fortune Fans Were In An Uproar After Raven-Symoné's Minor Mistake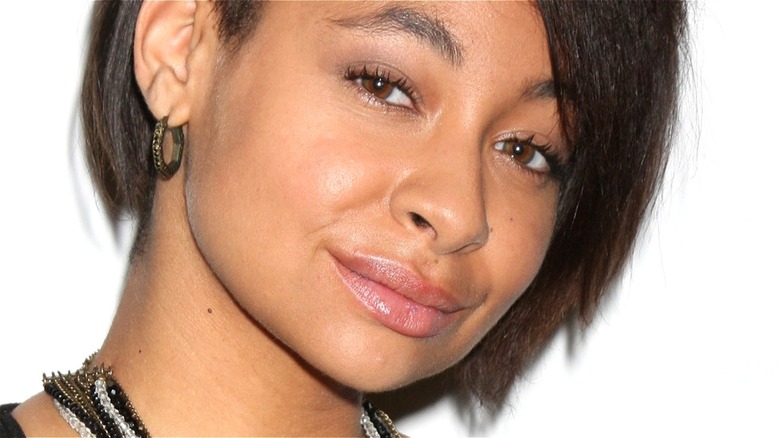 Kathy Hutchins/Shutterstock
"Wheel of Fortune" has been a staple of the game show scene for over 50 years. CBS' iconic series challenges fans to guess letters while spinning a prize wheel to decide what they'll get if they guess right. Though the game seems simple, puzzles can be downright confounding for contestants with out-of-use phrases and spelling snafus occasionally coming up with regard to uncommon words.
Though the basics behind "Wheel of Fortune" haven't changed that much over its many years on the air, the game show remains as popular as ever (via Esquire). However, that hasn't stopped fans of the show from occasionally taking issue with longtime host, Pat Sajak, who sometimes talks too much or interrupts contestants with his glib comments (via Vice). Actress Raven-Symoné, of "That's So Raven" and "Black-ish," ran into this more grating side of Sajak when she was a contestant on a special celebrity episode of "Wheel of Fortune."
A minor mispronunciation lost the round for Raven
In the episode, Raven-Symoné makes two attempts to solve the "Wheel of Fortune" puzzle but is interrupted by Pat Sajak who encourages her to spin again. Though the host does appear to be trying to help, his advice seems to unnerve Symoné and make her think twice about solving as she decides to spin again both times.
Things get even more awkward when Symoné finally tries to solve the puzzle. She pronounces the lyrics of The Bee Gees' hit "Stayin' Alive" as "Ah, ah, ah, ah," as opposed to "Ah, ha, ha, ha." It's a minor quibble, to be sure, but it's enough for Sajak to buzz her out. Shortly thereafter, fellow contestant Tori Spelling says the lyrics more succinctly and solves the puzzle correctly.
While some Twitter users were quick to lose it on Sajak with comments like "Raven was robbed," others blamed the puzzle-makers from behind-the-scenes for picking such easily misunderstood or mispronounced song lyrics in the first place. Still, the mistake ultimately does come down to Symoné, who could have solved the puzzle correctly if she'd observed it more closely. The actress also agreed in the end that she was at fault, taking her "Wheel of Fortune" loss in good spirits.
There are tougher losses than Raven's
Longtime viewers of "Wheel of Fortune" will no doubt know that this isn't the first time this type of thing has happened, though. There have been countless memorable mix-ups in the long history of the CBS game show, but few are as tough to swallow as the loss sustained by Charlene Rubush on an episode that first aired on December 21st, 2021 (via US Weekly).
When it came down to the final puzzle, Rubush eventually said the correct response of "Choosing the right word," but the tangible delay between her saying the last part of the phrase caused Sajak to freeze her out on a technicality. The host explained that, though she beat the buzzer, her delay between words was too long, and she lost out on the prize: an Audi Q3.
This loss was even more poorly-received than Raven-Symoné's was, with "Today" doing a story about the fan outcry that followed the airing of the episode. Luckily for Rubush, though, Audi itself weighed in and ended up gifting her the Audi Q3 in recompense.