Squid Game's Never-Before-Seen Clip Gives Fans A Glimpse Of Front Man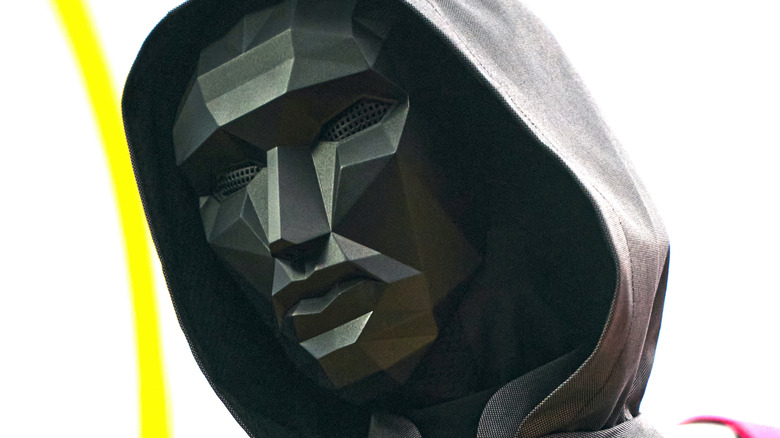 Noh Juhan/Netflix
It's been a little over a year since "Squid Game" Season 1 premiered, but Netflix is still finding new ways to promote it. To be fair to the streaming service, it's not hard to see why it's still trying to capitalize on the South Korean thriller's success, either.
The series became a global sensation after it debuted on Netflix in September of 2021. Its nine-episode first season smashed records for Netflix in the months following its premiere and it has consistently earned widespread acclaim from both critics and casual viewers alike (via Rotten Tomatoes). Over the course of the past year, "Squid Game" has also received an overwhelming number of award nominations and wins for its debut season. The series even raked in six Primetime Emmy awards in September (via IMDb).
Now, progress is already being made on "Squid Game" Season 2. While little is known right now about the show's sophomore season as well, the excitement surrounding it seems predictably high. That's true despite the fact that "Squid Game" creator Hwang Dong-hyuk has previously stated that the series likely won't release any new episodes until 2023 or 2024 (via Vanity Fair), which means that fans shouldn't expect to return to the show's alternate reality anytime soon.
With that in mind, however, Netflix has just given "Squid Game" fans an unexpected but fun little treat to try to help them pass the time until the show's return.
Netflix's new Squid Game clip shows an unmasked Front Man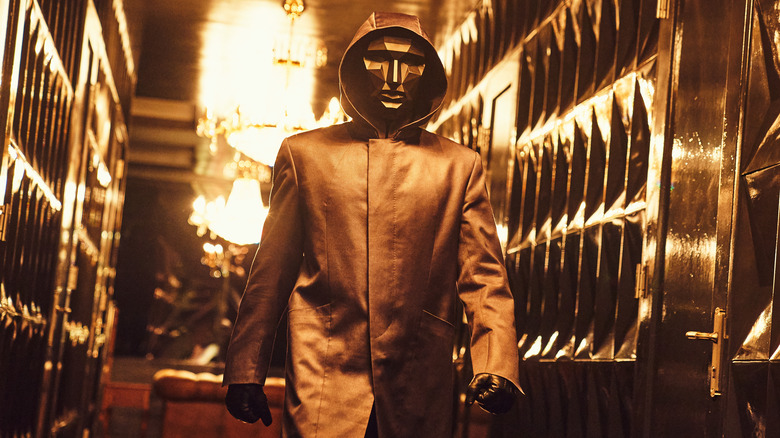 Noh Juhan/Netflix
Netflix and Hwang Dong-hyuk, who wrote and directed every episode of "Squid Game," have released a brief, never-before-seen deleted clip from the South Korean drama's debut season. The clip, which runs less than a minute long, follows a mysterious man as he enters his apartment while carrying a bag with a goldfish in it. After subsequently releasing the fish into a half-filled fishbowl, the man then leans down and peers into it, revealing himself to be Hwang In-ho (Lee Byung-hun). "Squid Game" viewers will better know the character as the Front Man, the masked overseer of the show's deadly central competition.
Of course, while he's a recurring figure throughout "Squid Game" Season 1, it's not until late in the show's debut season that Hwang In-ho willingly takes off his Front Man mask and reveals his identity to his brother, Hwang Jun-ho (Wi Ha-joon), a cop who had embarked on a desperate mission to find him. His unmasking is, notably, one of the few vulnerable moments that Hwang In-ho indulges in throughout "Squid Game" Season 1, but it looks like the deleted scene that was released by Netflix was originally intended to give fans another quiet, contemplative moment with the character.
Fortunately, viewers can rest easy knowing that they haven't seen the last of the Front Man. As a matter of fact, in a Twitter statement released in early June, creator Hwang Dong-hyuk confirmed that the Front Man will appear in "Squid Game" Season 2, as will Seong Gi-hun (Lee Jung-jae). Hopefully, that means fans will, indeed, get to learn more about Hwang In-ho's life as the supervisor of the very competition that made both the show's characters and viewers feel so much heartbreak and stress throughout "Squid Game" Season 1.