How A Buffalo Bills Player Inspired An Episode Of Grey's Anatomy
ABC
Fans of "Grey's Anatomy" relish Meredith Grey's (Ellen Pompeo) rise from eager intern to seasoned physician over the long-running drama's 18 seasons (and counting). However, despite the show's title, it's not all about her. The superstar acting talents who've weaved in and out of "Medusa" Grey's life over the years comprise a who's who of Hollywood's best and brightest. Patrick Dempsey, Sandra Oh, and Katherine Heigl all played major roles on "Grey's Anatomy," where their characters often came face to face with medical problems inspired by real life cases.
The two-hour season premiere of Season 5 of "Grey's Anatomy," "Dream a Little Dream of Me," wreaked havoc on the staff of the Seattle Grace Hospital. In the episode, the doctors treat Sarabeth Breyers (Bernadette Peters) and her friends after they're involved in a dire car crash. Dr. Derek "McDreamy" Shepherd (Dempsey) claims that he can save Phillip Loomis' (Cliff De Young) life, but admits that Loomis will, in all likelihood, be paralyzed for the rest of his days. However, newcomer Dr. Owen Hunt (Kevin McKidd) suggests using an experimental procedure known as therapeutic hypothermia, which involves lowering the patient's body temperature to reduce swelling and preserve the spine, to save Loomis from permanent paralysis.
At the end of the episode, Loomis wiggles his toes, indicating that the surgery was a success. It's seemingly the stuff of fairytales; this could never happen in real life, right? Wrong. In fact, an NFL player on the Buffalo Bills' roster inspired the Season 5 episode after undergoing a similar procedure.
The Broncos' Domenik Hixon almost paralyzed Kevin Everett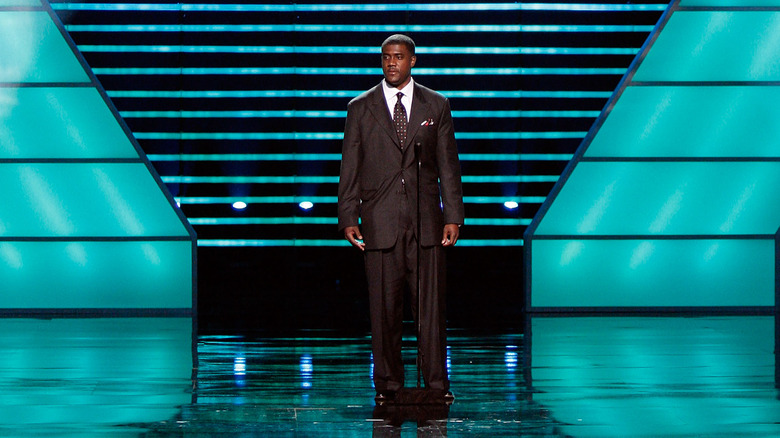 Kevin Winter/Getty Images
During the season-opening game between the Denver Broncos and Buffalo Bills on September 7, 2007, the Broncos' kick returner, Domenik Hixon, caught the football in the end zone. As Hixon roared down the field, Bills tight end Kevin Everett gave chase, ultimately hitting Hixon in a head-on collision. Hixon managed to get up, but Everett wasn't so lucky. "I couldn't move my arms, my legs, or nothing," Everett said during the ESPY Awards when he accepted the Jimmy V Award for Perseverance.
Medics hurried to the field. An ambulance soon followed. So did Dr. Andrew Cappuccino, the Bills' spinal specialist. While Cappuccino wasn't sure Everett would ever walk again, he ended up using the same procedure that was featured in "Dream a Little Dream of Me" to treat the athlete. Incredibly, it worked. "I will hang a good portion of my belief in this recovery on cold therapy," Cappuccino said in a subsequent interview via The New York Times. "We don't normally see this recovery in people with spinal cord injury where cold therapy is absent."
Everett began to show signs of movement a few days later, and was walking again, with assistance, in about a month. Just as on "Grey's Anatomy," the procedure saved Everett from being paralyzed for the rest of his life. "Nobody thought I'd be recovering like this," Everett also said during the ESPY Awards. "Don't give up on anything."