Joel McKinnon Miller Can't Imagine Working On Brooklyn Nine-Nine Without This Co-Star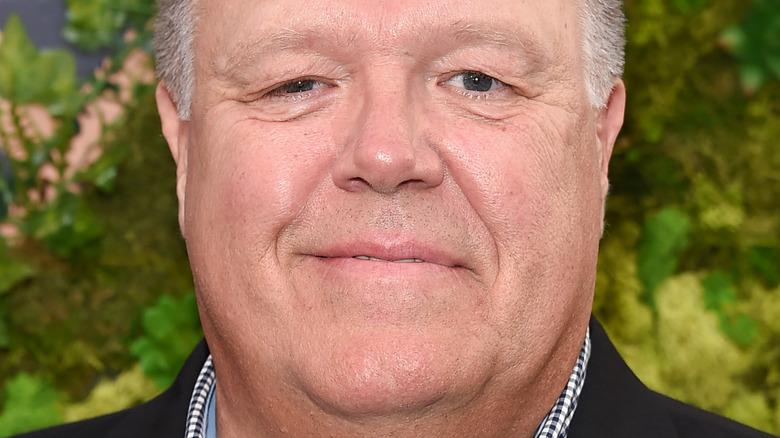 DFree/Shutterstock
It's hard to imagine anyone other than Joel McKinnon Miller playing the lovable, junk-food-loving dope Norm Scully on "Brooklyn Nine-Nine." And for McKinnon Miller, it's hard to imagine playing the character without help from a key co-star. 
Starting in 2013, "Brooklyn Nine-Nine" followed the comedic exploits of the NYPD's 99th Precinct and its colorful cast of characters, including the skilled but immature Jake Peralta (Andy Samberg); the rough and tough Rosa Diaz (Stephanie Beatriz); the strong and sensible Terry Jeffords (Terry Crews); the overachieving Amy Santiago (Melissa Fumero), and nervous but good-hearted Charles Boyle (Joe Lo Truglio). "Brooklyn Nine-Nine" went on to become a beloved sitcom, acclaimed by audiences and critics alike for its rip-roaring comedy (via Rotten Tomatoes), and clever handling of serious topics such as race and LGBTQ+ representation (via Slate), racking up a hearty number of award wins and nominations along the way (via IMDb).
One of the show's most memorable characters, Norm Scully is characterized by his lazy demeanor, never-ending appetite, and a bevy of grotesque medical problems (which he is not afraid to share out loud). Scully nevertheless remains a wholesome member of the ensemble, and McKinnon Miller plays the character perfectly. However, according to the actor, his portrayal wouldn't be nearly as good had it not been for a noteworthy co-star. 
Dirk Blocker was the best partner McKinnon Miller could ask for
In a cast interview with Hulu, done around the time that the show's series finale was airing in September 2021, Joel McKinnon Miller shared his favorite memories as Norm Scully on "Brooklyn Nine-Nine." The actor talked about how fun it was to work on the series with Dirk Blocker, who portrayed Michael Hitchcock. "Pretty much any scene that I did with Dirk Blocker," McKinnon Miller says when asked about his favorite episodes to work on. "He was probably the best partner you could ever ask for." He went on to give a wholesome description of how the duo's shared desks made them feel like they were on an island and that he couldn't imagine sharing that space with anyone else. 
Much like Scully, Michael Hitchcock is an often disregarded character throughout the precinct. Along with his gross appetite, Hitchcock is also known for his bizarre and creepy attitude towards women. Despite this, he and Scully are the best of friends, and although the two were once a dynamic duo, with Hitchcock having the highest number of closed cases in the precinct due to his lengthy time of employment there, they now prefer to spend their time eating, lazing about, and doing paperwork. 
Thankfully, the relationship between the actors is not a one-sided affair. In an interview on 9Honey, Blocker and McKinnon Miller reveal that they both enjoy spending time with one another outside of the show.