Melissa Fumero Dishes On Her Favorite Brooklyn Nine-Nine Scene With Andy Samberg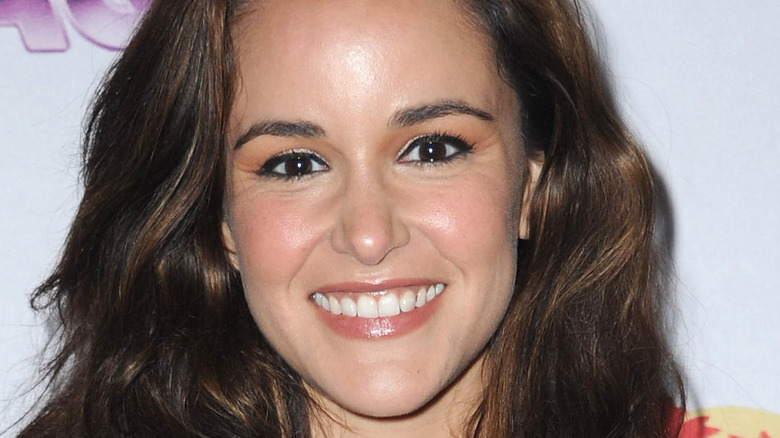 Albert L. Ortega/Getty Images
"Brooklyn Nine-Nine" reached the end of its ground-breaking and critically acclaimed run with Season 8. While fans voiced a mix of positive and negative opinions online, the cast and crew adored the nostalgia-filled finale. 
Melissa Fumero called the "Brooklyn Nine-Nine finale bittersweet and detailed the emotion-filled finale day of shooting. She revealed that the show ended as most fans would think, saving the very last scene for the final day of filming. The cast exchanged gifts, everyone had tears in their eyes, and after the final cut from the director, they stayed behind in the iconic briefing room to soak in the moment. The first person that Fumero hugged? On-screen husband, Andy Samberg. The two formed a deep bond over the show's eight-year run and were proud of the relationship they brought to life on screen. "It wasn't just saying bye to Andy — it was saying bye to Jake and Amy, you know? Every time it was a Jake and Amy episode, we would work so hard on it. How can we make the scenes better? How can we find little things that are specific to them? Like him being freaky in bed and role playing — leaning into those things and finding moments to add in" (via Entertainment Weekly).
Jake and Amy hold a special place in Fumero's heart, and the actress named one particular scene between the couple as her favorite moment from "Brooklyn Nine-Nine."
The rooftop moment where Jake fell in love with Amy
Most of the main cast of "Brooklyn Nine-Nine" sat down with Hulu while filming the final season to describe their favorite moments from the show. Melissa Fumero's favorite moment was the rooftop scene between her and her costar Andy Samberg. The moment, found in Season 1, Episode 13, "The Bet," features Jake and Amy on a rooftop during a late-night stakeout. They spent most of the night together and have meaningful conversations about Jake's car, nuts, and the bet they had between them. The two bond while on the rooftop, and Jake even declines Captain Holt's offer to send other officers to relieve them so he can spend more time with Amy.
"The rooftop scene with Andy for 'The Bet.' This was sort of this quintessential Jake and Amy moment, and we really wanted to get it right, but we actually just really had fun shooting it," Fumero reminisced to Hulu. "And we just laughed so much, and it was like late at night, and we were downtown and loopy. You know, I think that's the stuff I'm going to remember is like the late-night shoots, and the weird locations, and the long days, but where you're just laughing with your castmates and feel really lucky that you get to work with such fun people."
Many of her fellow cast members chose comedic moments, or moments of cultural importance, as their favorites from the show's tenure. Fumero took a slightly different approach and decided on a moment she not only enjoyed filming but that played a significant role in her character's development — and Fumero's relationship with her costars.