The Rookie Actor Divulges An Exciting Change For John Coming In Season 5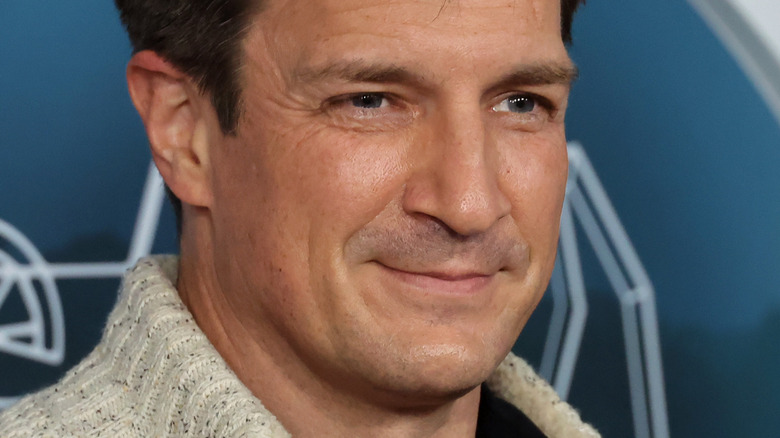 Mike Coppola/Getty Images
Nathan Fillion has been a fan favorite for years due to his resume of likable characters and his charming demeanor. Early on, he appeared in a few smaller productions in films like "Dracula 2000" and "Blast from the Past" and TV series like "The Outer Limits" and "King of the Hill." It wasn't until 2002 that he landed the role of Captain Malcolm "Mal" Reynolds of the Serenity in "Firefly" that he began his journey to the center of our hearts. His roles in "Firefly" and "Buffy the Vampire Slayer" led to a friendship with Joss Whedon, which then led to roles in "Guardians of the Galaxy" and "The Suicide Squad."
Perhaps his most prominent role is that of sarcastic and witty author-turned-honorary-homicide-detective Richard Castle in the comedic crime drama "Castle." After eight seasons of helping the NYPD solve crimes, he bounced around to many other short-lived projects before landing his most recent successful endeavor as the lead in ABC's "The Rookie."
Fillion plays John Nolan, a middle-aged construction worker who decides to start his life over after a divorce, landing him as the oldest rookie police officer in the Los Angeles Police Department. After four seasons of trying to find his place, according to Entertainment Weekly, Fillion has revealed that John Nolan is finally capturing his dream and is finally on the path to success within the department.
He finally has a clear path
Nathan Fillion appeared at the 2022 San Diego Comic-Con and dished that his character, John Nolan, would be reaching new heights at his position in the LAPD. Alexi Hawley, creator of "The Rookie," was the first to confirm the latest move. "Early in season 5, John Nolan's going to become a training officer," Hawley revealed, via Entertainment Weekly. "He'll be the oldest rookie training officer." The promotion actually starts the process of Nolan proving himself all over again as someone who is much older than the rest of his peers.
Fillion expanded on Hawley's revelation. "We started off with; this guy is the rookie," the actor said. "Now he's elevated to another level of his job, and he's starting at rock bottom. I get a brand new rookie who's making all the same mistakes I was making as a rookie." Fillion went on to tease storyline details about the rookie he will inherit, noting that "she's very much her own character." The audience responded with shock that the rookie officer is female, prompting Fillion to quip, "What am I, Tom Holland over here?" 
The trek for Nolan to get from rookie police officer to training officer was not paved with ease for the older cop. He faced a long and hard road that forced him to prove over and over that he belonged in the uniform, and he was made better for it.
He had a long road to discovery
John Nolan has had a long road in his four years on the job. While the first obstacle he faced was the ridicule and disapproving attitudes of those around him, he quickly gained respect by bringing something other rookies don't have — life experience. Season 1 saw him riding with the captain during a shift where gang members targeted them, and he watched her get brutally murdered.
Throughout other seasons, he met a strong detective who saw potential in him named Nick Armstrong (Harold Perrineau). The two of them pursued and matched wits with a vicious serial killer, Rosalind Dyer (Annie Wersching), who promised to snitch on an unnamed dirty cop. By the end of the season, it was revealed that Armstrong had been behind everything, including framing Nolan for murder. Throughout their relationship, Nolan expressed his interest in taking the detective's exam, but the circumstances surrounding his framing ensured he would never reach that goal.
What followed was a long path of Nolan searching for what his future in the department looked like. While he rebuilt his image following the Armstrong debacle, he ran for and was elected to the Police Union, only to make enemies with the representative at City Hall. He eventually decided that his wisdom and life experience made him the perfect fit to be a training officer. His feelings were validated when he met Simone Clark (Niecy Nash), who is facing the same situation in the Bureau. (Nash is also starring in a spin-off, "The Rookie: Feds.") Despite interference by the City Hall police union representative, the news that Nolan is landing the gig as a training officer means he is finally on the path to a solid future in the LAPD.