The Extraordinary Step Jon Hamm And Director Greg Mottola Took To Ensure Confess, Fletch Could Be Made Properly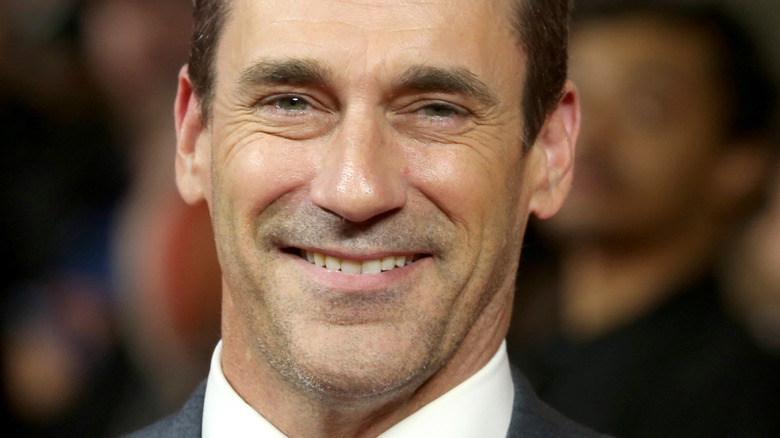 Fred Duval/Shutterstock
Jon Hamm has gained a number of fans since his turn as Don Draper in the AMC period drama series "Mad Men." Since the end of the show, he has shown up in supporting roles in a variety of TV shows, including the Netflix sitcom "Unbreakable Kimmy Schmidt" and "Wet Hot American Summer: First Day Of Camp," as well as movies such as "The Town," "Richard Jewell," and "Top Gun: Maverick."
His latest film, titled "Confess, Fletch," sees Hamm step into another lead role. Based on the "Fletch" books by the late author Gregory Mcdonald, Hamm plays reporter Irwin Fletcher, better known as Fletch, as he tries to prove he's not guilty of a number of murders where he's the main suspect. The film is co-written and directed by "Superbad" filmmaker Greg Mottola, who previously worked with Hamm on his last feature, "Keeping Up with the Joneses."
"Confess, Fletch," however, almost didn't get made, and both Hamm and Mottola took unorthodox measures to make sure it did. Here's what Hamm and Mottola did to ensure the film could see the light of day.
Hamm and Mottola paid to complete the film
In an interview with Uproxx, filmmaker Greg Mottola spoke about the challenges he faced while making "Confess, Fletch." Mottola said that he had enough money from the film's producers, Miramax, for 27 days of shooting. But he knew that wouldn't be enough time to make the film, so he pursued other producers, unsuccessfully, as producers didn't have faith in the character or the type of comedy being a hit.
This resulted in Jon Hamm and Mottola both giving back a certain amount of their salary to fund additional days of shooting. Hamm is particularly notable here, as he put 60% of his salary towards the film's budget. "I gave back some of my salary, not as much as Jon because he's richer than me and I've got three kids," the director explained, adding that this allowed for two additional days of shooting in Boston and one more in Rome.
Despite the funding woes, however, Mottola did not blame Miramax, highlighting CEO Bill Block as someone who was enthusiastically supportive of the film since Day 1. Mottola also noted that Miramax did not prevent Mottola from getting the cast he wanted in the film, which includes Hamm's "Mad Men" co-star John Slattery, as well as Marcia Gay Harden, Kyle MacLachlan, Lucy Punch, and Annie Mumolo.