The Hellraiser III Promo That Led To The Infamous Photo Of Pinhead Holding A Baby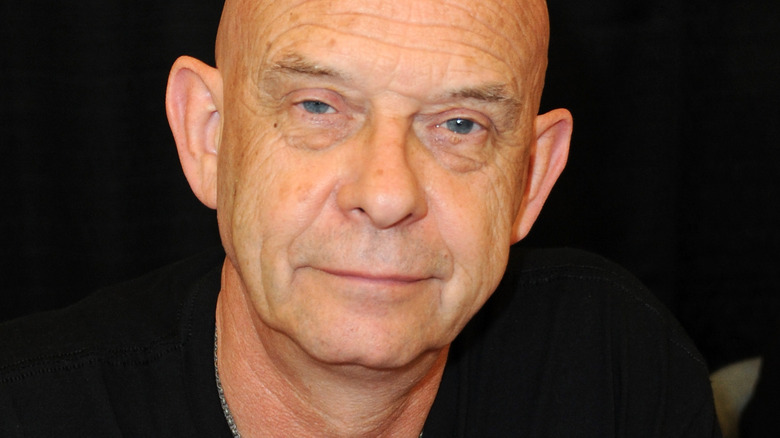 Albert L. Ortega/Getty Images
After the trailer for the 2022 "Hellraiser" reboot dropped, fans were freaking out about Jamie Clayton as the new Pinhead. But the excitement over Clayton's version of the character never could have happened if the role hadn't been made so iconic by the original actor, Doug Bradley. Debuting in the 1987 horror film "Hellraiser," Bradley's first appearance as Pinhead stole the show when it wasn't supposed to. According to a piece in the Guardian written by Bradley and the movie's writer and director, Clive Barker, Pinhead only appeared on screen in the original "Hellraiser" for eight minutes and was unnamed, making for a surprise for Bradley when he appeared on the movie poster.
Pinhead is so named because of the pins sticking out of the character's head, which, Bradley explained in an interview with WOW Presents, serve as a sort of threat to his victims. "Because he has an image of received pain, nails in his head, it's like the first thing he says is 'Look what I did to myself, now think what I can do to you.'" According to Barker in the aforementioned Guardian piece, Pinhead's look was inspired by his time at an underground S&M nightclub in New York called Cellblock 28.
It's only because of Pinhead's status as a horror icon that made a certain picture taken of him in the '90s so funny.
Pinhead holds a baby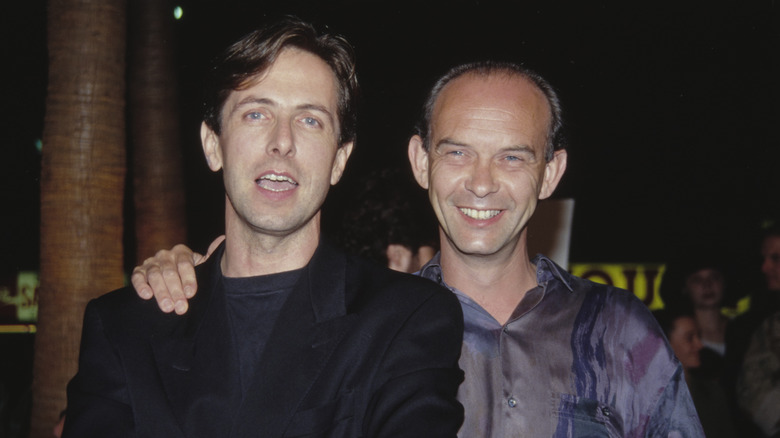 Michael Ochs Archives/Getty Images
In the 1990s, a picture surfaced of Doug Bradley in full Pinhead makeup holding a baby. The hilarious picture is an unintentionally brilliant juxtaposition. In a 2018 interview with Birth Movies Death, Bradley explained the origin of the famous picture, explaining that he was usually confined to the set when in full makeup — but at one public event for "Hellraiser III" in New York in 1992, some fans got to finally meet Bradley in person in his costume. 
"I was there to present a Lament Configuration to Planet Hollywood, and E! Entertainment were filming the whole thing," Bradley told BMD. "At one point they requested that we go out on walkabout, and so we set off down 34th Street or whatever it was, and Clive [Barker] said, 'When you have the chance, very slowly and very regally turn around,' because there were about 100 people following us down the street!" At that point, one of the fans asked him to hold their baby, and horror movie history was made.
Fans still talk about the picture to this day, as evidenced by a 2019 thread in the r/creepy subreddit where fans discussed the absurd picture, mostly to make jokes about it. "​​Pinhead: 'We have such sights to show you.' Baby: Unintelligible baby noises," wrote u/Masamundane. One person, u/Goddardardard, argued that the picture belonged, not in the r/creepy subreddit, but in the r/awww subreddit, at which point u/Robden25 said that they tried doing that, but the picture was deleted and they received a warning.