The Actor Who Plays Pinhead In Hulu's Hellraiser Is Gorgeous In Real Life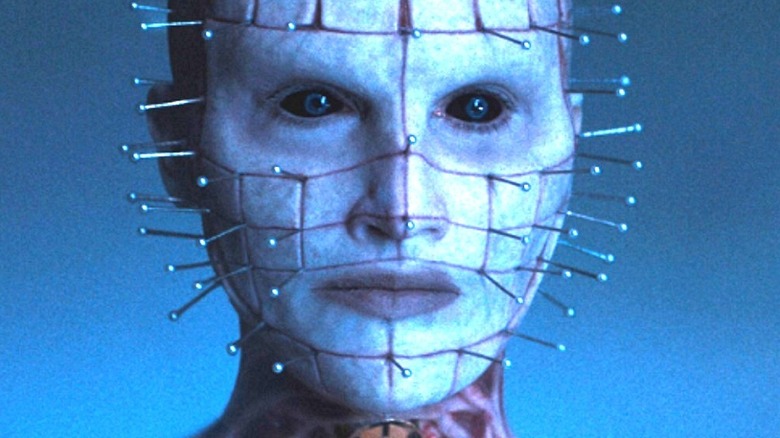 20th Century Studios/Hulu
It was only a matter of time until "Hellraiser" got the reboot treatment. After all, there aren't many classic horror IPs left that haven't been reimagined for modern times. That said, "Hellraiser" could benefit from a reboot as the original franchise went off the rails long before it had the chance to realize its full potential. Instead of making the most of Clive Barker's unique mythology, the sadistic saga churned out a series of underwhelming sequels that were barely connected to the "Hellraiser" lore. The suffering was legendary, to put it mildly.
While it remains to be seen if the new movie will spawn sequels that take the franchise to new heights, fans can rest assured knowing Hulu's upcoming slice of Cenobite-centric chaos has such sights to show us. The filmmakers certainly aren't interested in recreating Barker's 1987 original film, as evidenced by the casting of Jamie Clayton as the terrifying sadomasochistic demon Pinhead. The original Hell Priest was brought to life by Doug Bradley and his performances solidified both him and the character as bona fide horror icons. The new take on Pinhead is quite a departure from Bradley's version, and early "Hellraiser" trailers suggest that Clayton has made the role her own in the best way possible.
Pinhead will live rent-free in your nightmares when "Hellraiser" drops on Hulu next month. However, the performer behind the pins and grotesque demonic makeup is actually gorgeous in real life.
Jamie Clayton is much prettier than Pinhead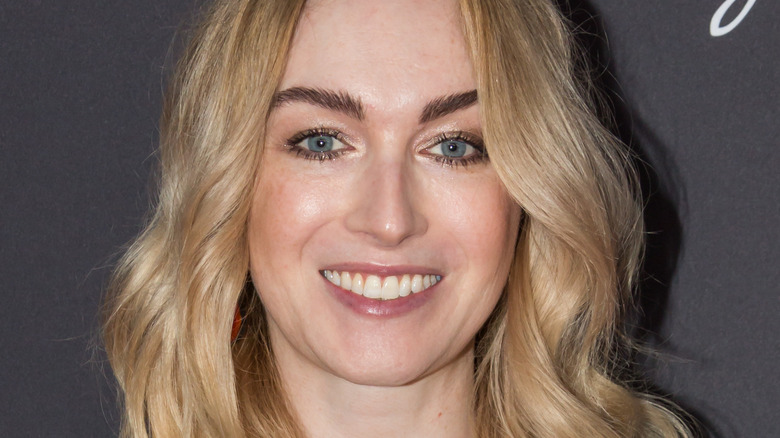 Vladimir Yazev/Shutterstock
Jamie Clayton is unrecognizable in the new "Hellraiser." Boasting black eyes, pale skin, scarred flesh, and pins sticking out of her head, she doesn't look human at all. Of course, that's probably the effect the filmmakers were going for as their goal is to scare the living daylights out of viewers, and Clayton certainly seems to have immersed herself in the role.
In real life, however, Clayton has a familiar face that lives rent-free in dreams as opposed to nightmares. Television aficionados will know her from shows such as "Sense8," which saw her play an LGBTQ hacktivist and political blogger named Nomi Marks. The series has been for its inclusiveness, and Clayton's character was key to that element of the show (per NBC News).
Elsewhere, Clayton is known for her performance as Sasha Booker on "Designated Survivor" and Tess Van De Berg on "The L Word: Generation Q." But now that she's had the opportunity to play a horror icon, Pinhead might be the role she's most synonymous with moving forward.
Jamie Clayton's Pinhead is a reimagining of the character
20th Century Studios/Hulu
In many ways, Jamie Clayton's Pinhead is a throwback to the original Hell Priest. In Clive Barker's novella "The Hellbound Heart," which the original "Hellraiser" is adapted from, the character's gender is more feminine than masculine. So, casting a woman as Pinhead makes sense.
However, David Bruckner has also promised fans that Clayton's Pinhead will be unlike any previous iteration of the character. While speaking to Entertainment Weekly, the "Hellraiser" director confirmed that the new Pinhead is a complete reimagining and praised Clayton's performance. "We knew we wanted Pinhead to be a woman," he said. "Jamie was just the right person for the role. A person's identity can be really exciting for a role in many ways, but I have to emphasize that Jamie absolutely killed, that's how we got there."
Additionally, Bruckner wasn't interested in having Clayton copy Doug Bradley's Pinhead as the English actor has already perfected that iteration of the character. "We didn't want to do a Doug Bradley impression, we just didn't think that's possible to do," the director said. "There will be suffering, but you're going to get a sense of what Pinhead's desires might be in a way that hits a little different."