Are Tim Allen And Tom Hanks From Toy Story Friends In Real Life?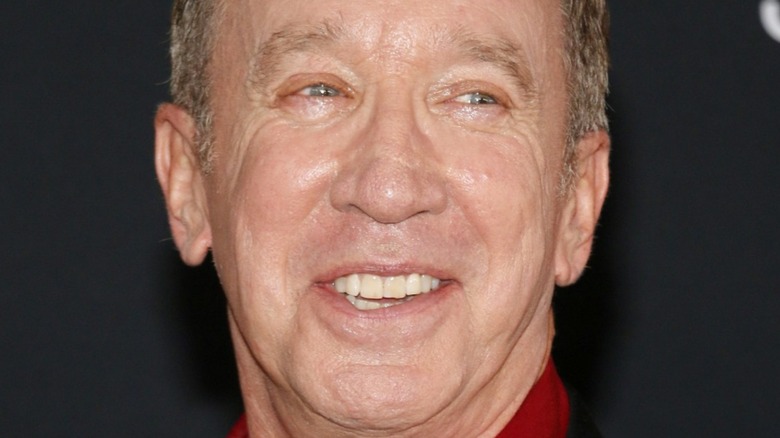 Tinseltown/Shutterstock
Many people know the origin story of the mega-successful Pixar Studios, and even more people know that its 1995 movie, "Toy Story," not only kicked off a steady run of high-quality, heartfelt films, but also changed the way animated movies are made forever. Since then, fans have enjoyed three more "Toy Story" features, multiple animated shorts, and even a few "Toy Story"-themed rides at Disney's theme parks. 
If there are two names that are synonymous with "Toy Story," they're Tom Hanks and Tim Allen. Over the past 25 years, Hanks and Allen have made plenty of public appearances together while promoting the "Toy Story" franchise, in which they play Woody and Buzz Lightyear, respectively. Even when they're not collaborating on a "Toy Story" project, though, the two still seem to be connected. When Pixar decided not to have Tim Allen provide Buzz's voice in "Lightyear," for example, Hanks didn't hesitate to give his opinion to CinemaBlend. While speaking about "Elvis," which was in theaters at the same time as "Lightyear," Hanks said, "How about that? Actually, I wanted to go head-to-head with Tim Allen and then they didn't let Tim Allen do it. I don't understand that." 
Of course, that Hanks came to Allen's defense doesn't necessarily mean that they're buddies. Costars often don't care for each other. But what about Woody and Buzz? Are they friends in real life?
Tom Hanks may be Tim Allen's favorite cowboy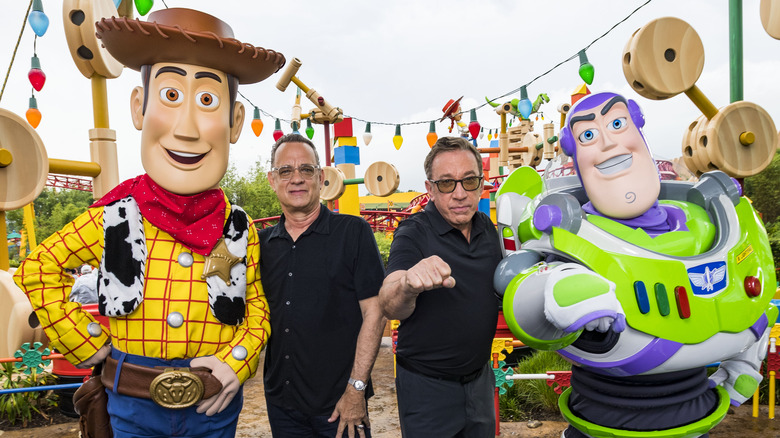 Handout/Getty Images
During the numerous promotional stops that Allen and Hanks have made together over the years, they've often been asked about their off-screen relationship — after all, the franchise that ties them together is all about the importance of friendship! Thankfully, Tom Hanks and Tim Allen have publicly expressed that they've "got a friend" in each other multiple times. 
In an interview for Pixar, Allen compares their friendship to that of their characters, pointing to nearby Woody and Buzz dolls and saying, "It's almost this relationship, in a weird way." Hanks agrees, adding, "Now we end up sort of speaking a secret language." When asked to give one word that describes the other, Allen responds with "skilled," while Hanks quips "cranky." A compliment mixed with a personal dig? Judging by Allen's laughter, that's a real friendship for sure. 
To this day, Allen and Hanks can be spotted grabbing meals together. TMZ recently snapped a paparazzi-ish photo of the two enjoying breakfast at a restaurant, which sparked immediate rumors about "Toy Story 5." Of course, it's possible that the actors were just hungry, but the possibility of a new film has sent fans' imaginations soaring to infinity — and beyond.