The Untold Truth Of See How They Run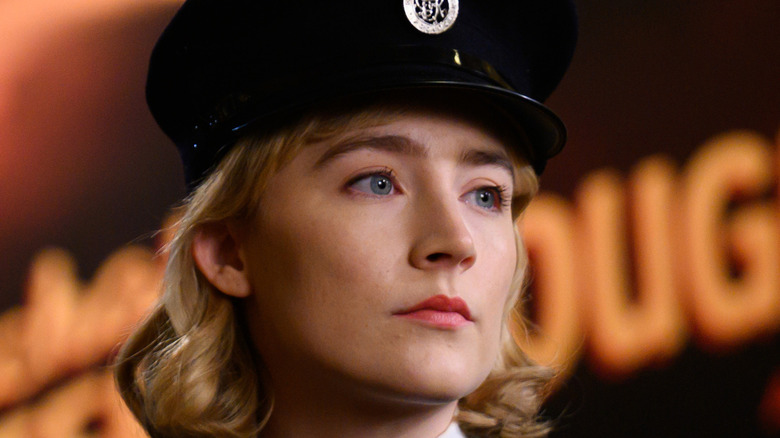 Searchlight Pictures
"See How They Run" is a comedic mystery film starring Saoirse Ronan and Sam Rockwell as two London police officers trying to crack the murder of a film director living in London after being ousted from Hollywood. Set in the early '50s, the film takes place in the world of English theatre, more specifically, during the glory days of Agatha Christie's legendary whodunit "The Mousetrap" (the world's longest-running play). It features both historical and fictional characters embroiled in a twisty murder plot that blurs the line between fantasy and reality.
Written by Mark Chappell ("Flaked") and Directed by Tom George ("This Country"), the film deals heavily with the real-life story that inspired Agatha Christie's play while fudging many of the details to make sure they fit into a satisfying romp of a movie. There is a palpable metatextuality to the proceedings as it openly examines the tropes of a typical murder mystery while actively subverting them whenever necessary to keep the audience on their toes.
It is a tricky balancing act that the filmmakers and stars all pulled off with flying colors. To celebrate the work that went into making the movie, we'll dive into some behind-the-scenes information and shed light on all the important factors that went into making "See How They Run" what it is.
Based on a true story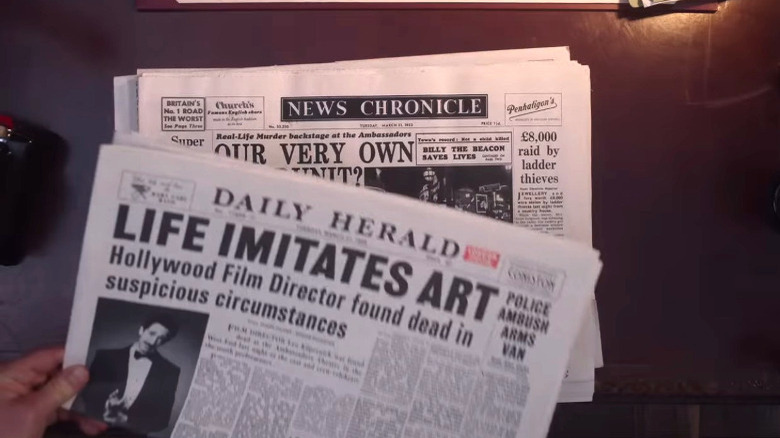 Searchlight Pictures
The inciting incident of the film is the murder of Leo Kopernick (played by Adrian Brody), an American movie director living in London after being blacklisted from Hollywood. Since he's had some hits in the past, film producer John Woolf (Reece Shearsmith) hires him to direct a film adaptation of the massively successful play "The Mousetrap," which is celebrating its 100th performance. It's on the night of the historic performance that Leo is bumped off with a ski to the head by a mysterious figure (whose identity will not be spoiled here).
While Leo Kopernick is a fictional character, John Woolf was an actual producer known for "The African Queen" starring Humphrey Bogart and Katherine Hepburn in 1951 and the big screen adaptation of "Oliver!" in 1968. Then, of course, there was the play at the center of everything. "The Mousetrap," as explained in the film itself, was inspired by the brutal murder of a 12-year-old boy named Dennis O'Neill in 1945.
Not only does "See How They Run," deal heavily with Christie's play, but it also utilizes the fact that it was inspired by a real event to help tell its own story. Therefore, it is technically based on the same true story as "The Mousetrap." Saying any more would spoil things.
Three Blind Mice adaptation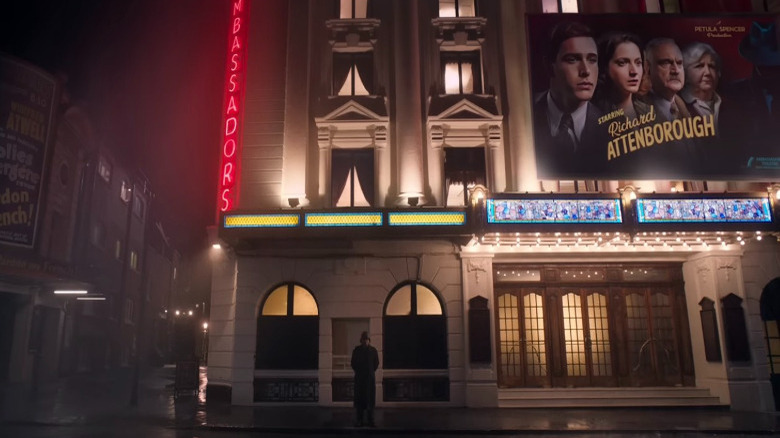 Searchlight Pictures
There has never been a film adaptation of "The Mousetrap." In some ways, "See How They Run" seems to attempt adapting it without actually doing so. Making a movie about a murder centered around a production of the play and involving the true story that inspired it may be the closest we ever get to seeing it on the silver screen. The reason for this is actually clearly stated in the film: the play has to stop running before anyone's allowed to adapt it.
The way it works is that the play has to stop running for six months before a film can be made. That was the deal producer John Woolf agreed to when he first acquired the rights in 1956 (three years after the events of "See How They Run"). The problem is that the play is still running. However, that hasn't stopped "See How They Run" from being a sly, tangential adaptation.
Again, the film uses the play as a plot device, as well as the story that inspired it. It also brings in actual actors who appeared in the original cast like Richard Attenborough (played by Harris Dickinson) and Sheila Sim (played by Pearl Chanda). The title itself is a reference to the play, as well. The original title of "The Mousetrap" was "Three Blind Mice," the same nursery thyme that features the words "see how they run."
This Country led to this movie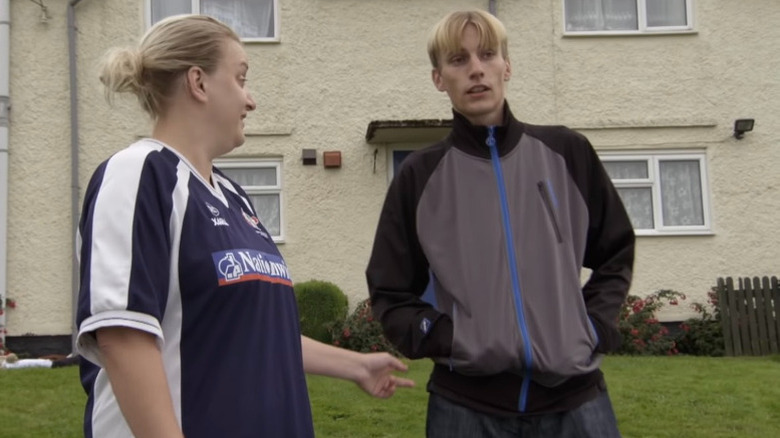 BBC Studios
Prior to directing "See How They Run," Tom George was primarily known for his work on television. The series he directed just before making his feature film debut was a hilarious mockumentary about the life of young people in the English countryside called "This Country." Starring Daisy May Cooper and Charlie Cooper (the latter of whom also appears in "See How They Run"), the series chronicles two cousins named Kerry and Lee as they do their best to stay sane in a "typical Cotswold village."
Although he had never directed a film before, George believes that it was his experience working on "This Country" that got him the job of director on "See How They Run." While speaking to "The Next Best Picture Podcast," George mentioned that he read the script almost immediately after completing the final season of "This Country." "While they don't seem like obvious bedfellows...I think they've got some interesting similarities," George said.
He elaborated by saying, "You have the mockumentary form and how that plays with story and comedy in the piece. And obviously here, in 'See How They Run,' it's a murder mystery, but in many ways, it's also a film that's about murder mysteries...there's a similar dynamic going on."
Tonal influences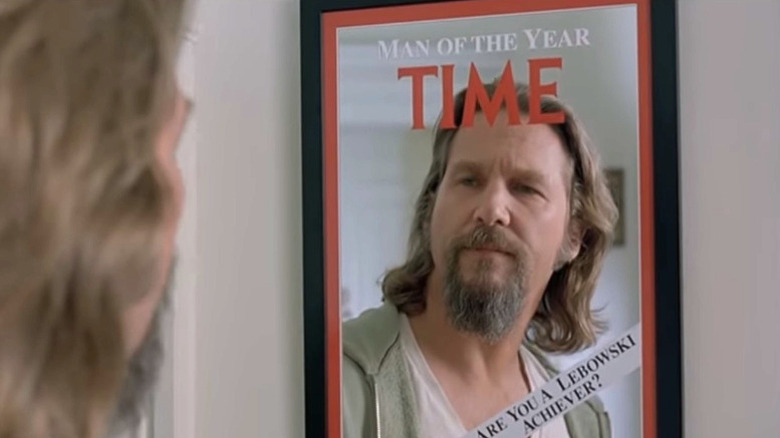 Gramercy Pictures
Sometimes, before a filmmaker starts production on a movie, they will turn to other movies for inspiration. Steven Spielberg mentioned to the American Film Institute that he watches David Lean's "The Bridge on the River Kwai" before shooting any movie with an adventure element. Based on the fact that "See How They Run" is a classic murder mystery set around the time of the golden age of crime fiction, you would imagine that director Tom George would reference films that personify the genre like "Murder on the Orient Express" or "And Then There Were None," but he went in a slightly different direction.
According to Sam Rockwell, when being interviewed by Screen Rant Plus, it was suggested that the cast watch "The Big Lebowski" and "Death of Stalin." While this might confuse you at first, it actually makes some sense. Both films are deeply satirical and play with some pretty heavy subject matter in a light-hearted way. "The Big Lebowski" even has a mystery in it.
On "The Next Best Picture Podcast," the director listed a few other movies he turned to for tonal inspiration since the tone of "See How The Run" is so specific and delicate. He mentioned "Memories of Murder" directed by Bong Joon Ho, "Fargo," "Kind Hearts and Coronets," and the works of Edgar Wright, Alfred Hitchcock, and Pedro Almodóvar as overall influences.
Saoirse Ronan insisted on using her accent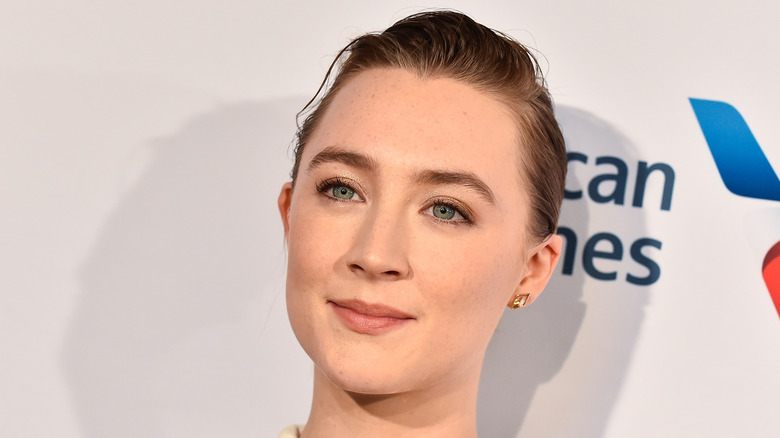 DFree/Shutterstock
Before starring in "See How They Run," Saoirse Ronan wasn't exactly known for her comedy work. It's not that comedy was entirely alien to her, but the vast majority of films most people would know her from (like "Hanna," "The Lovely Bones," "Lady Bird," and "Little Women,") aren't typically described as hilarious. Therefore, she was a tad hesitant before starting to film this ensemble comedy.
She told entertainmentie that she used her native accent in order to feel more comfortable. "I did insist on using my own accent," Ronan said. "I don't think I would be able to do full-on comedy unless it's a silly accent or my own Irish accent." Apparently, no one had a problem with that and it isn't even mentioned in the film, despite taking place in London.
While nailing the comedy wasn't exactly easy, using her natural speaking voice made things easier. "I think after a week or two I sort of found my rhythm and I knew who she was a little bit more. I knew it wasn't going to be like 'jokes jokes jokes,' but I could kind of be awkward and overly eager and that could be hopefully endearing and maybe funny sometimes, in its own way."
Charlie Cooper was stunned
Dave J Hogan/Getty Images
Even though Charlie Cooper had been extensively involved with the production of the comedy series "This Country" for three seasons (he co-created, co-wrote. and co-starred in it alongside Daisy May Cooper), that didn't prepare him for working with the likes of David Oyelowo, Saoirse Ronan, Sam Rockwell, and Adrian Brody. Being on a big movie set with big movie stars was a surreal experience for him, as he told IGV Presents, he spent most of the time afraid in a corner.
"I just must have come across like a complete rabbit in headlights," Cooper said. "Because 'This Country' was so sort of insular, and we had a lot of our family members in it, so it never felt like we were doing a TV show. It just sort of felt like messing around at home." The experience was so different that he couldn't think of anything to talk to anyone about. While they had funny stories to exchange, he asked questions like, "How did you get here today? Did you drive?" Luckily, he says they were all lovely and they didn't bully him.
Everything about it appealed to Reece Shearsmith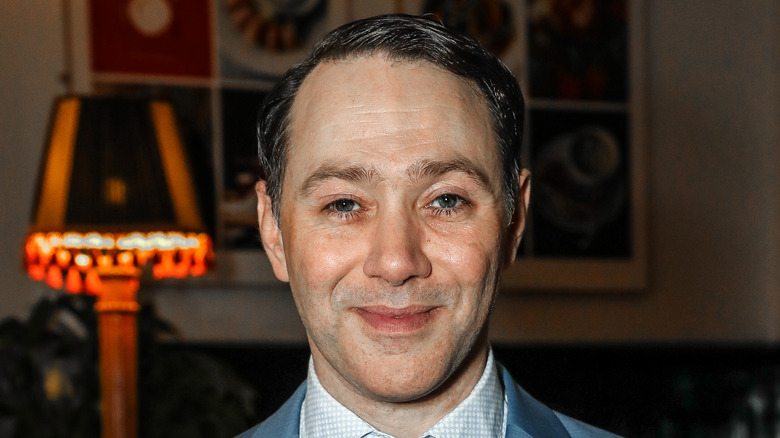 David M. Benett/Getty Images
Usually, whenever an actor is asked what drew them to a particular part, they say, "The script really moved me," or "I couldn't wait to work with the director," things like that. For Reece Shearsmith, though, the thing that appealed to him about playing John Woolf in "See How They Run" was pretty much everything from the script to the chance of working in an ensemble.
He explained as much on the red carpet when talking to HeyUGuys, saying, "Oh, I think it was the opportunity of being part of an ensemble, and being in that great tradition of the country house murder mystery. Being one of those people who — it could be them, you know? I knew it would be a fun shoot. The script is great. I really enjoyed reading something that is really self-aware about the genre. It's very smart because it knows that you know these kinds of films."
When discussing the meta aspect of the film, he pointed out how it openly discusses the use of flashbacks and plays around with the structure of the story. "I just thought, 'This is smart and this isn't just another one.' Despite the fact it's funny, it's not a pastiche, it's a genuine murder mystery."
Period accurate storyboards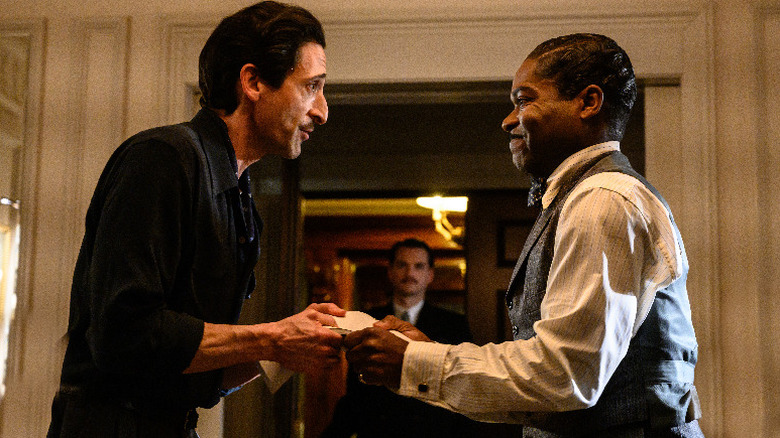 Searchlight Pictures
Whether or not a director uses storyboards is their choice. If it helps them visualize the entire movie, great. If it just gets in the way, they don't bother. Usually, though, action sequences tend to be storyboarded regardless because they are so technically challenging and dangerous. Everything will go much smoother and the chances of anyone getting hurt decrease if there is a detailed plan everyone can follow.
While working on "See How They Run," director Tom George told "The Next Best Picture Podcast" that he only used storyboards for particular sequences. The question was brought up because there is a scene in the film where storyboards factor heavily. During a flashback, director Leo Kopernick pitches his idea for a new finale for 'The Mousetrap" that would be more exciting for film audiences. To demonstrate what he means, he employs the use of storyboards.
The interesting thing is that the boards he used were based on actual ones used during the pre-production of the film. However, they had to be augmented to fit the time period. So, they took the original boards and sent them to the art department to make them look more like the kinds of storyboards Alfred Hitchcock used.
Whodunit wasn't the important thing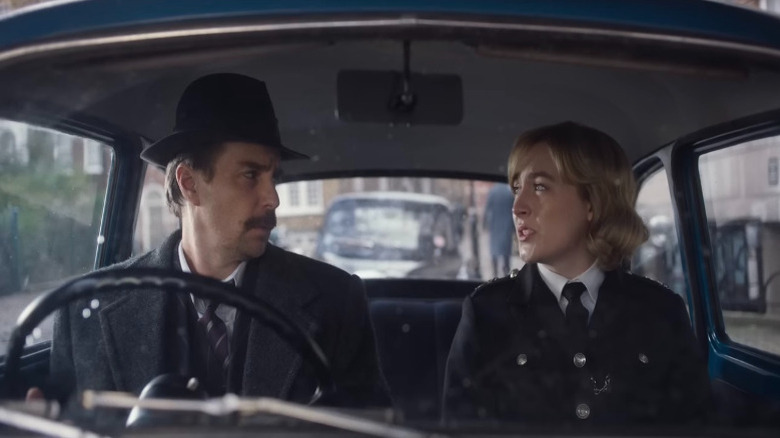 Searchlight Pictures
One of the reasons that "The Mousetrap" has been so successful is that people don't spoil the ending for those who haven't seen it. "See How They Run," shows the end of the play without revealing the murderer. Instead, all we see is Richard Attenborough telling the audience that watching their play makes them participants in a murder, and if they were to tell anyone whodunit, they would be subject to legal action. It's just a fun way of asking the audience not to spoil the ending by making them feel like they're part of the production.
As important as keeping the identity of the killer a secret is, it wasn't much of a priority to director Tom George during production. When Screen Rant Plus asked him if he filmed murder scenes multiple times with different actors to keep everyone guessing, he was forced to admit he didn't really think about it. "Yeah, we were actually probably way too trusting. I just relied on, you know, a cast of 30 or 40 actors and maybe 200 crew to just, like, not tell anyone. Which, with hindsight, was a risk."
However, he is also of the opinion that the whodunit aspect of the film isn't the most important element: the characters are. "What these films are most brilliant for, I think, is like taking you on a journey through a cast of characters."
Historical inaccuracies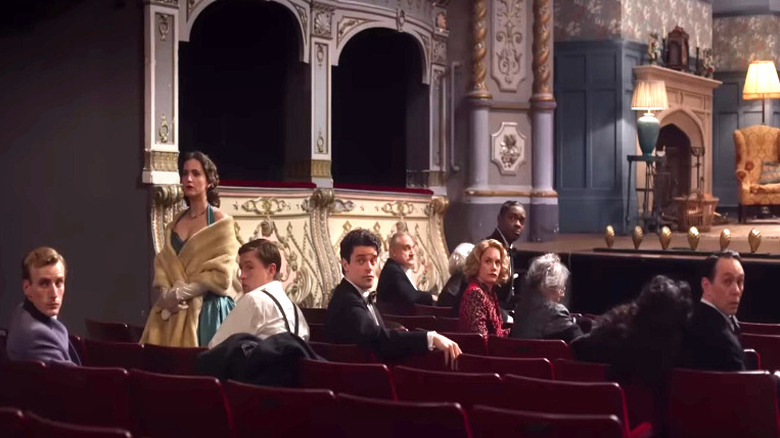 Searchlight Pictures
Although "See How They Run" is a work of fiction, it weaves elements of fact into its narrative in such a way that telling the difference between the two becomes a difficult task. While much of the information we're given regarding the production seems authentic, some of it was made up to fill the screen with Hollywood glamour rather than West End reality.
In his piece for The Guardian, writer Michael Billington brought some of these changes to light and points out how such inaccuracies actually undermine what made the play so unique and successful to begin with. For instance, he mentions that the film depicts "The Mousetrap" being produced in a massive palace of a theater, when it actually opened in the Ambassadors, one of London's smallest theaters. This meant that only 453 people could see it at a time, rather than the thousands who could attend in the film. With smaller audiences, it takes longer for everyone to see it.
Billington also pointed out that the film never acknowledges the role radio played in promoting the play. He writes, "A big factor in 'The Mousetrap's' early success was that an extract from it featured in a radio program called Henry Hall's Guest Night. I know because I heard it and was immediately fascinated by Christie's play."
The cast loved working together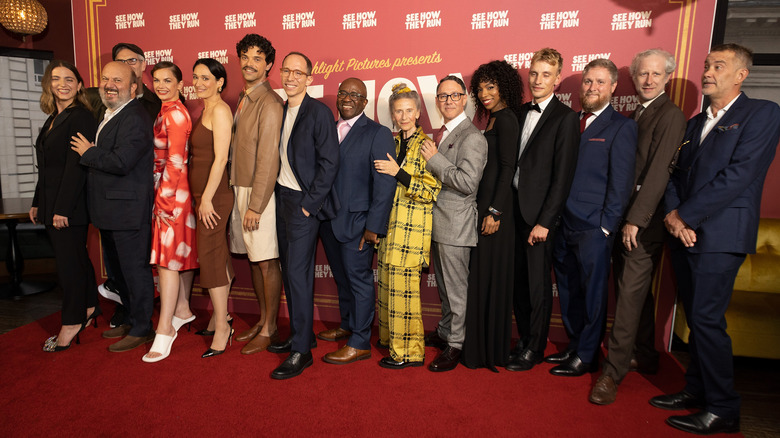 Dave J Hogan/Getty Images
It seems unimaginable that, when promoting a film, the cast involved would ever say anything unkind about each other. They can't exactly go on talk shows and do interviews where they air their grievances and expect anyone to go see the movie. Obviously, it's far more fun to think that the cast had a lovely time making the movie than it is to know how miserable they were. Therefore, seeing actors gush about their scene partners has become something of a cliche.
That being said, when watching the "HBO First Look" at "See How They Run," it really does seem as though this cast really enjoyed working together. Saoirse Ronan described working with Sam Rockwell as being part of a duo who goes everywhere and does everything together. Regarding David Oyelowo's performance as the writer Mervyn Cocker-Norris, Sam Rockwell said he was hilarious. Ronan described him as "incredibly brave with the choices he's made. And it's just worked so well." Reece Shearsmith said, "It's been a joy to watch because he's so committed."
Charlie Cooper felt Dickinson's performance as Attenborough "pitches it so good" and Rockwell called him "a movie star waiting to happen." Regarding the ensemble in general, Adrian Brody said, "I feel blessed to be part of a troop, you know?"