Must-Watch Mockumentaries You Don't Want To Miss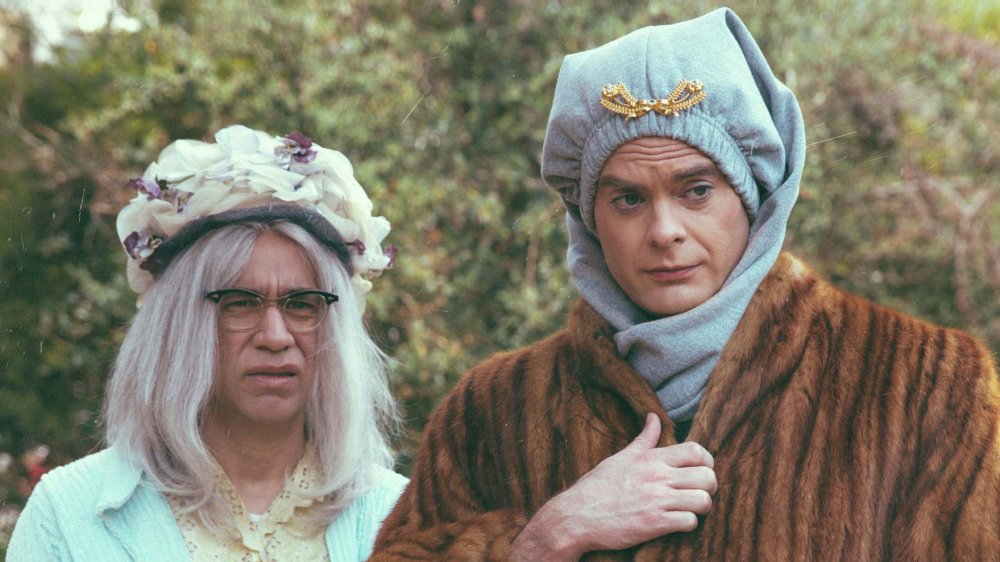 For years, documentaries — whether they're presented on the big or small screen — have been seen as entirely serious works that cover potentially difficult or heavy subject material. However, that doesn't have to be the case. If you're willing to delve into a fictional world through a documentary, you can always queue up a "mockumentary," a term that gained notoriety in the 1980s thanks to director Rob Reiner.
Whether or not you're familiar with mockumentaries by name alone, you've almost certainly come across this particular brand of comedy, both in film and television, where they've gotten more and more popular over the years. Along with pioneers like Reiner and collaborator Christopher Guest, creators like Michael Schur, Taika Waititi, Sacha Baron Cohen, and Andy Samberg have added to the mockumentary genre, resulting in some pretty fantastic — and incredibly popular — projects. From hit TV comedies to pop music parodies, here's a list of must-watch mockumentaries you definitely won't want to miss.
This Is Spinal Tap is the OG mockumentary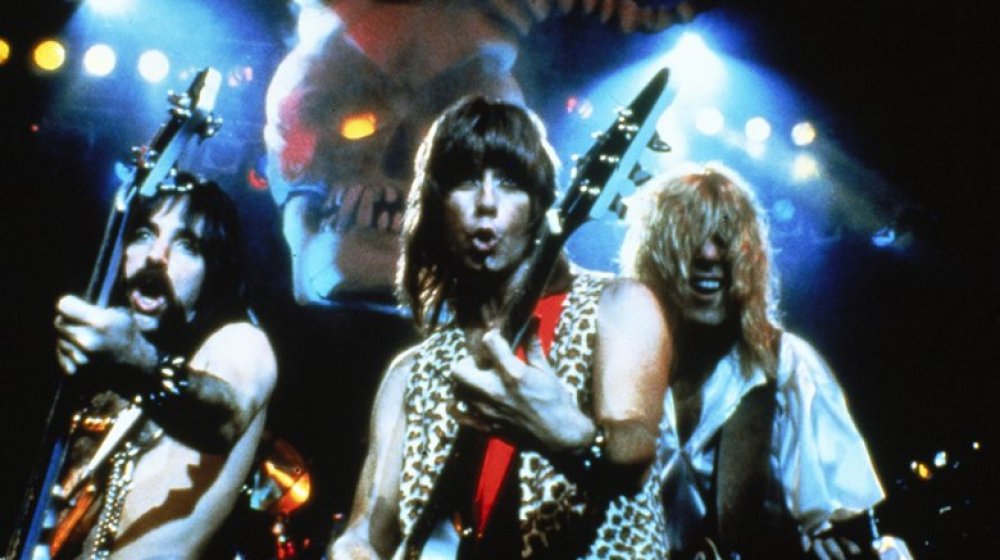 Arguably the film that created the modern mockumentary, Rob Reiner's 1984 classic This Is Spinal Tap defined a generation of comedies that followed it, and it's still one of the most rewatchable, hilarious movies around years after its initial release. A parody of heavy metal groups, Reiner's film centers on Spinal Tap, a fictional British band that's led by vocalist David St. Hubbins (Michael McKean), guitarist Nigel Tufnel (Christopher Guest), and drummer Derek Smalls (Harry Shearer). Reiner appears in a very meta role as Martin "Marty" Di Bergi, a documentary filmmaker who follows the group.
With songs like "Gimme Some Money" and "Big Bottom" — not to mention the world's smallest Stonehenge, modified amps, and some of the most unforgettable jokes in comedy history – Spinal Tap is regarded as a modern classic. Whether you've somehow never seen Spinal Tap or watch it regularly, there's never a bad time to revisit Reiner's genre-defining mockumentary. Just make sure to turn the volume all the way up to 11.
The Office is the best mockumentary in TV history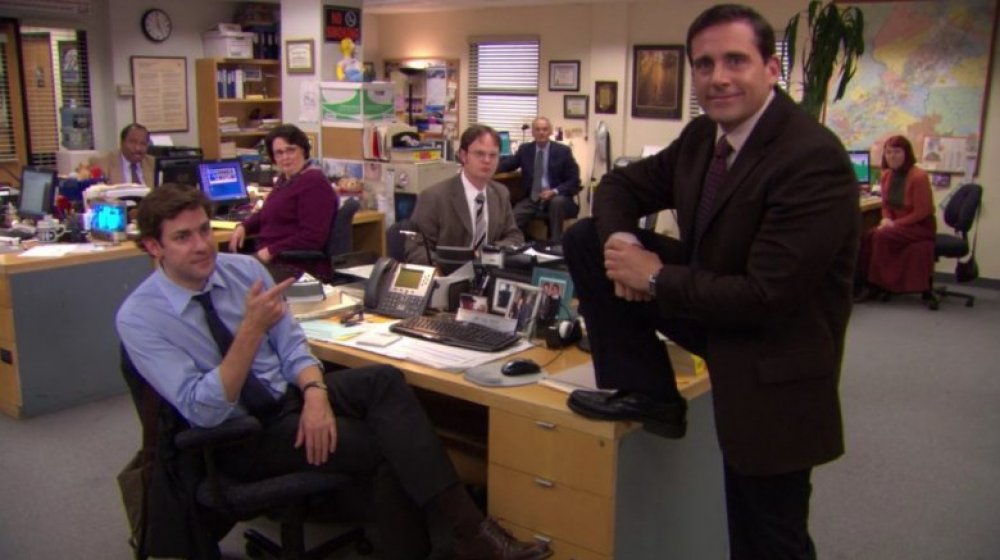 If This Is Spinal Tap is the gold standard for movie mockumentaries, The Office is its television equivalent. Adapted from the British sitcom of the same name — which also follows the same faux-documentary format — The Office was reshaped for American television by King of the Hill veteran Greg Daniels, and thanks to an excellent writer's room and an outstanding cast, it immediately became one of the most beloved television shows in recent memory.
For nine seasons, a (mostly) unseen documentary crew brings their cameras to the Scranton branch of Dunder Mifflin, a mid-size paper company, which is led by regional manager Michael Scott (Steve Carell). A buffoon with a heart of gold, Michael tries to be best friends with his employees, like wisecracking Jim Halpert (John Krasinski), receptionist Pam Beesly (Jenna Fischer), and weirdo Dwight Schrute (Rainn Wilson), and though he often fails, it's pretty incredible to watch him try. Carell ultimately left the show two seasons before its finale, but despite a lackluster journey to the finish line, The Office closed out its run by making the documentary itself part of the story, providing a clever twist. For televised mockumentaries, The Office is the goalpost every show that followed wanted to hit, and ultimately, it set an incredibly high bar.
Best in Show is one of the best comedies ever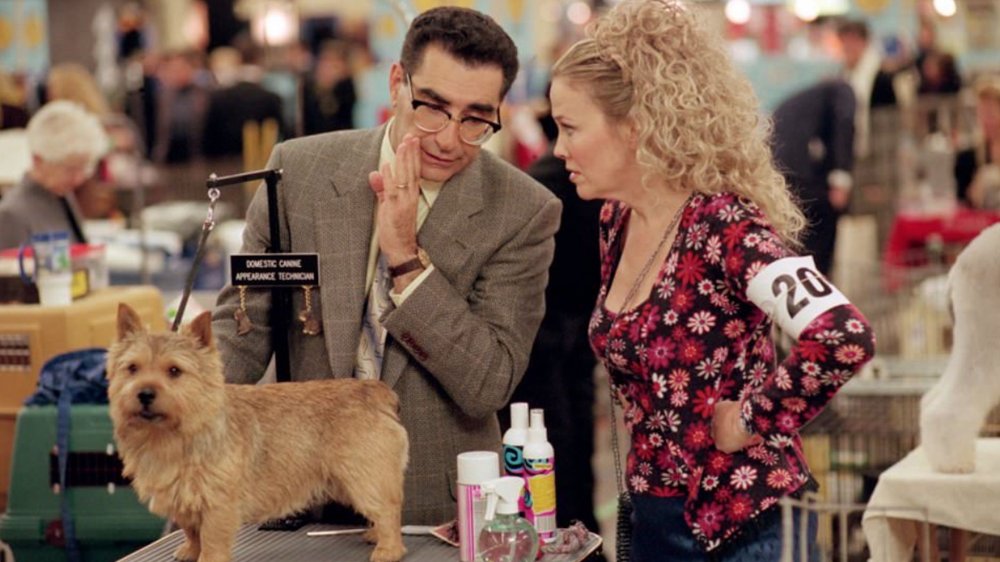 After working with Rob Reiner on This Is Spinal Tap, Christopher Guest got into the mockumentary game in his own right, and he ended up making some of the funniest and most influential mockumentaries in the genre. Guest has come up with several side-splitting concepts throughout the years, utilizing a loose, largely improvised scripting process and a regular group of actors, but Best in Show may be, well, his very best of all.
This time, Guest turns his incisive eye to competitive dog shows, parodying the sheer ridiculousness and self-importance of the proceedings and stacking the cast with frequent collaborators and comedy heavyweights like Eugene Levy, Catherine O'Hara, Michael McKean, Jane Lynch, Jennifer Coolidge, Parker Posey, Guest himself, and the late, great Fred Willard. Between the couple managing their Weimaraner's neuroses and Cookie Guggleman (O'Hara) running into lascivious former flames in front of her dorky husband, Jerry (Levy), not to mention a surprise romance between an owner and a handler, Best in Show is hilarious from start to finish, and it's become one of Guest's most well-loved films.
Parks and Recreation is the ultimate feel-good series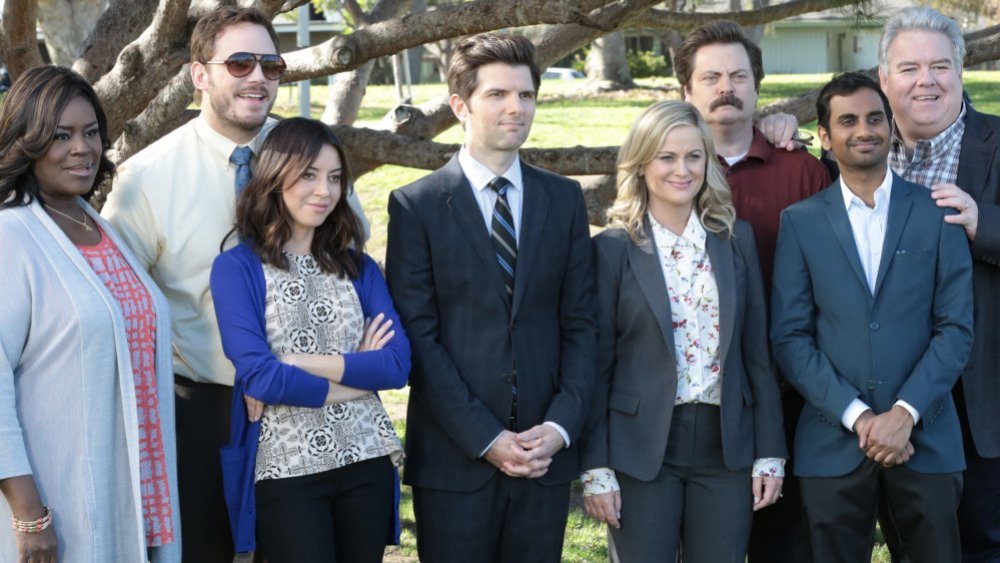 After working on (and occasionally appearing on) The Office for its entire run, writer Michael Schur branched out as his time at Dunder Mifflin drew to a close, ultimately going on to create Parks and Recreation. Though the series was initially conceived as a direct spinoff of The Office, it eventually gained a life of its own, telling the story of local government bureaucrat Leslie Knope (Amy Poehler), whose sunny, can-do attitude is both inspiring and extremely irritating as far as her colleagues are concerned.
Poehler created a defining character in Leslie, and the bureaucrat's supporting cast is stacked with incredible supporting players, including deadpan but lovable Ron Swanson (Nick Offerman), sarcastic yet sensitive April Ludgate (Aubrey Plaza), utter goofball Andy Dwyer (Chris Pratt), and bombastic wannabe businessman Tom Haverford (Aziz Ansari). Unlike The Office, Parks and Recreation never directly confronts its documentary premise, but its hilarious direct-to-camera confessionals and realistic reactions from its characters keep the framework from feeling forced or artificial. If you ever need a pick-me-up, you'll definitely want to start — or re-watch — Parks and Recreation.
What We Do in the Shadows works on both the big and small screen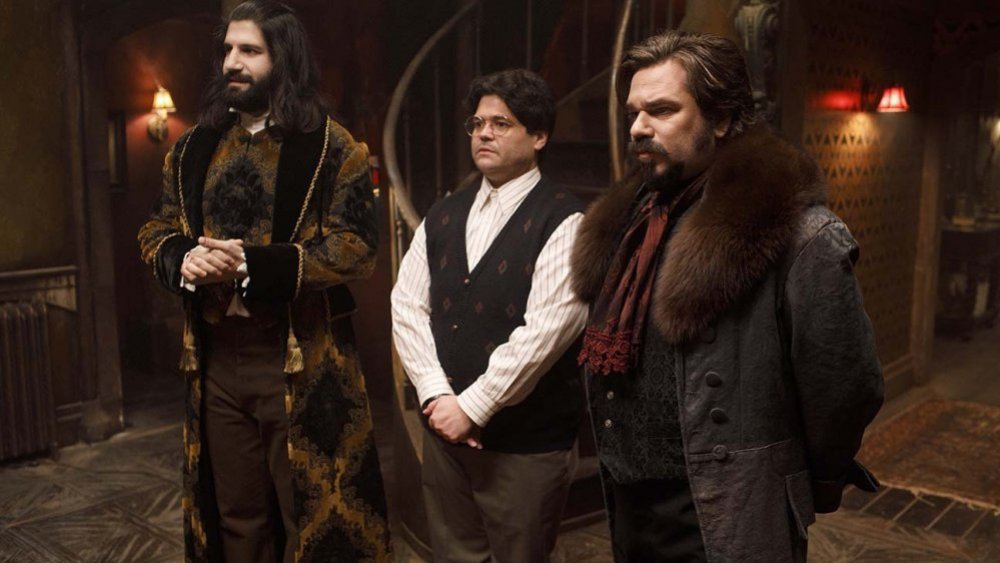 There are plenty of mockumentaries spread across both the big and small screen, but very few projects within this genre get to do both. However, Taika Waititi's ridiculous vampire comedy What We Do in the Shadows is the exception to this apparent rule. In 2014, the future Thor: Ragnarok director and Academy Award winner teamed up with his fellow New Zealander and Flight of the Conchords collaborator Jemaine Clement for a feature film that tells the story of some pretty lame vampires who all live together in Wellington.
Years later, in 2019, What We Do in the Shadows came to FX as a series, focusing this time on awkward ancient vampires with a dwelling in Staten Island. This new story, which occasionally features Waititi and Clement as guest stars, centers on Nandor the Relentless (Kayvan Novak), Laszlo (Matt Berry), and Nadja (Natasia Demetriou), as well as Nandor's endlessly loyal familiar Guillermo (Harvey Guillén). 
Spinoffs of popular films don't always go particularly well, but What We Do in the Shadows has been an undeniable success. After a hilarious first season, the second season earned an Emmy nod for Outstanding Comedy Series, as well as a writing nomination for the unforgettable episode featuring Laszlo's alter ego, Jackie Daytona. Whether you're a fan of Flight of the Conchords or Waititi's work in the Marvel Cinematic Universe, you'll definitely want to check out both versions of What We Do in the Shadows.
Popstar: Never Stop Never Stopping is a relentless pop star parody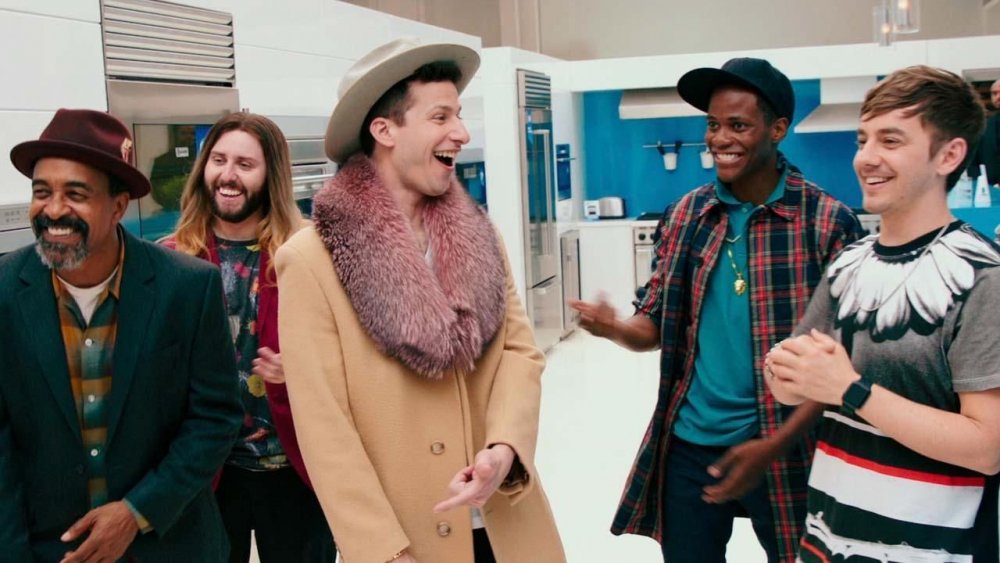 After earning fame and acclaim for their signature Digital Shorts, including "Lazy Sunday" and "D*** in a Box," on Saturday Night Live, the trio known as the Lonely Island — made up of Andy Samberg, Jorma Taccone, and Akiva Schaffer — went on to conquer the mockumentary genre with 2016's Popstar: Never Stop Never Stopping. A fully insane parody of modern pop stardom, the film tells the story of Conner (Samberg), who starts out with his best friends Owen (Taccone) and Lawrence (Schaffer) as a part of the three-man group known as the "Style Boyz," but ultimately, Conner leaves the group to launch his solo career as Conner4Real. Despite Conner's rise to international stardom, his sophomore album flops on impact, putting his entire career on the line.
Samberg, Taccone, and Schaffer's unique sense of humor takes brutal aim at the pop music scene. Plus, we've to praise the supporting cast, which is rounded out by comedy stars like Tim Meadows, Maya Rudolph, Will Arnett, Sarah Silverman, and Chris Redd, as well as cameos from real-life music heavyweights like Michael Bolton, Mariah Carey, Questlove, DJ Khaled, Carrie Underwood, and even Ringo Starr. With that stacked cast and its insane sense of humor, it's no wonder that many fans and critics have labeled it one of the funniest underrated films ever. If you want to laugh through a movie from start to finish, Popstar: Never Stop Never Stopping is definitely the right choice.
Waiting for Guffman is phenomenal comedy from Christopher Guest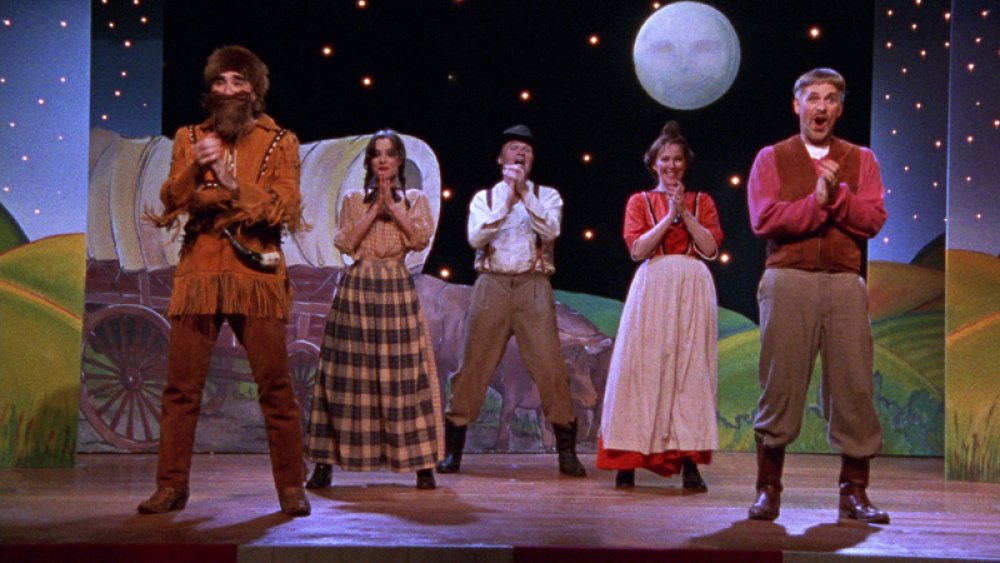 Best in Show may be Christopher Guest's crowning mockumentary achievement, but his first entry into the genre, Waiting for Guffman, is just as hilarious. A parody of Samuel Beckett's classic play Waiting for Godot, Guffman focuses on the small, seemingly insignificant town of Blaine, Missouri, which is all set to celebrate its 150th anniversary with a brand new musical. Led by the intrepid New York director Corky St. Clair (Guest), the band of would-be thespians — which includes Guest collaborators Catherine O'Hara, Fred Willard, Eugene Levy, Parker Posey, and more — stage Red, White, and Blaine, hoping that big-city producer Mort Guffman will come and see the show.
Guest's combination of his regular cast and their incredible improvisational skills strikes gold again in Waiting for Guffman, which illustrates just how far people will go to achieve their dreams. From O'Hara's insane hairstyles to Guest's bombastic director, the characters of Waiting for Guffman will win you over, no matter how many times you've seen the film.
7 Days in Hell is the perfect sports mockumentary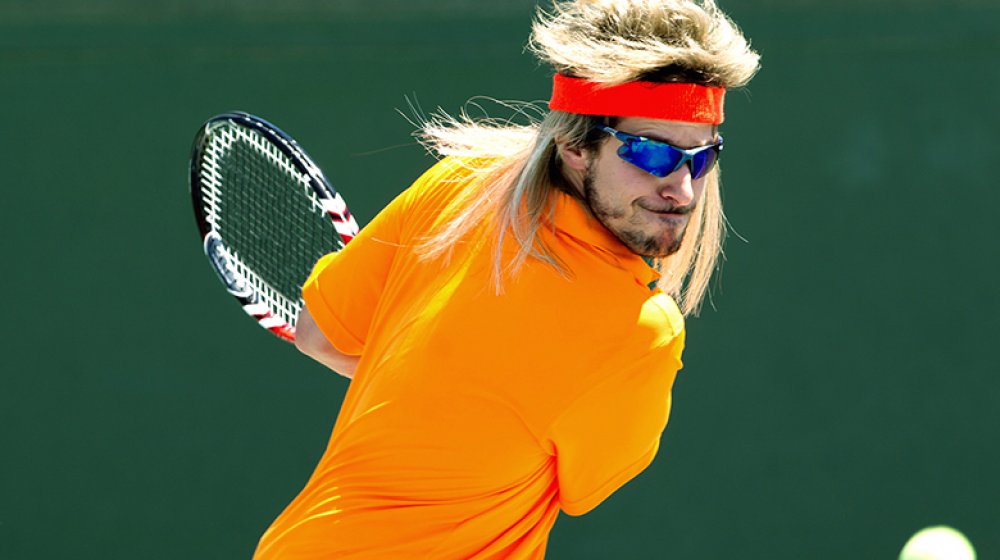 If you love real sports documentaries, you'll definitely love HBO's sports mockumentary 7 Days in Hell. This 2015 spoof casts Saturday Night Live alum Andy Samberg and Game of Thrones' Kit Harington as bad boy Aaron Williams and British drip Charles Poole, respectively, two tennis players locked in a record-breaking seven-day match at Wimbledon. Aaron Williams, America's favorite tennis star, is desperate to win the match to prove his worth, while hapless Charles, a puppet of the British monarchy, keeps receiving threatening messages from the Queen herself (voiced by June Squibb) regarding his progress. As the match progresses, the conditions get more and more ridiculous — complete with cameos from real-life tennis stars like John McEnroe and Venus and Serena Williams — and even non-tennis fans can find something to like about this film.
Perhaps the best part of 7 Days in Hell is its breakneck pacing. After detailing each day of the match, along with background for both Aaron and Charles, the movie ends after only 45 minutes, which is the perfect amount of time to tell this truly insane story. By approaching this mockumentary with all the seriousness of a real sports documentary, director Jake Szymanski and writer Murray Miller perfected the form in 7 Days in Hell.
Modern Family is a must-watch sitcom for anyone from any family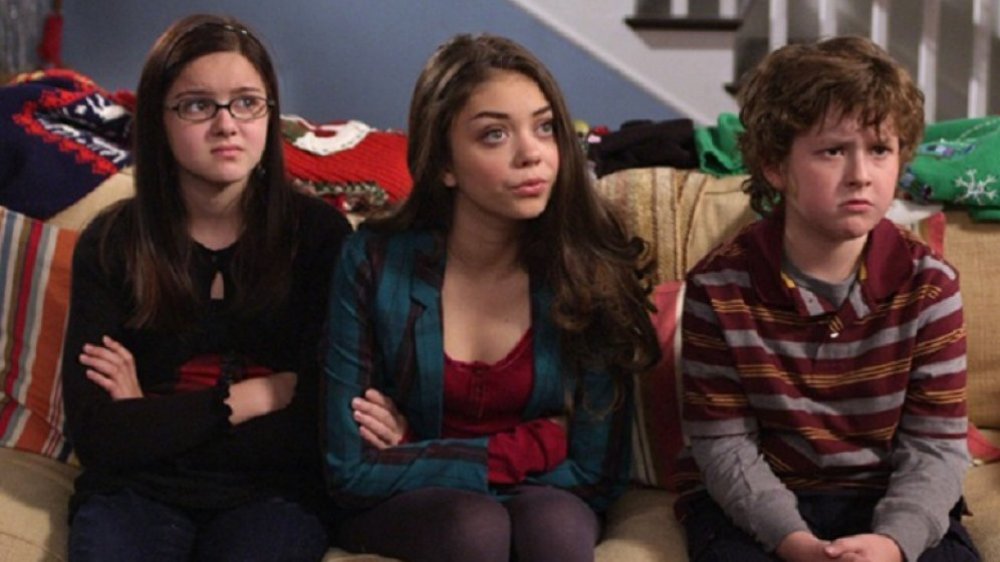 In the aftermath of The Office's success, plenty of shows tried to adopt a mockumentary format, but few did it as successfully as Modern Family. Created by Christopher Lloyd and Steven Levitan, Modern Family tells the story of three different families linked by one man, Ed O'Neill's Jay Pritchett, and their fascinating, messy, and hilarious lives in the suburbs of Los Angeles. In one of the three families, Jay's young new wife, Gloria (Sofia Vergara), struggles to adjust to life with Jay and her young son, Manny (Rico Rodriguez). In another, Jay's daughter, Claire Dunphy (Julie Bowen), and her hapless husband, Phil (Ty Burrell), raise three children. Plus, there's Jay's son, Mitchell (Jesse Tyler Ferguson), who raises an adopted daughter with his husband, Cameron (Eric Stonestreet).
By portraying a diverse array of couples and representing real problems with a hilarious spin, Modern Family became an instant hit, using the mockumentary form to great success, with camera confessionals under the assumption that a camera crew wanted to capture the modern American family. And no matter what kind of family you grew up in, you'll find something funny and relatable in this modern-day classic sitcom.
Borat was a landmark moment for mockumentaries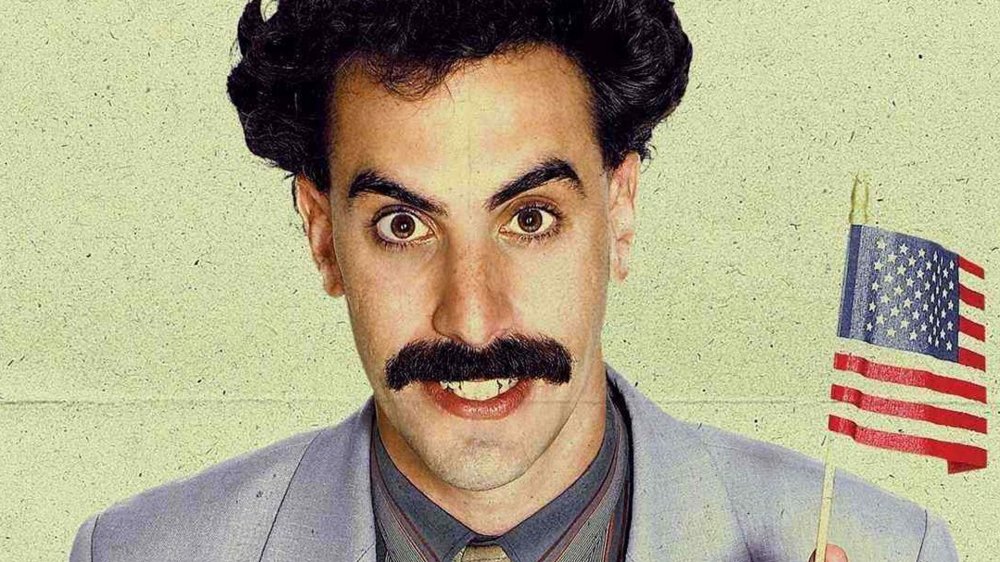 After honing his chops on HBO's Da Ali G Show, where he played a variety of wild and weird characters, Sacha Baron Cohen created a cultural phenomenon with Borat, which bore the truly insane subtitle Cultural Learnings of America for Make Benefit Glorious Nation of Kazakhstan. Based around one of his original characters, Borat put Cohen in an ill-fitting tan suit and fake mustache and sent him throughout the United States as he crushed cultural norms simply by pretending to be a complete outsider from Kazakhstan, getting in plenty of trouble along the way.
Over the years, few comedies have been quite as influential as Borat, whether it's spawning catchphrases like "my wife!" or causing controversy in the real country of Kazakhstan. Beyond that, the film was also, amazingly, nominated for major awards, including multiple Golden Globe awards and an Academy Award for Best Adapted Screenplay. Years later, Cohen announced a sequel, proving that the story of Borat, the ultimate outsider, will never truly be finished.
For Your Consideration brilliantly spoofs the Academy Awards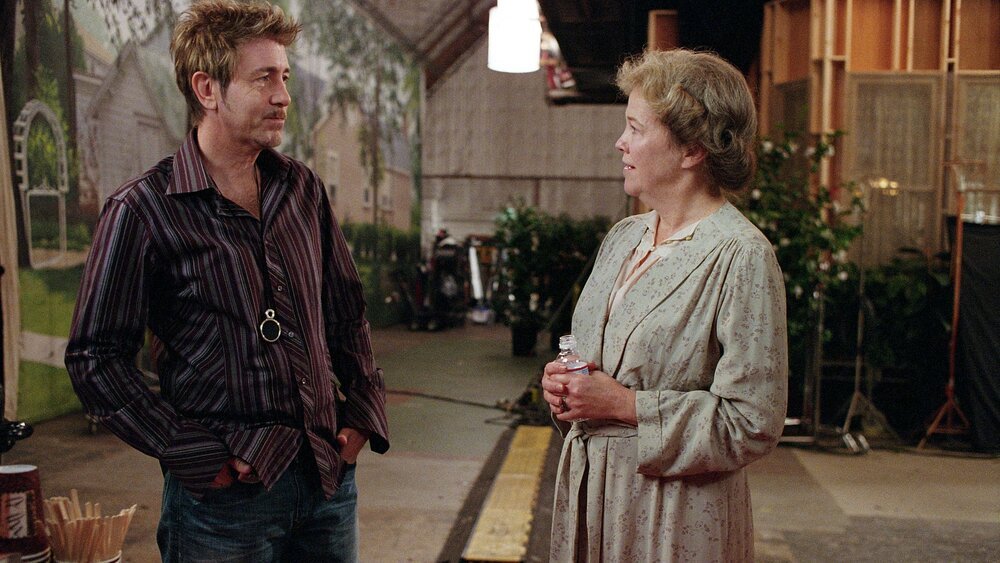 Every year, film studios, producers, and directors battle it out to win an Academy Award, a process perfectly parodied by Christopher Guest in his mockumentary For Your Consideration. Using a phrase that real films actually use to place themselves in the running for Oscar nominations, For Your Consideration tells the story of an absurd fictional film, Home for Purim, and its stars, all of whom are desperately hoping to net huge award nominations. Chief among those is aging actress Marilyn Hack (Catherine O'Hara), whose on-screen quest for an Academy Award is, frankly, worthy of a real Academy Award.
Naturally, O'Hara is flanked by fellow Christopher Guest regulars like Parker Posey, Eugene Levy, Fred Willard, Harry Shearer, and Guest himself, rounding out this hilarious film in the best possible way. If you follow the Oscars religiously every single year, it's definitely worth checking out For Your Consideration, which makes fun of the film industry's biggest night in the most effective and hilarious way possible.
Bob Roberts is the best political mockumentary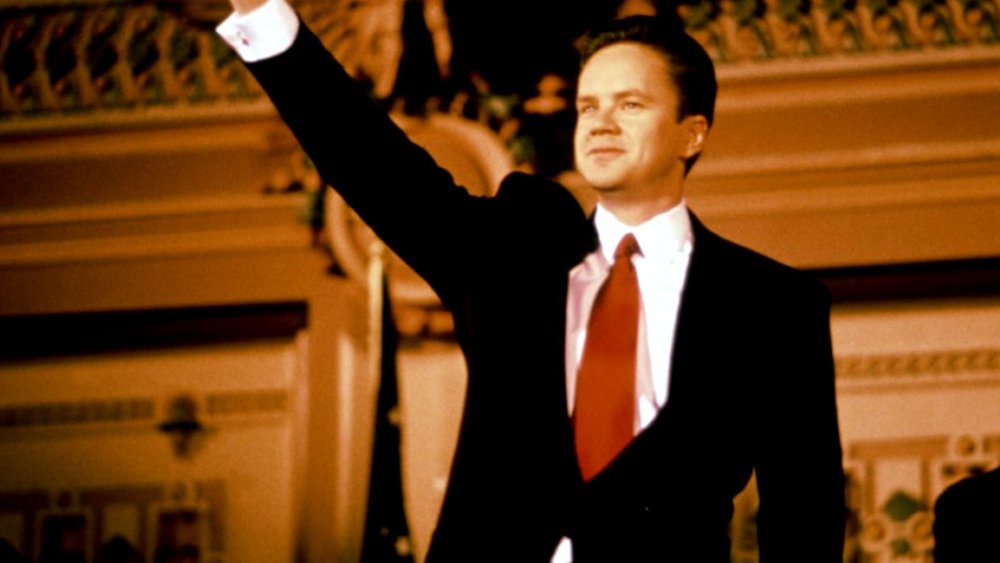 No list of mockumentaries would be complete without Bob Roberts. Based on Tim Robbins' classic Saturday Night Live character, the film is also directed and written by Robbins himself, as he parodies the American political process. In the film, which is also Robbins' directorial debut, his character Robert "Bob" Roberts Jr. experiences a meteoric rise as he runs for Senate, and though he's dogged by his shady financial past, his candidacy is buoyed by his talent for playing folk music, which he uses to uphold conservative values. While Bob runs for senator in Pennsylvania in the 1990s as a Republican against Democratic opponent Brickley Paiste (Gore Vidal), he undergoes a life-changing event, which ends up turning the tide in Bob's favor.
Flanked by supporting actors like Giancarlo Esposito, John Cusack, Peter Gallagher, Susan Sarandon, and Alan Rickman, Robbins shines in Bob Roberts. Despite the fact that it's one of the most ridiculous political mockumentaries ever made, Bob Roberts is a perfect choice for movie night, as well as an endlessly rewatchable ride.
Documentary Now! takes hilarious aim at a classy genre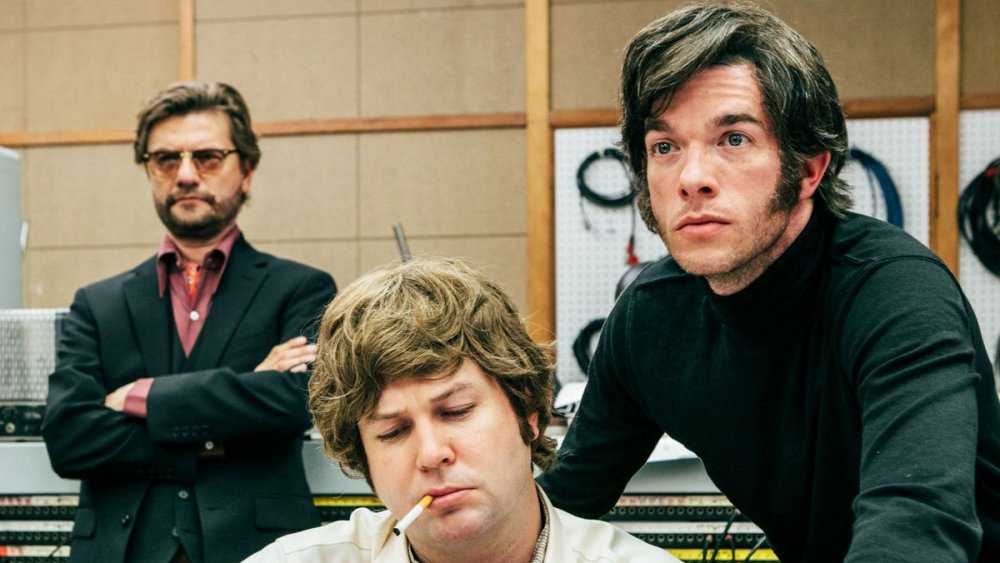 You probably know and love Fred Armisen and Bill Hader from their extensive work on Saturday Night Live, and if that's the case, you'll definitely love their irreverent, hilarious mockumentary series Documentary Now! Alongside fellow SNL alum Seth Meyers, Armisen, Hader, and their co-creator Rhys Thomas lampoon every single real documentary subject, changing up the focus and style from episode to episode and taking aim at some classic films.
After opening with a Grey Gardens-inspired spoof of two aging socialites living in their own world, Documentary Now! has tackled a ton of other topics, from wrongful murder convictions to spotlights on local chefs to an incredibly involved parody of Stephen Sondheim musicals. As a bonus, the entire series is hosted by legendary actress Dame Helen Mirren, adding a perfect note of seriousness to the ridiculous proceedings. Whether you love Armisen and Hader's sense of humor or you're a huge fan of documentaries, you're bound to find several episodes of Documentary Now! that pique your interest and make you laugh.