The Part Of Peaky Blinders That Cillian Murphy Absolutely Hates
"Peaky Blinders" arrived on Netflix in 2014, and in a short time, it became a hit. Taking place in Birmingham, England, in the early 20th century, the series focuses on the Shelby family, arguably the biggest name in British organized crime. Throughout the series, the family clashes with countless brutal groups and organizations. From London gangsters and IRA agents to the Italian-American mafia and corrupt politicians, the Shelby clan backs away from no enemy.
Though the series has concluded (with a very different "Peaky Blinders" Season 6 finale than was originally planned), the story is expected to continue with a "Peaky Blinders" movie, allowing fans to dive once more into the British criminal underworld.
The popular British series wasn't the easiest show to prepare for. The actors had to don period-accurate hairstyles, nail their accents, and engage in intimate scenes on-screen. While performing in such a historical, hard-hitting, and violent drama surely presents a wide array of challenges, there was one particular piece of preparation that Cillian Murphy absolutely hated.  
Cillian Murphy had to bulk up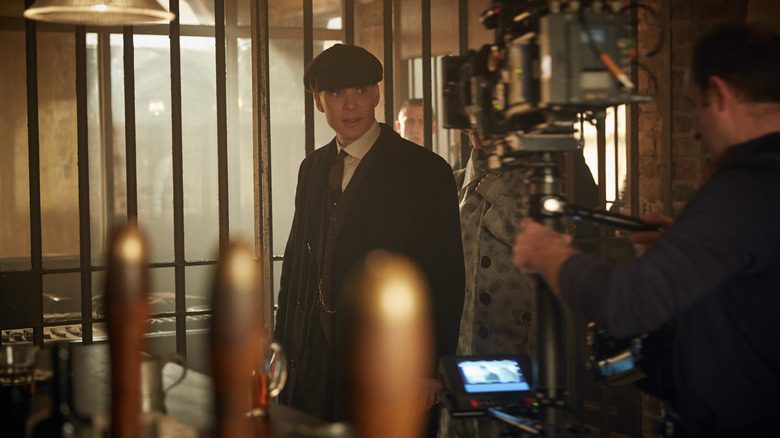 Robert Viglasky/Netflix
Though Tommy Shelby (Cillian Murphy) is not the oldest in the family, he is definitely the most intimidating. Fans know Tommy as being cold, calculating, and sometimes downright cruel, which is enough to make anyone cower in fear. Though his ice-blue eyes do the job, his build plays a major part as well. To become the fearsome head of the family, Murphy had to follow a strict diet and fitness routine. 
For someone who is physically slim, getting to the best size for Tommy was rather difficult. "For the first series of 'Peaky Blinders,' they were anxious that I shouldn't look like a skinny Irish fella, and my trainer recommended meat," Murphy told Mr. Porter Magazine in 2017. Having been a vegetarian for the past 15 years — a choice Murphy made because he was "worried about getting mad cow disease" — taking up meat again must have been a struggle. 
In addition to changing his diet, Murphy had to undergo several physical regimes to get to the ideal size for his "Peaky Blinders" role. The gradual process was frustrating, he revealed to Radio Times (via Express UK)  earlier this year. "I have to eat a lot of protein and lift a lot of weights and do all that stuff," Murphy said. "So that takes a while, which I hate." 
Though bringing Tommy to life was a demanding job, the results were effective. Murphy managed to perfectly transform himself into a terrifying figure who no one would want to cross.