Why Young Sheldon's Pastor Rob Looks So Familiar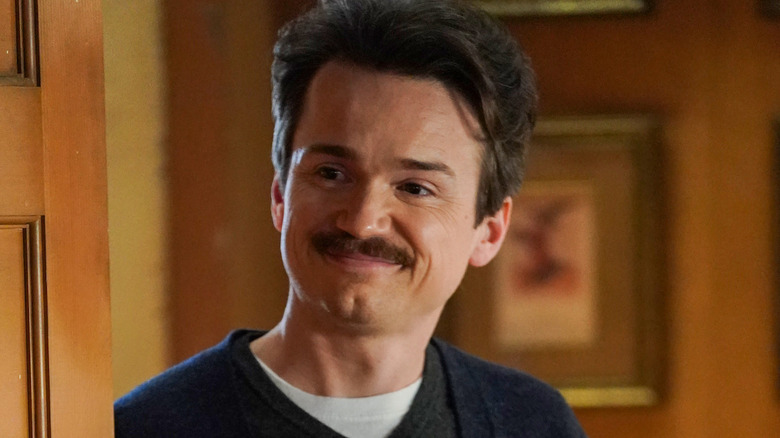 Sonja Flemming/CBS
In addition to being a widely beloved family comedy series in its own right, "Young Sheldon" has also offered sizable rewards to fans of the hit show that spawned it, deepening Sheldon's characterization and adding valuable context to much of his arc on "The Big Bang Theory."
To some degree, it was always expectable that a Sheldon Cooper-centric series might be an interesting proposition, seeing as his character was always known to contain multitudes. As an example of his complexity, there was the fact that his highly skeptical, almost clinical worldview sometimes clashed with the emotional instincts given to him by a deeply religious familial and cultural upbringing. On "Young Sheldon," this contradiction is given shape by the conflicts between Sheldon (Iain Armitage) and his mother Mary (Zoe Perry), who sometimes has trouble understanding her son's way of looking at things, while Sheldon himself struggles to reconcile his atheism with the community's sense of morality.
In Season 5, that conflict was both soothed and aggravated by the figure of Pastor Rob, the young, progressive pastor hired by Pastor Jeff (Matt Hobby) to teach Sunday school to the congregation's kids. As the season progresses, Pastor Rob manages to impress Sheldon with his open-mindedness and charm Mary with his unconventional insights — maybe even a little too much. If like Mary, you find yourself thinking a lot about Pastor Rob, you might want to know where you've seen the actor who plays him before. Here are a few possible answers.
Dan Byrd played Sam's friend Carter in A Cinderella Story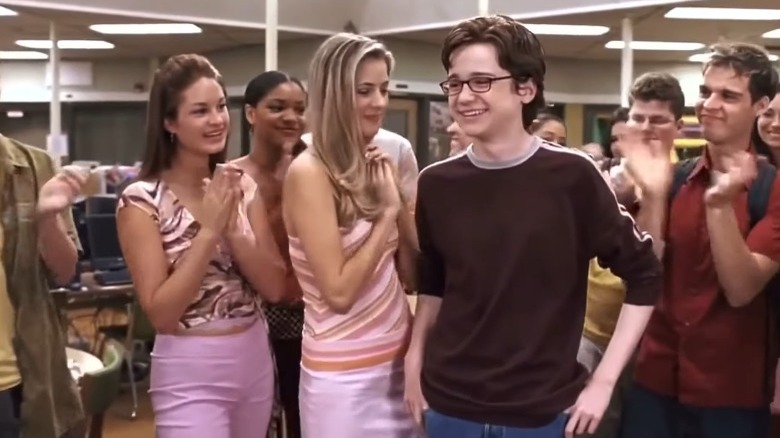 Warner Bros. Pictures
The actor who plays Pastor Rob on "Young Sheldon" is Dan Byrd, who has been acting in films and on TV shows since the late '90s. After making several appearances on television as a teenager, including "ER," "CSI," "State of Grace," and a recurring role as the young version of Colliar Sims (Chris Mulkey) on Lifetime's "Any Day Now," Byrd got a career boost with his supporting turn in the massively popular 2004 teen romcom "A Cinderella Story."
The film, a 21st-century retelling of "Cinderella" starring Hillary Duff as the downtrodden Sam Montgomery and Chad Michael Murray as the unattainable prince (read: high school football team captain) Austin Ames, puts a smart spin on several components of the classic tale, such as bringing Sam and Austin together by having them fall in love via anonymous online chatroom. The role of Cinderella's animal friends codified by the Disney animated film, meanwhile, is played by a number of people in her life, including the staff at the diner where she works as a waitress. But her big "sidekick," so to speak, is Carter Farrell, her nerdy best friend and confidante with whom she harbors a tight sibling-esque bond. Lovable and easygoing regardless of his lack of popularity, Carter faces romantic tribulations of his own in the film, courting head cheerleader Shelby Cummings (Julie Gonzalo) only to find out that she may not be all she's cracked up to be.
He starred on the short-lived The CW sitcom Aliens in America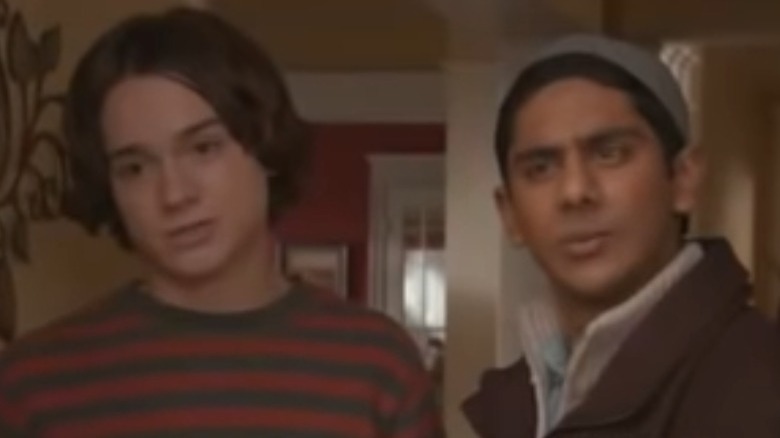 The CW
By 2007, having followed up his role in "A Cinderella Story" with a regular role on the CBS series "Clubhouse" and films like "Lonely Hearts" and "The Hills Have Eyes," Dan Byrd's profile was high enough to allow him to nab a leading role on a show — specifically, the CW teen sitcom "Aliens in America."
Byrd stars as Justin Tolchuck, a dorky teenager from Medora, Wisconsin, whose life is pretty great save for the fact that he has virtually no friends and no social life to speak of. The show's plot is kickstarted when Justin's family makes the decision to take in an international student, partly in hopes that he or she might help amp up Justin's social profile in high school. But, in a very late-2000s twist, the international student turns out to be Raja Musharaff ("United States of Al" star Adhir Kalyan), an even dorkier Muslim boy from Pakistan who proceeds, of course, to form an unlikely bond with Dan as the two join forces to navigate the horrors of American high school culture.
Although the show's culture-clash premise inevitably scans as a bit dated by contemporary standards, the writers of "Aliens in America" went out of their way to "normalize" Muslim faith and culture at a time when they were still generally relegated to the worst of stereotypes on American TV. And the earnest, endearing dynamic between Byrd and Kalyan played a major role in that endeavor.
He was Jules' son Travis on Cougar Town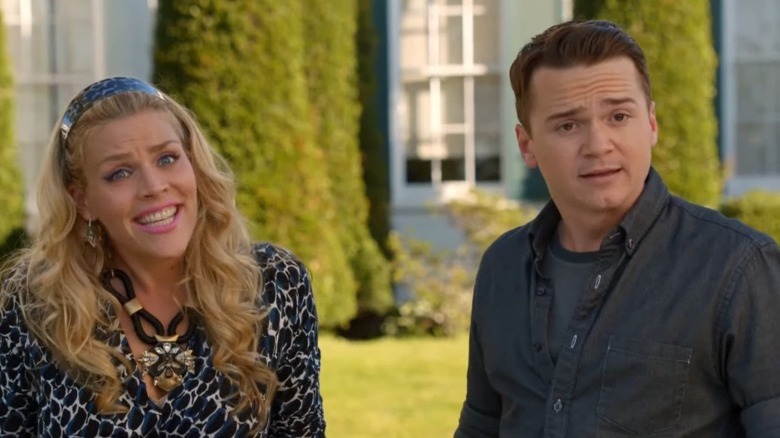 TBS
Ah, "Cougar Town." Did any other show in the 2010s beat more odds? Initially an awkward, somewhat uncomfortable cringe-com with a title that scared people away before they even gave it a shot, the Bill Lawrence and Kevin Biegel-created series somehow managed to blossom into one of the most charming, endearing, and consistent sitcoms of its time, amassing a small but rabid fanbase with its laid-back tales of Floridian camaraderie.
Although the initial idea was to follow Jules Cobb (Courteney Cox) as she dove head-first back into the dating game as a newly-divorced middle-aged woman, "Cougar Town" eventually found its groove as a "Friends" and "How I Met Your Mother"-esque hangout sitcom about a group of lovable kooks. Dan Byrd, for his part, played Travis Cobb, the only son of Jules and her hilariously chummy ex-husband Bobby (Brian Van Holt). Snarky, neurotic, and passionate about a multitude of geeky interests including art and photography, Travis became a definitional role for Byrd, who played him on every single one of the series' 102 total episodes, establishing one of TV's most authentic mother-son dynamics alongside the always great Courteney Cox. Not for nothing, although frequently exasperated and vexed by his parents' goofy antics, Travis remains very close to both of them throughout the show and takes as much part in Jules' friend gang as her older cohorts, even striking up an eventual romance with Laurie Keller (Busy Phillipps).
He played Brandon, the guy who starts it all in Easy A
"Easy A" is one of the most broadly popular and fondly-remembered high school comedies of the 21st century, and with good reason. It's the rare teen movie that allows room for the main characters' personalities to be fleshed out naturally and authentically, with the people guiding the plot and the gags as opposed to the other way around. That, and, y'know, it contains one of the most consequential breakthrough roles of recent cinema history in Emma Stone's Olive Penderghast.
The film is fashioned as a sort-of retelling of the Nathaniel Hawthorne novel "The Scarlet Letter," with a plot that sees Olive get in over her head when she begins to allow boys in her school to lie about having slept with her. Given how chaotic and overwhelming that plot eventually becomes, it's almost easy to forget that it all begins with a relatively minor, relatively sensible — one might even say benevolent — lie.
We're referring, of course, to the moment in which Olive pretends to have sex at a party with her gay classmate Brandon, played by Dan Byrd, so that bullies will get off his back. Although things eventually get out of hand, it doesn't seem like that bad of a decision on anyone's part at first, especially seeing as Olive and Brandon's friendship is genuine. And, although Brandon is not seen much after that initial kerfuffle, the film does follow his subsequent development from afar, all the way up to some drastic late-movie life decisions.
He was Ian on Amazon Prime Video's Utopia
The British Channel 4 sci-fi thriller series "Utopia" was, fittingly for its subject matter, a major underground hit that garnered a huge cult following both in its home nation and internationally. So it was all but inevitable that it would eventually get an Americanized remake. The Gillian Flynn-penned stateside "Utopia," released to Amazon Prime Video on September 25, 2020, was considerably less successful than its British inspiration, critically and commercially, leading to its cancellation after just one eight-episode season. Still, it was a high-profile production, starring the likes of John Cusack, Jessica Rothe, Rainn Wilson, and Sasha Lane, as well as recognizable TV stars like Cory Michael Smith from "Gotham," Desmin Borges from "You're the Worst," and, of course, Dan Byrd.
The plot, much like that of the original series, follows a group of people from around the U.S. who are brought together by their shared internet fandom of a cult comic book that may hold clues to a massive global conspiracy. Among the members of the network who finally meet in person after knowing each other online for a while is Dan Byrd's Ian Ackerman (equivalent to the British version's Ian Johnson), a bored insurance salesman who doesn't have a whole of excitement or motivation to speak of in his life save for his relationship with Becky Todd (Ashleigh LaThrop), which is taken to the next level and becomes the show's main source of romance when the two finally get the chance to meet in person.