The Courteney Cox Comedy Hidden Gem You Can Binge On Amazon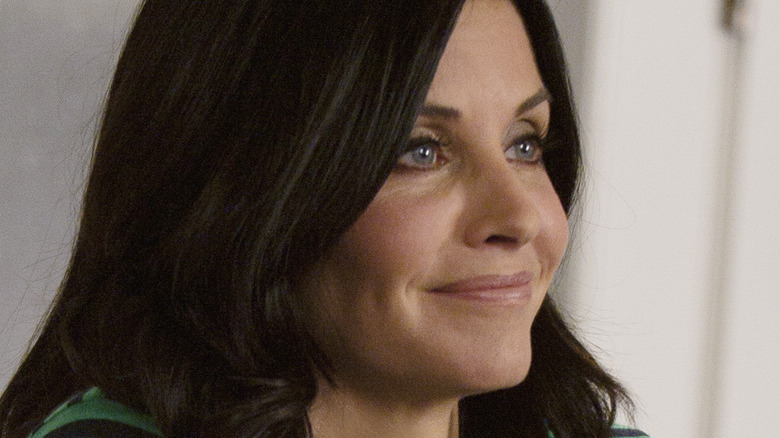 ABC
Courteney Cox may be known best for her role as Monica Geller on "Friends," but the veteran actress has a number of other credits to her name, too. From her memorable dancing in Bruce Springsteen's "Dancing in the Dark" video, to her portrayal of Gale Weathers in the "Scream" movies, the talented performer has been entertaining audiences for nearly four decades. 
After "Friends" concluded in 2004, Cox laid low for a few years, until returning to television in 2007 with "Dirt," the short-lived series about a tabloid editor trying to make it in the world of celebrity gossip. In 2009, however, the actress returned to sitcom life, and found quite a bit of success. 
"Cougar Town" follows Cox as Jules Cobb, a recently divorced mother navigating love, life, and dating in a small Florida town ... while drinking a lot of red wine. The hilarious and cheeky show was well received by both critics and audiences, holding an 89% Tomatometer score and 80% audience score on Rotten Tomatoes.  Now, viewers can catch the show streaming on Amazon Prime.
Cougar Town quickly became a beloved ensemble comedy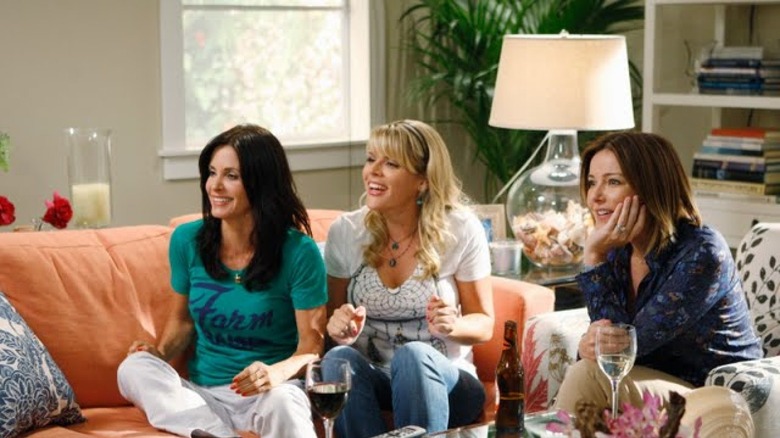 ABC
"Cougar Town," as the name suggests, initially followed 40-something Jules' adventures with dating 20-something men. However, creators Bill Lawrence and Kevin Beigel soon realized the show worked better as an ensemble comedy, and moved its focus away from Jules' romantic life. With comedic talents like Busy Phillips and Christa Miller playing Jules' best friends, the premise change was certainly welcome. However, this led to a problem for Lawrence and Beigel — when the show was no longer specifically about a cougar, did it warrant a title change? 
In a 2010 interview with HitFix (via DigitalSpy), Lawrence shared his thoughts on the no-longer relevant title of "Cougar Town," saying it hindered the popularity of the show. "I'd like to [change the name], and the studio has been talking about it. ... Partly as a result of common sense and partly from their research, they find too many instances of testing of people saying they would never watch a show called 'Cougar Town' ... and then they screen an episode and people go, 'Oh, I would watch this show.'"
In the end, the show's title never was changed, but it didn't end up being too much of a hindrance. Though ABC would cancel the series after its first three seasons, TBS quickly scooped it up and would air its final three seasons from 2012 to 2015, much to the delight of loyal "Cougar Town" fans. For those looking for a fun, lighthearted comedy about navigating dating, nosy neighbors, and the complexities of family, "Cougar Town" is a can't-miss binge.