12 Best Movies Like The Woman King Fans Should Watch Next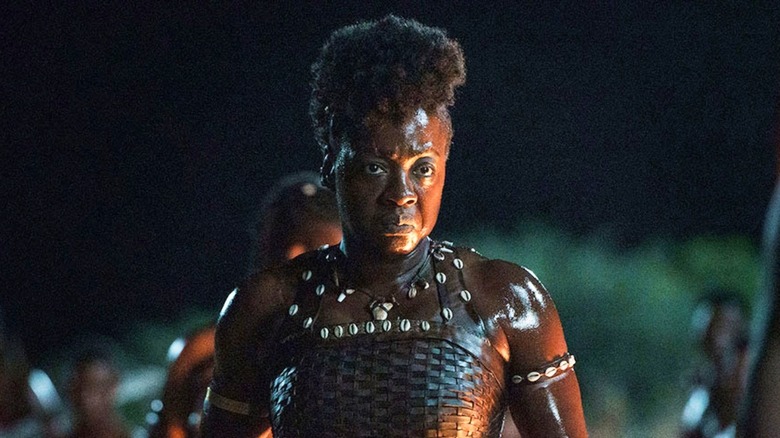 Sony Pictures
Gina Prince-Bythewood's "The Woman King" is one of the biggest films hitting theaters this fall and delivers an action-packed experience depicting a historically fierce female African warrior tribe. The film takes viewers into the West African kingdom of Dahomey where an all-female warrior army called the Agojie is defending their kingdom against a group of European invaders during the 1820s. Prince-Bythewood's vision for "The Woman King" delivers some stunning action, pulse-pounding thrills, and a palpably intense atmosphere. Viola Davis has never dominated the screen so fiercely more than she does as Agojie leader Nanisca and the rest of the cast delivers incredible performances, especially Lashawna Lynch and Thuso Mbedu.
"The Woman King" is easily one of the top female-led action movies out there, but it's far from being the only one worth watching. If you're someone who loved everything that "The Woman King" offers, there are plenty of action flicks out there that let women kick some tail and have a dominating screen presence. From movies set within big franchises and cinematic universes to a couple of beloved cult flicks worthy of a wider audience, there are plenty of female-led action movies that fans of "The Woman King" could check out next.
1. Atomic Blonde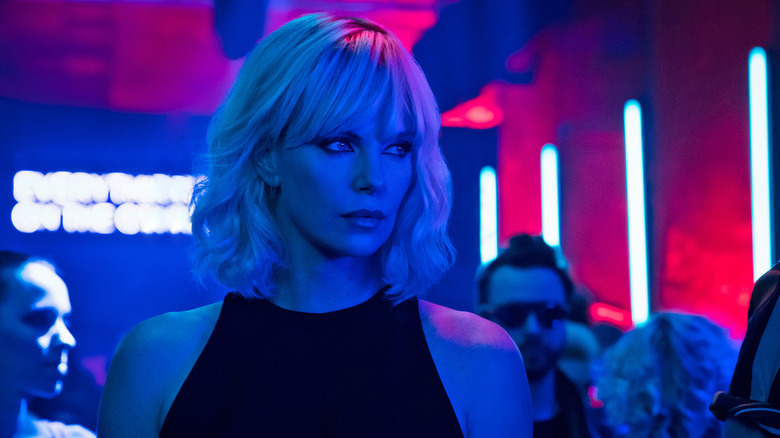 Focus Features/Universal
Although director David Leitch has helmed big action movies like "Deadpool 2" and the recent ensemble action epic "Bullet Train," his solo directorial debut, "Atomic Blonde," is still regarded as one of his best as his direction mixed with a captivating Charlize Theron performance create a can't miss action experience. Set within the paranoia-filled atmosphere of the Cold War, "Atomic Blonde" brings viewers into a world of spies and lies and follows Lorraine (Theron), a top MI6 agent, as she embarks on a dangerous new mission in Berlin to retrieve a list containing the names of specials agents before it falls into dangerous hands. 
"Atomic Blonde" features one of Theron's best performances as she gives Lorraine a compelling screen presence that carries over greatly into the action as she's truly a force to be reckoned with. Leitch's direction makes her an absolute beast when it comes to these large scale fight sequences, including a single-take fight in an apartment building that'll leave you jaw-dropped. The story is equally thrilling taking viewers into a complex espionage story and there's even a memorable supporting performance from James McAvoy. If you're on the hunt for the next great female action movie to watch, "Atomic Blonde" is an excellent place to start.  
2. Alita: Battle Angel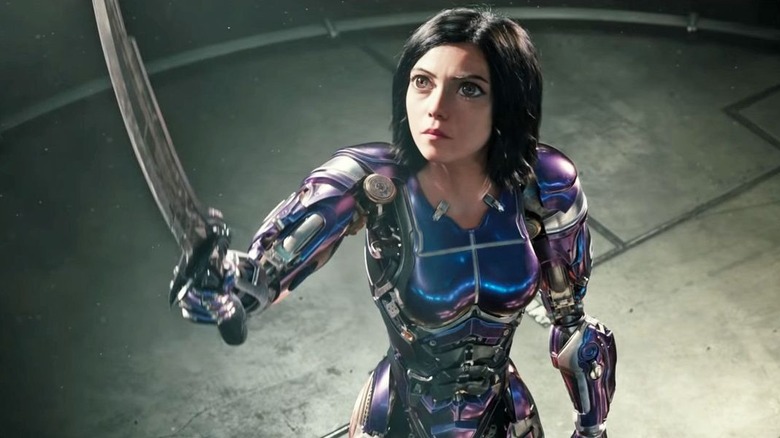 20th Century Studios
Live-action anime adaptations are rarely good, but Robert Rodriguez's 2019 adaptation of "Alita: Battle Angel" breaks that trend and delivers an incredible female-led action experience with a surprisingly deep world and an incredible lead performance from Rosa Salazar. The film follows Alita (Salazar), a cyborg who awakens with no memory of her past and looks to uncover her true purpose in a world filled with cybernetic assassins and corporate lies. Although "Alita: Battle Angel" went through quite a lengthy development, the film ended up being a pretty incredible watch because of its stunning visuals and Rodriguez's excellent action direction. 
Rodriguez's vison for "Alita: Battle Angel's" world is some of his most ambitious work to date and serves as this sprawling playground for him to deliver some mind-blowing action. From a thrilling bar brawl to some fast-paced Motorball sequences, "Alita: Battle Angel" is a visually fascinating film that never ceases to amaze viewers with its action. Its characters are even more intriguing with the cybernetic assassins providing their own personal touches to the action through their unique designs and Alita is a captivating force when it comes to fighting. Best of all is that there's a very solid personal arc for Alita that's elevated by Salazar's breakout performance that'll please many viewers. So, if you missed out on "Alita: Battle Angel" when it was in theaters, now is the time to see it.
3. Aliens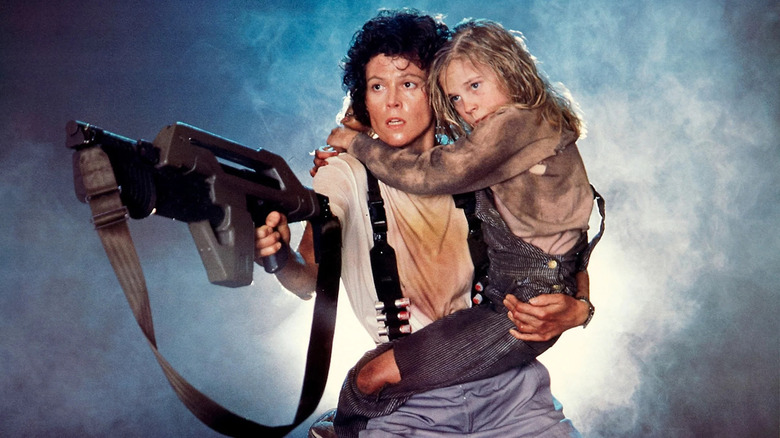 20th Century Studios
There's absolutely no way that any list of movies featuring incredible female action movies would be complete without talking about "Aliens" or its iconic lead Ellen Ripley (Sigourney Weaver). The film follows Ripley, the sole survivor of the alien attack of the first film, as she's forced to face off against Xenomorphs again after she and a group of colonial marines become hunted by Xenomorphs. While Ripley might be surrounded by trained colonial marines, she's easily the most capable of surviving and killing the Xenomorphs. 
When it comes to the most iconic Ripley moments, most of them can be found in "Aliens" as Weaver delivers a performance that shows her at the top of her game, even earning an Oscar nomination. From her protecting Newt with giant guns to that incredible final fight sequence with her in a giant construction robot, Ripley has never looked more badass than she does in "Aliens." Plus, "Aliens" is just an incredibly fun good time with James Cameron's direction creating this great mix of action and horror and the Xenomorphs getting some good improvements. The "Aliens" legacy has only strengthened with time, and it remains one of the best sci-fi action movies ever. 
4. Kill Bill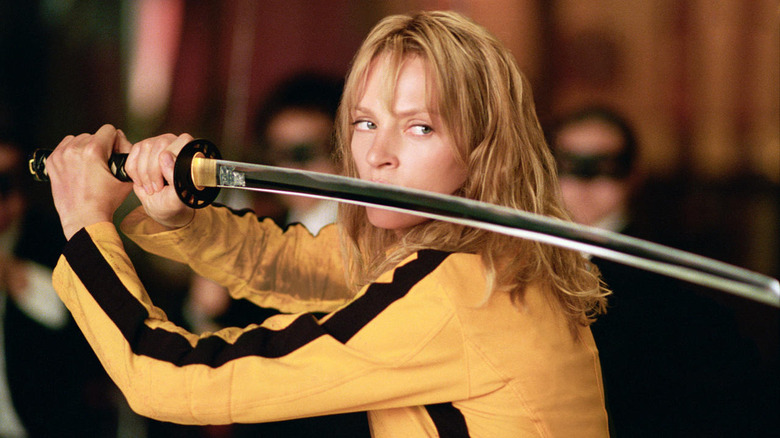 Miramax
Quentin Tarantino's "Kill Bill" delivered two volumes worth of epic action that followed a former assassin on the path of revenge. After being left for dead by her former lover and boss Bill (David Carradine), a deadly assassin known as "The Bride" (Uma Thurman) sets out on a path of vengeance to not only kill Bill, but also the group of female assassins that betrayed her. Thurman is absolutely unstoppable in these films as she just evokes this sense of badass instincts and a deadly physical prowess that constantly leaves you stunned and Tarantino's direction and vision make the "Kill Bill" movies undeniably epic. 
The entire fight between the Bride and the Crazy 88 is a bloody and brutal brawl that's completely unforgettable and the Bride isn't the only female badass in these films as the bouts between her and the other female assassins are stunning. In between all the epic action is this empowering and vividly detailed story of revenge that keeps you hooked throughout and features some of Tarantino's most unique storytelling and characters. Why have one epic female-led action movie, when you can have two, right?
5. Sucker Punch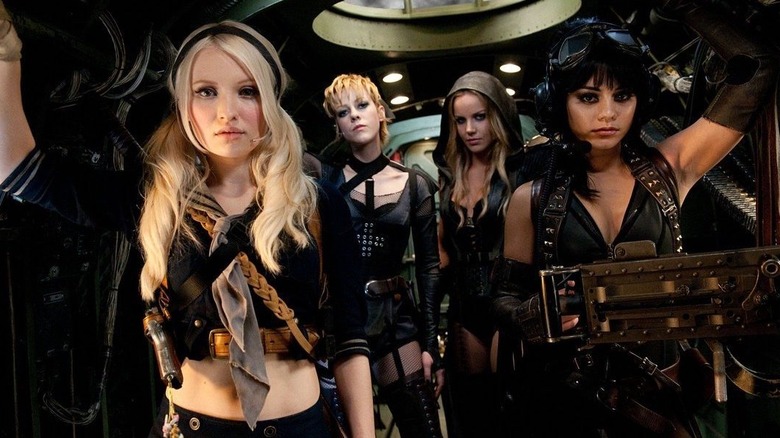 Warner Bros.
Director Zack Snyder has garnered quite a following for his big action flicks, like "300" and his DC adaptation, but those Snyderverse fans might have forgotten about his first original movie "Sucker Punch," which just lives and breathes wild and mind blowing action. While its central story of Babydoll (Emily Browning) trying to escape the cruel asylum world she's sent to by her abusive father can be a little tough to get behind because of its tough pacing and inability to reach its full potential, the fantasy worlds she escapes to in between harsh moments of her reality are undeniably awesome. 
The sequences of Babydoll and fellow female inmates fighting in these stunning fantasy worlds, that range from them fighting giant robots on a train to infiltrating and Orc-filled castle, are just Snyder having a total ball. "Sucker Punch" is a high concept action movie at its core with its central group of women constantly leading some wildly imaginative action moments that weave into the story well. It might not be Snyder's best film, but "Sucker Punch" is one that those looking for some slightly empowering and unique female-led action will want to check out. 
6. Gunpowder Milkshake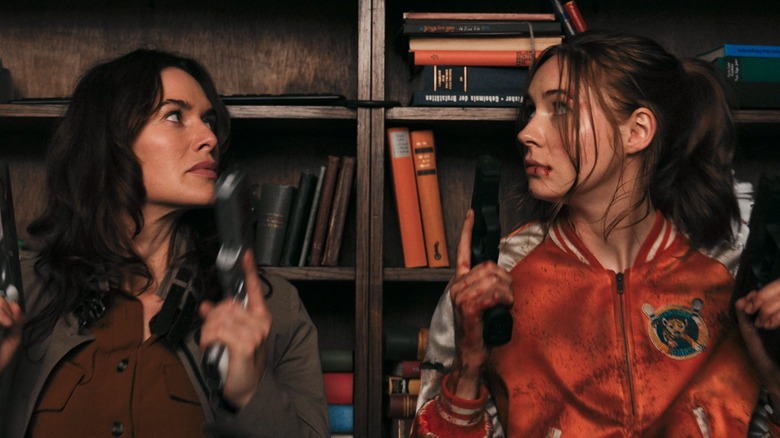 Netflix
Last year, Netflix and director Navot Papushado delivered an original female assassin flick in "Gunpowder Milkshake" that has an incredibly talented cast and some fun action. The film follows assassin Sam (Karen Gillian) after she finds herself on the run when a hit is placed on her and she's forced to protect a young girl (Chloe Coleman) with the help of her estranged mother (Lena Heady) as well as the Sisterhood of Assassins. 
Along with its very classic assassin on the run premise, "Gunpowder Milkshake" provides some wild action sequences within its guns blazing final act that proves its central group of assassins are not to be messed with. Also, it features a star-studded cast led confidently by Gillian and sees its Sisterhood of Assassins led by Carla Gugino, Michelle Yeoh, and Angela Bassett — a truly talented trio that can't be missed. "Gunpowder Milkshake" is perfect for Netflix subscribers looking for a female action flick that features quite an enjoyable cast. 
7. Birds of Prey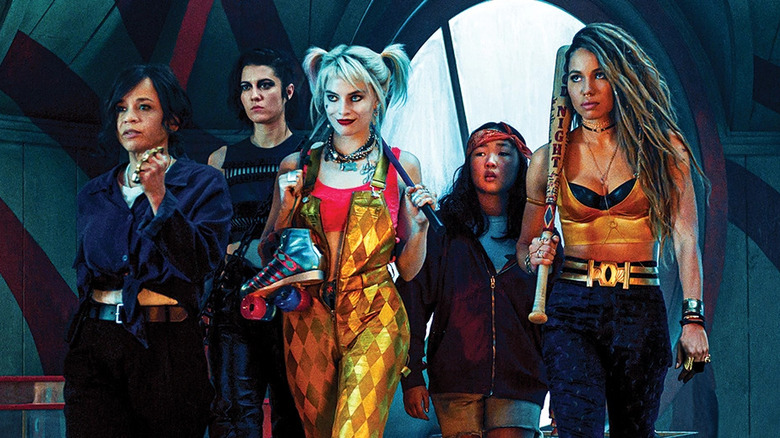 Warner Bros.
There's no debating that the DCEU has been a hot mess so far, but Cathy Yan helmed one of DC's best movies to date with "Birds of Prey" as it delivered some amazing R-rated action fitting for Harley Quinn (Margot Robbie) and the other female heroes brought into a gritty crime world. Harley Quinn striking out on her own after breaking up with the Joker should be a destructive, explosive, and gory tear through Gotham and that's exactly what "Birds of Prey" provides. You're constantly left stunned by Harley's disastrous means of chaos and Robbie has never been better as the character.
Plus, Harley isn't the only DC character that gets some good action moments as Black Canary (Jurnee Smollett), Huntress (Mary Elizabeth Winstead), and Renee Montoya (Rosie Perez) get to hop in on the action and form the titular Birds of Prey. Smollett is a true standout for the epic badassery she brings to Black Canary's big screen debut and Yan shows a lot of confidence and creativity in the incredibly fun and engaging action sequences she helms. DC might have some ups and downs in its cinematic universe, but "Birds of Prey" is a total high that showcases some strong female-led action. 
8. Black Widow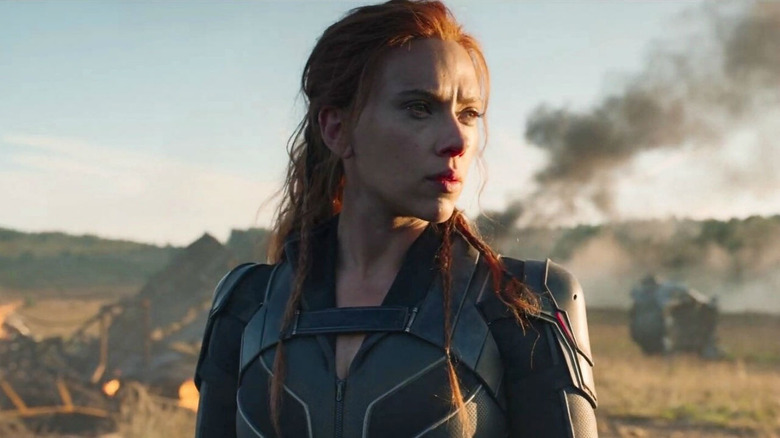 Disney
Black Widow has been one of the most beloved female heroes in the MCU, and the moment of her finally getting her own movie provided the MCU with an action-packed female-driven action movie with a great personal story of the character. The film sees Natasha Romanov/Black Widow (Scarlett Johansson) confront her past and team-up with her sister Yelena (Florence Pugh) to find and stop the Black Widow program while being hunted by a dangerous assassin known as Taskmaster. Not only does "Black Widow" delve into an intriguing and kind of scary world of female assassins and mind control, but it also provides a great personal story for both Natasha and Yelena when it comes to them delving into their broken family. 
Also, Black Widow has never been more epic in moments of action with the film providing some great set pieces and sequences along with an intriguing combat-heavy villain like Taskmaster to make this one of the most action-packed MCU films to date. There's also some great action moments for Yelena and Red Guardian (David Harbour) to shine, and that explosive finale is a ton of fun to watch unfold. The MCU's female hero roster continues to grow, but that doesn't mean we should forget about an action epic starring the heroine who started it all. 
9. Tomb Raider (2018)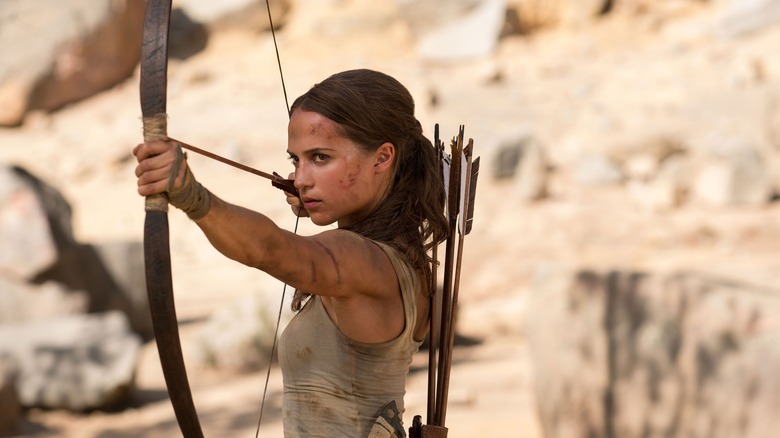 Sony Pictures
Although Alicia Vikander recently left the modern "Tomb Raider" films while the sequel is having trouble getting off the ground, the 2018 reboot is still worth watching as it provides some epic survival action and a great early Lara Croft (Vikander). The film takes a page out of the more modern "Tomb Raider" games by Crystal Dynamics in showing a more survivalist Lara Croft as she travels to an island that's possibly the last known location of her father. Say what you will about the formulaic nature of the film's plot, there are some really awesome moments that let Vikander thrive as Lara Croft. 
Some of the action is visually striking and engaging, and the survivalist moments of Lara definitely feel very connected to the more modern take on the character. "Tomb Raider" is by no means a perfect movie, but it features enough great action and a memorable performance from Vikander as Lara Croft to make it a worthwhile watch, especially given that Croft is one of the most notable video game action heroes of all time.  
10. Red Sparrow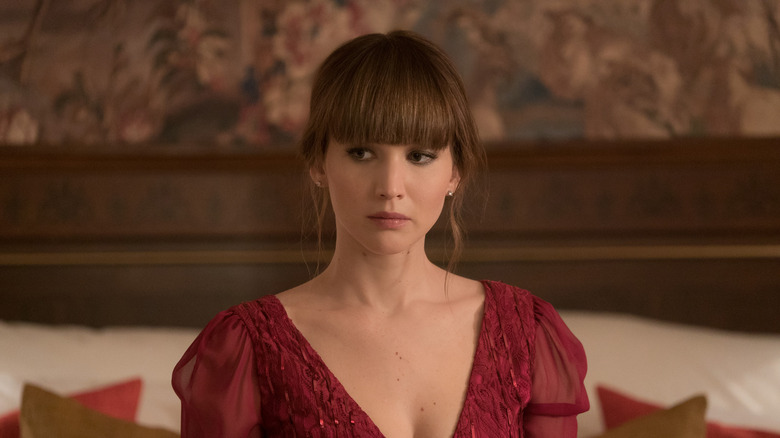 20th Century Studios
Most might not remember the 2018 Jennifer Lawrence-led spy thriller "Red Sparrow," but it delivers enough thrills and actiony chills that make it worth your time. The film sees Lawrence play Dominika, a former ballerina turned spy as she's brought into a training programs that teaches young women seductive spy techniques and dubs them "Sparrows" where they're sent on missions to find information. Throughout Dominika's mission to find a mole, you're brought into tense moments that induce some good chills. 
The female atmosphere of the Sparrow spy organization instantly makes "Red Sparrow" unique and offers the perfect atmosphere for Charlotte Rampling's intense screen presence. Lawrence is very memorable for the strong performance she gives and how she drives the film's more thrilling and intense moments. Plus, there are plenty of twists and turns that hold your attention. Those looking for a female-driven spy thriller with a tense atmosphere and some memorable performances will certainly appreciate what "Red Sparrow" offers.
11. Colombiana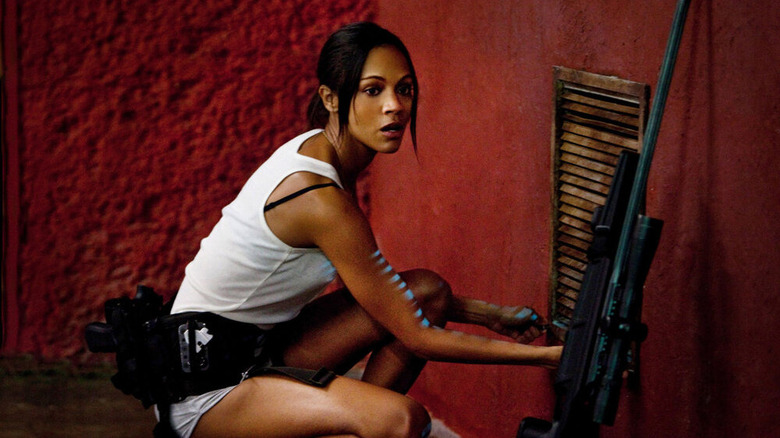 EuropaCorp
While Zoe Saldana has become known for her roles as Gamora in the "Guardians of the Galaxy" movies and Neytiri in "Avatar," no one should miss out on her breakout role in Luc Besson's "Colombiana," where she absolutely kills it in a tense revenge story. As Cataleya, a woman who now seeks revenge against the drug lord who killed her family when she was young, Saldana commands the screen with the intense ferocity and determination she brings to the character. 
Cataleya's revenge story feels immensely personal throughout and keeps you engaged through all her assassinations that get her closer to enacting revenge. the strengths of "Colombiana" also come from Besson's direction, as he crafts some tense and thrilling action moments that are as unforgettable as Cataleya's unique calling card left at all her kills. "Colombiana" is an instant classic of the action genre and a great place to see Saldana have the spotlight all to herself in a thrilling female action flick. 
12. Widows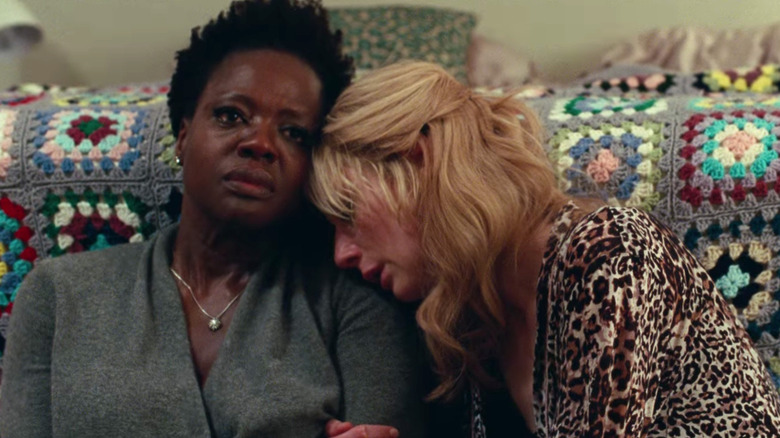 20th Century Studios
If you loved Viola Davis in "The Woman King," you'll equally love her in Steve McQueen's "Widows" as she leads a group of women on a heist their late husbands were unable to complete. Outside of Davis, the ensemble cast is made up of immense talent like Michelle Rodriguez, Elizabeth Debicki, Cynthia Erivo, Colin Farrell, Daniel Kaluuya, and more who steal scenes in their own special ways. The build-up to the final heist is incredibly thrilling to watch and full of tense moments that you'll never forget. 
Plus, with "Gone Girl" writer Gillian Flynn writing "Widows'" story, viewers can expect plenty of wild twist and turns that change everything. Davis continues to have a dominating screen presence that simply can't be beat and absolutely nails every part of the role. Although it's not as action-oriented as other entries on this list, "Widows" still provides some thrills and chills that are worth seeing and another great performance from Davis as well as many others. 
13. Lara Croft: Tomb Raider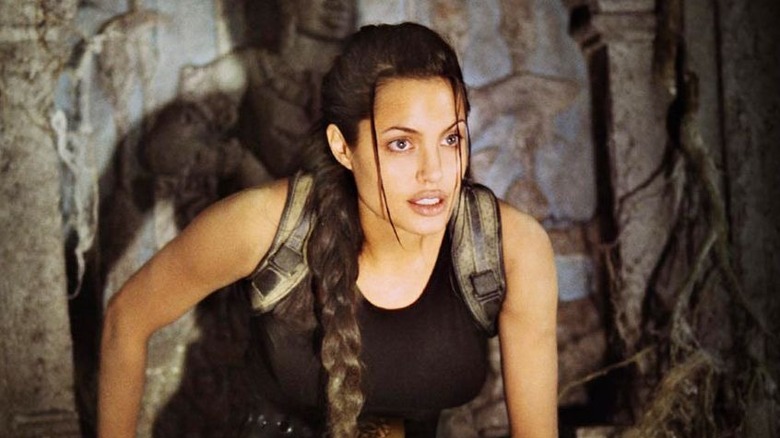 Paramount
While you're already checking out the 2018 reboot of "Tomb Raider," you might as well check out the movie that started it all with the 2001 adaptation "Lara Croft: Tomb Raider," starring Angelina Jolie in the titular role. This film series sees Lara Croft already as a seasoned treasure hunter in race to find ancient artifacts before members of the Illuminati. For the time, Jolie was the perfect choice for Lara Croft with her great screen presence and the way she evoked all the strengths of the character. 
It's not a film that boasts the most amazing story, but it remains a notable video game adaptation that features a lot of great action moments that make Jolie a total action hero. If you're on the hunt for female-led action flicks, there's no reason to skip "Lara Croft: Tomb Raider" since its a rare video game adaptation that's way more good than bad and features a great performance from Jolie as an iconic action hero.