What Makes Fred's Death So Devastating For Serena In The Handmaid's Tale Season 5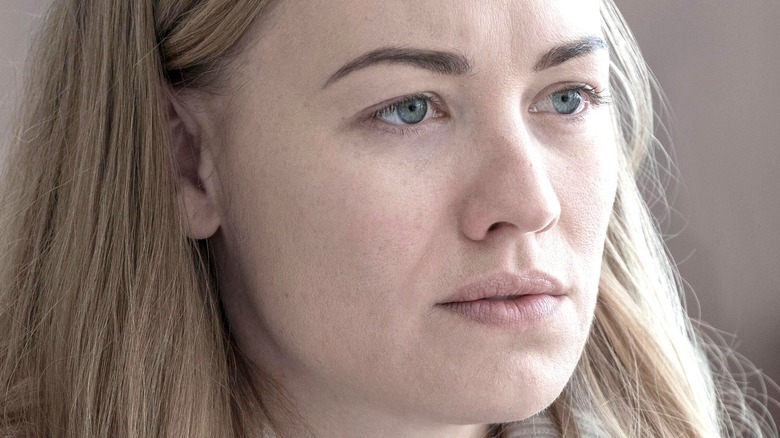 Sophie Giraud/Hulu
Of all the characters in "The Handmaid's Tale," Serena Joy is one of the most complex. Portrayed by actress Yvonne Strahovski, Serena presents a troubling archetype as a woman who uses her power to suppress the rights of her own gender. Fans just got some bittersweet news about the show as it moves into its penultimate season, and the dystopian series is more relevant than ever following the U.S. Supreme Court's divisive decision to overturn Roe v. Wade (via NPR). As one of the characters who laid the initial groundwork for Gilead, Serena is just as culpable as the Commanders who decided to cut off her finger for reading back in Season 2. However, thanks to Strahovski's careful performance, Serena has become a multifaceted character with many goals and emotions.
In the fifth season premiere, titled "Morning," viewers get a glimpse into Serena's grief regarding the death of her husband, Fred Waterford (Joseph Fiennes), who was brutally (and some might say, justly) killed by June (Elisabeth Moss) and her fellow handmaids in the Season 4 finale. Given all that's gone down between the Waterfords, it's interesting that Serena still felt any love toward her husband. Thankfully, Strahovski has offered insight into her character's thought process on the matter.
Fred was Serena's closest ally
Fred's death clearly takes a heavy toll on Serena, who was expecting a call from him on the night he died. After a detention center employee coldly delivers the news, Serena recalls happier times with her late husband as she's escorted, teary-eyed and heavily guarded, to a more secure location. Despite all the bad blood between them, Serena still thinks back on their union fondly, an angle that initially took Yvonne Strahovski by surprise. However, the actress' deep understanding of the character allowed her to evaluate Serena's reaction. At first, Strahovski revealed, the sentiment behind Serena's response to her husband's death eluded her.
"But then it made so much sense because it just feels like it's such a complicated, abusive relationship that started off in a genuine space of love between them," Strahovski explained in an interview with Shondaland. "And there's this idea of all the things that they could have been and should have been, and what they're not and they never will be. I think that's the part that's the most devastating. It's in remembrance of that, I think, where the grief comes from."
Even though their relationship was rife with betrayal, deception, and thinly-veiled violence, Fred was Serena's last ally, leaving her trapped in a web of her own design. Or so she thinks. After viewing Fred's body, Serena is greeted by a throng of Gilead supporters. Their presence ignites a chilling determination in Serena that motivates juicy scenes to come in Season 5.