Why All Wheel Of Fortune's Contestants Always Look To Be The Same Height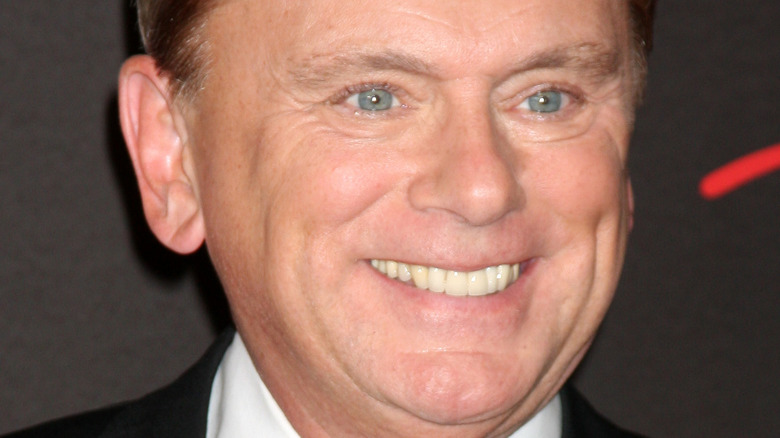 Joe Seer/Shutterstock
Imagine a world where no one has to duck under doorways. Kitchen shelving is never set too high for every human hand on Earth to reach. The descriptors "tall" and "short" are completely passé. This is how things might look if everyone were exactly the same height. Though it obviously isn't the case in real life, strangely, it's the way things look on the gameshow "Wheel of Fortune."
Have you ever noticed contestants on the show all appear to line up height-wise? Considering the show gets huge numbers of hopefuls applying to play — think a million audition requests, 10,000 tryouts, and 600 actual contestants in the end (via Audacity) — maybe it is possible that the show handpicks those who meet a height requirement. Honestly, though, it doesn't seem likely. According to the "Wheel of Fortune" FAQs page, producers are much more interested in finding "players who are at ease, fun, and good game players." But that doesn't explain why those selected always seem to be the same height.
Even the co-hosts stand at eye level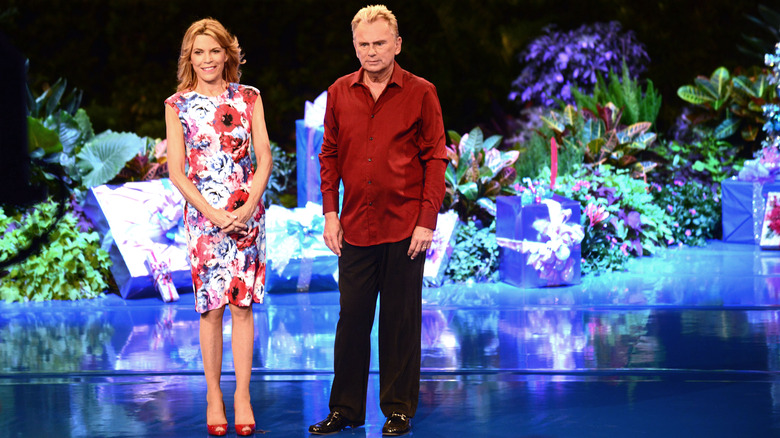 Gerardo Mora/Getty Images
"Wheel of Fortune" began as the brainchild of Merv Griffin in 1975. Chuck Woolery was the host, and Susan Stafford turned the letters. But in 1981, Woolery left over a salary dispute. Soon after, Stafford left, too, making a huge life change to work with cancer patients instead of remaining in show business. Stepping into their shoes? The "Wheel of Fortune" co-hosts we know best: Pat Sajak and Vanna White.
Since our focus here is on height, it makes sense to mention theirs. Sajak stands tall at 5 feet 10 inches. White reaches 5 feet 6 inches — but that's measuring without her heels. And if you're paying attention, you'll recall White always wears heels on the show. She may switch them out the way she does with her outfits, making sure to avoid repeats (except for that one time), but she's always on tottering around on her toes. Her secrets for getting through a career in heels: a combination of slippers whenever she's off-screen and carefully selected platforms when she's on. "Guess makes good ones," she told Today. "They're high heels but they have a 2-inch platform in the front, so it's almost like you're walking on 3-inch heels and not 5-inch heels. I probably have more Guess shoes than any other."
When White has her heels on, she's at eye level with Sajak — and that's the whole point. But not for the reason you might think.
Turns out anyone can look tall on television
Pat Sajak is definitely a big star on "Wheel of Fortune," but the reason he and Vanna White have to appear the same height isn't really about him. Instead, it's about the look of the show overall. And it's not just the co-hosts who have to match up. It's everyone, including the contestants.
Naturally, not every player who appears on the show is exactly the same height. So it's easy to imagine how their differences could make for difficult camera work. According to Sajak, in the early days of the show's broadcast, shorter players would stand on boxes. It was an easy fix that helped them spin the heavy wheel — but it didn't really work. The result was that Sajak would sometimes appear unusually diminutive. It's not hard to see how that could be distracting for viewers. "I would walk next to a great-grandmother on the show and people thought I was a jockey. So now we are on risers and when they go up, I go up and we stay about the same size," Sajak told WLKY. "But it got engrained in people that I was about 4 feet 3."
These days, most people realize he's much taller, and the bigger issue for fans is whether they have to be his height to compete on the show. The happy answer to that question is, "no." Players of all heights are welcome!