How Mike White Is The Biggest Cheerleader On The Set Of The White Lotus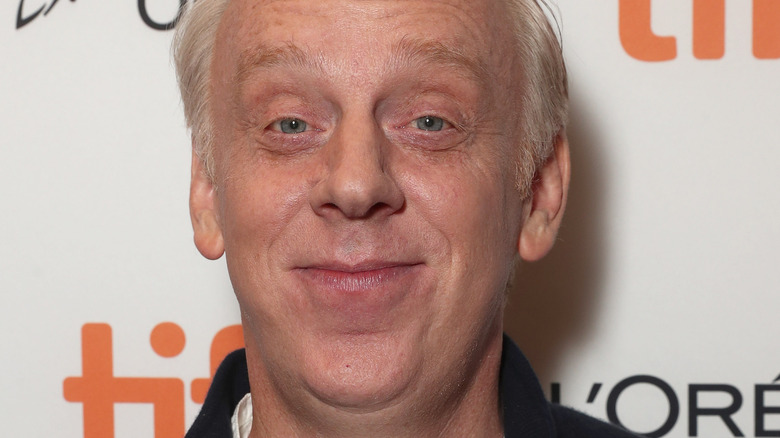 Todd Williamson/Getty Images
One of the biggest winners of the 74th Primetime Emmy Awards, "The White Lotus" was a show born out of a dark moment. During the height of the COVID-19 pandemic, with film and television shoots subject to a slew of restrictions, Mike White sat down to pen a script. He had no writers room, but as The New Yorker reported, HBO executives had reached out asking him to write something they could deliver to screens as productions halted around the world. White returned with "The White Lotus," a scathing satire of wealthy elites set inside a luxury resort in Hawaii. The setting would serve a dual purpose, also functioning as living quarters for the cast and crew in order to comply with pandemic filming protocols.
At the Emmys on Monday, "The White Lotus" was among the night's biggest winners. Murray Bartlett took home the gold in the category of outstanding supporting actor in a limited series for his role as Armond, the hotel manager, while Jennifer Coolidge's performance as the troubled hotel guest Tanya sent her home with the trophy for best supporting actress in a limited series. White himself garnered three Emmys in the categories of outstanding directing and writing for a limited series, as well as for outstanding limited series.
Speaking to the press after his win, Murray Bartlett expressed his gratitude to White, explaining how the showrunner had been the cast's biggest cheerleader on set.
Murray Bartlett says Mike White created an 'atmosphere of play' on set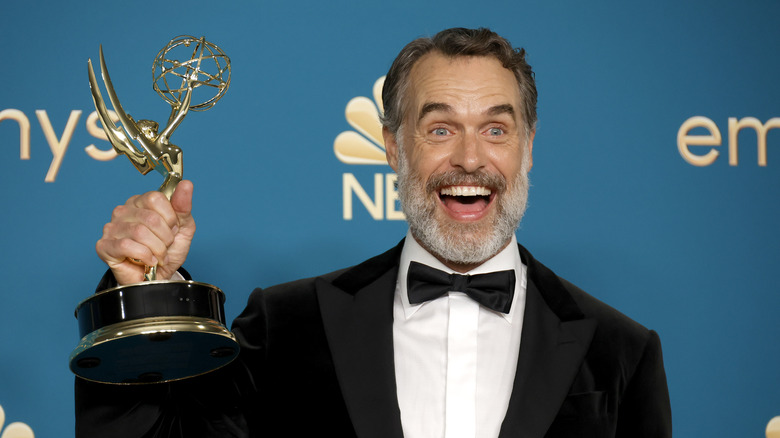 Frazer Harrison/Getty Images
Speaking to the press after winning the Emmy for outstanding supporting actor in a limited series or movie, "The White Lotus" star Murray Bartlett said that showrunner Mike White had been the biggest supporter and cheerleader for the show's cast (via Variety on Twitter). "He's the biggest cheerleader for all of us, really," Bartlett declared.
Elaborating, Bartlett explained that White was there to guide his actors through their work, but that he also created room for them to explore and supported them in doing so. "He's, like, in there with you. He creates this incredible atmosphere of play on set. You just feel like he's your biggest fan," he added.
Bartlett was one of the breakout stars of "The White Lotus" Season 1, playing Armond, the put-upon hotel manager whose life is turned into a living nightmare due to the selfish actions of the wealthy guests who swarm his establishment. A perfectionist who prides himself on his shipshape management of the luxury Hawaiian resort, Armond is also a recovering addict who relapses into old habits when the pressures of trying to satisfy his clientele become too much to bear, leading to a truly shocking season finale. Bartlett's performance was widely praised by critics, with Armond described by The New York Times as, "a coiled spring who spends the week disastrously unwinding."
Mike White will soon deliver a 2nd season of "The White Lotus," this time set in Sicily, Italy, and the writer promises a different kind of story this time around, telling TV Insider, "This one is more about sexual politics, with elements of a bedroom farce where people are sneaking in and out of hotel rooms." After tonight's Emmys sweep, expectations could hardly be higher.