Who Is Shira Haas' Sabra In Captain America: New World Order?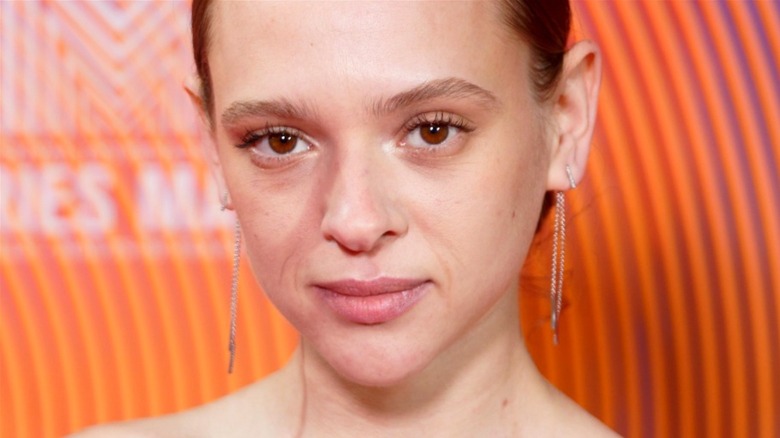 Sylvain Lefevre/Getty
At the recently-held D23 fan expo held by Disney, Marvel fans got big news regarding upcoming Marvel Cinematic Universe projects. Among the many announcements were updates about "Thunderbolts" and a new trailer for "Secret Invasion" starring Samuel L. Jackson. But for many, the most exciting updates were regarding the upcoming "Captain America: New World Order." The fourth movie in the "Captain America" series, its titular hero will this time be played by Anthony Mackie's Sam Wilson, who took up the mantle from Steve Rogers (Chris Evans) after the events of "Avengers: Endgame," as chronicled in the Disney+ series, "The Falcon and the Winter Soldier." Some big characters set to appear in the film were also announced, most notably the return of Tim Blake Nelson as Samuel Sterns aka the Leader, Carl Lumbly as Isaiah Bradley, and the new addition of Shira Haas as Sabra.
Haas is an Israeli-born actor who cut her teeth in the Israeli film industry. She got her first big break on the domestic Hebrew language drama "Shtisel," in which she played a young girl raised in an ultra-Orthodox Jewish household. In 2020, she starred in Netflix's "Unorthodox" as a teenaged ultra-Orthodox girl named Esther who flees from Brooklyn to Berlin in an attempt to escape an arranged marriage.
It seems as if every prominent actor eventually takes a turn in the MCU, so it's no surprise an up-and-coming star like Shira Haas was tapped for the role of Sabra. While the MCU tends to change characters to fit its needs when pulling them from the pages of comics, here's what we know about the comics version of Sabra.
Sabra is a powerful mutant of Israeli origin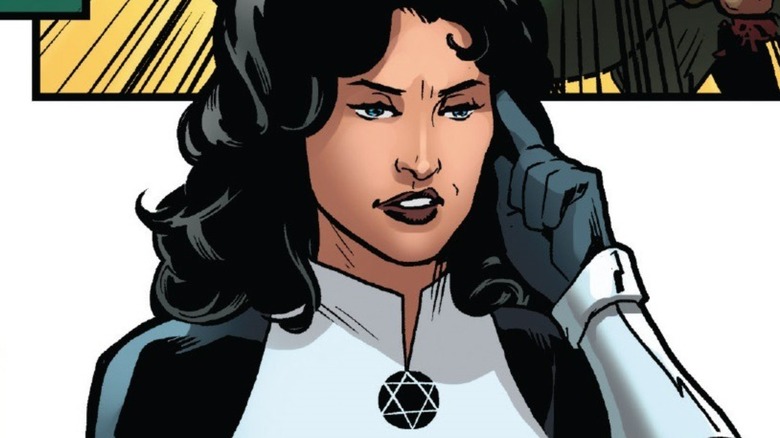 Marvel Comics
First appearing in 1980 on the pages of "Incredible Hulk," Sabra is an Israeli-born mutant whose real name is Ruth Bat-Seraph, which translates loosely from Hebrew to mean, "friend, daughter of an angel." From a young age, after her mutant powers first revealed themselves, she was raised on a kibbutz (a traditional Israeli farming commune) run by the Israeli government and trained to become the first mutant special forces officer for the Mossad, Israel's secret service.
Among Sabra's powers are enhanced strength, speed, durability, and reflexes. She can also heal regeneratively, but whereas some healers, such as Wolverine, can regenerate entire body parts, Sabra cannot. On the other hand, she is able to pass her healing energy onto others, saving people from death or giving them minor superpowers for a time. Her powers are complimented by an anti-gravity cape that allows her to fly, along with a costume that fires paralyzing darts from the wrists.
How Sabra will be introduced into the MCU with "Captain America: New World Order" is anyone's guess. With the exceptions of Captain America and Red Guardian (David Harbour), there are no MCU heroes as deeply rooted in the national identity of a real-life country as Sabra. Black Panther (Chadwick Boseman) proudly represents Wakanda, but since it's a fictional country, it comes with little of the geopolitical baggage audiences may bring with them to characters such as Captain America or Sabra. 
However, "New World Order" is being written by Dalan Musson and Malcolm Spellman, who previously worked on "The Falcon and the Winter Soldier." That show made an earnest attempt at exploring the inherent dangers of patriotic figures like Captain America while simultaneously examining the darker corners of the American legacy, so perhaps they'll find an equally interesting angle through which to explore a character like Sabra.