She-Hulk's Madisynn Gets An Exciting Marvel Upgrade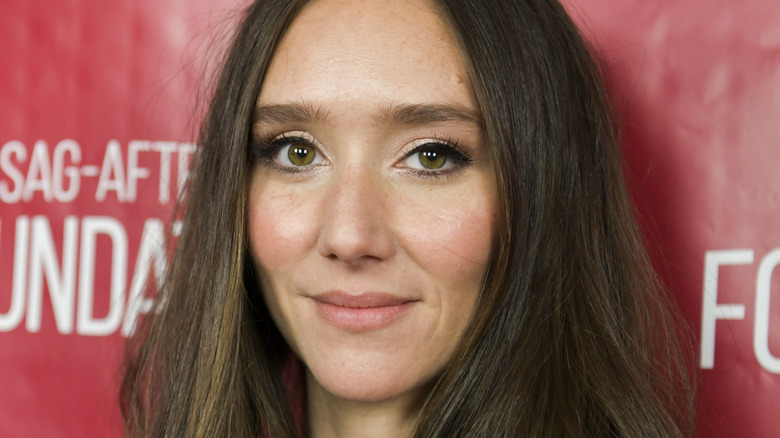 Rodin Eckenroth/Getty Images
"She-Hulk: Attorney at Law" has had several guest appearances by some of Marvel fans' favorite characters, including The Hulk (Mark Ruffalo) and Wong (Benedict Wong) — and the trailer even promises an upcoming cameo from Daredevil (Charlie Cox). However, for all the show's star power, the character that stole the show in Episode 4, "Is This Not Real Magic?," wasn't an Avenger or even a superpowered person. It was everyone's new favorite "She-Hulk" character Madisynn King. Madisynn is a party girl who volunteers to take part in a magic trick before she's accidentally sent through a portal and ends up on Wong's couch in Kamar-Taj, ruining his binge of "The Sopranos."
The character, played by Patty Guggenheim, became an instant sensation with fans. In one Reddit thread, user u/tenehemia explained the reason that she became so popular: "Usually, characters like her are portrayed as really catty. Madisynn is just really sweet to everybody. Eager to help, interested in other people's opinions and fun to be around. We should all have a friend like Madisynn."
In an interview with TVLine, episode director Kat Coiro explained that Guggenheim is one of her favorite people to work with. "If you do a little deep dive on Kat Coiro, you will find Patty Guggenheim is there all the time," Coiro explained. "I do not go anywhere without that woman. She is a comedic genius." 
With the minor character becoming such a fan favorite, Marvel decided to do something special for Madisynn.
Madisynn has her own poster
The day after Episode 4 aired, Marvel Studios tweeted a character poster for Madisynn, not unlike the previously released posters of other characters (per Marvel). In response to the tweet, Jameela Jamil, who plays Titania, tweeted, "MADISYNN CINEMATIC UNIVERSE FROM NOW ON PLS."
The studio also posted a poster for Donny Blaze, played by Rhys Coiro (who Kat Coiro confirmed in her aforementioned TVLine interview is her husband), but that tweet saw much less activity. In fact, the comments on Blaze's poster all seemed to be focused on criticisms of the show, largely ignoring the poster itself. "Swear to god this show best not f*** up daredevil," tweeted user @Chmahua. Of course, one person who missed the Madisynn poster clamored for it, showing even more love for the character.
As for the actress, Patty Guggenheim, she was pretty thrilled to see her own poster. She posted it to her Instagram with the caption, "Poster? I hardly even know her. (Great joke) Real talk, this poster is FULL BONK. Pinch me! Blown away by this whole cast and BEYOND honored to be in here." Hopefully, there will be more to see of Guggenheim's character in future episodes.