The First Ghostbusters Proton Pack Weighed A Staggering Amount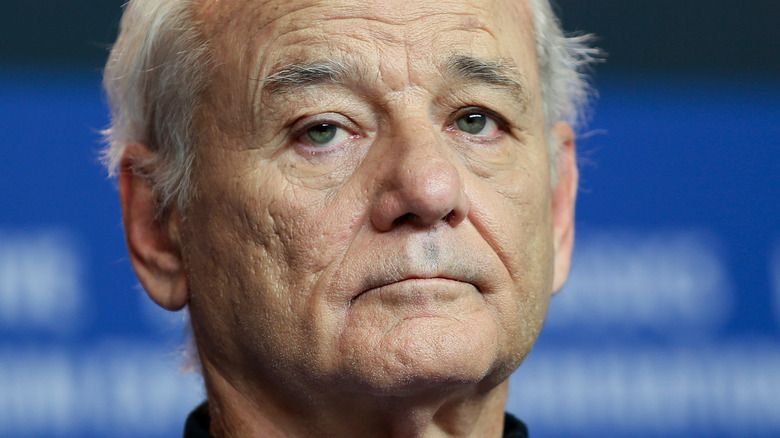 Denis Makarenko/Shutterstock
The legacy of the classic film, "Ghostbusters" is one that fans continue to want to explore every aspect of. Released in 1984 and starring legendary funnymen Bill Murray and Dan Aykroyd, "Ghostbusters" spawned a 1989 sequel, a 2016 reboot, and a 2021 sequel. Actors Murray, Aykroyd, and Ernie Hudson appeared in all four films. The fourth 'buster, Harold Ramis, sadly passed away in 2014 and was therefore unable to participate in those two later films.
"Ghostbusters" has been a pop culture phenomenon since its release with toys, posters, lunchboxes, and more readily available for fans to collect. Some of the most iconic things to come out of the film are the outfits that the Ghostbusters wear. One trip to a comic convention or like event, fans are sure to spot a "Ghostbusters" costume. No costume would be complete without a proton pack, a backpack-like nuclear accelerator that the Ghostbusters in the films use to trap and capture ghosts to keep the streets of New York safe. On a visit to "Late Night with Seth Meyers" to promote the release of the 2021 film "Ghostbusters: Afterlife," Murray, Aykroyd, and Hudson revealed the staggering weight of the packs themselves.
The proton packs weighed about 40 pounds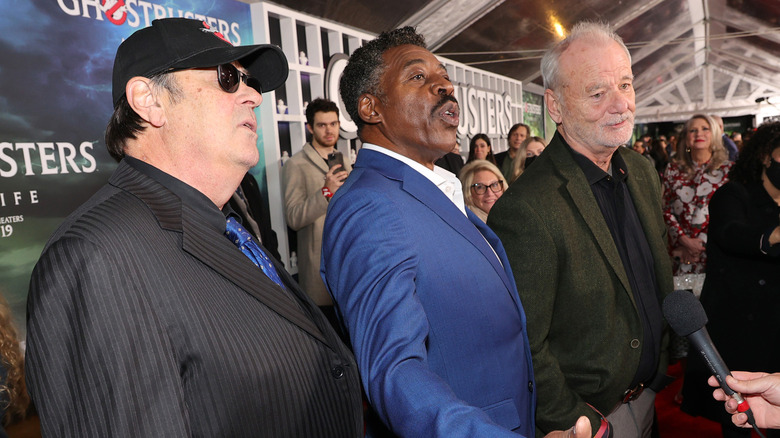 Theo Wargo/Getty Images
When talking about suiting up again for the 2021 film on "Late Night with Seth Meyers," Dan Aykroyd mentions that they opted to wear heavy proton packs instead of lightweight plastic ones. This way, the actors can convey that the packs have some weight to them when moving around. Bill Murray explains that the new packs were still lighter than the ones used in the original film, which he refers to as "small refrigerators." He goes on to say they were around 40 pounds, and they had to wear them for 14 hours a day while filming. Murray makes a crack about mothers carrying a baby during pregnancy being nothing like handling these 40-pound packs. Seth Meyers checks Murray by saying he'll get no sympathy from mothers, which inspires a huge laugh from the group.
Murray didn't just express his frustration with the weight of the original proton packs to Meyers. He told Vanity Fair about the packs from "Ghostbusters: Afterlife," which weighed around 30 pounds, "When you put that gear on, it's so uncomfortable. It's so heavy, just to stand there with that weight on your back, tilting your spine ... And we wore them for a long time." 
The cast of Afterlife knew the packs were iconic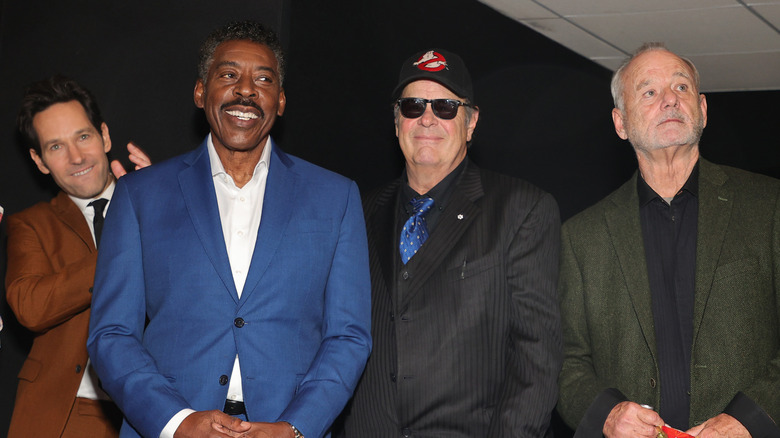 Theo Wargo/Getty Images
"Ghostbusters: Afterlife" actor Finn Wolfhard said that the pack he had to wear was even lighter than the one from the original film, to which co-star Bill Murray had some words for the original film's director. Finn told Today, "They're like half the weight they were in 1984. Bill Murray actually came on set and lifted one of them up. Then he went up to Ivan Reitman, the original [film's] director, and went, 'Ivan, why didn't we have proton packs this light?' Like, why do they get the special treatment?"
Murray clearly felt that the proton packs were quite a burden to carry, but "Afterlife" actor Paul Rudd wasn't even allowed to put one on. He told CinemaBlend, "It was off to the side, and there was no way I wasn't going to go and inspect it. I didn't dare pick it up and put it on. I thought, 'I don't want to get kicked off set.'" It's clear that with the acknowledgment of the series' stars from different generations the proton packs, while heavy, are an essential part of the "Ghostbusters" iconography.