12 Best Movies Like See How They Run That Fans Should Check Out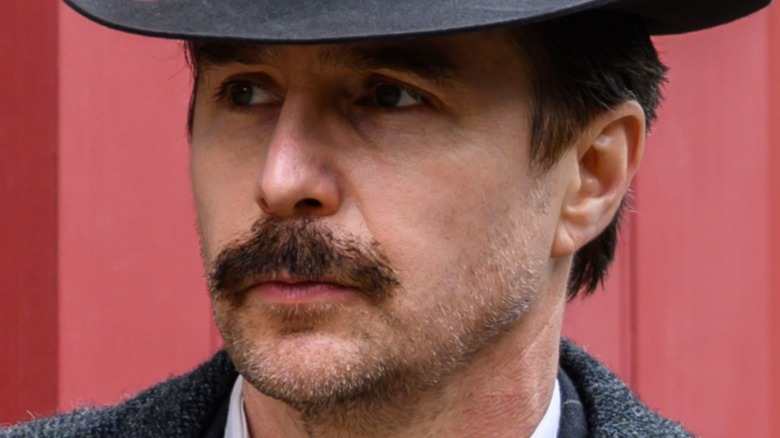 Searchlight Pictures
Directed by Tom George, "See How They Run" transports audiences to 1950s London, when a Hollywood producer — hoping to turn Agatha Christie's play "The Mousetrap" into a feature film — is killed during the production's 100th performance. As a result, Sam Rockwell's stoic Inspector Stoppard and Saoirse Ronan's energetic rookie Constable Stalker are brought onto the scene to investigate the cast and crew. However, the unlikely pair soon find themselves in a whodunit where the suspects are being targeted by the unknown killer.
The result is a delightful, charming romp — the latest addition to the ever-evolving mystery genre. Filled with twists and turns in an attempt to reel the audience into the murderous plot, "See How They Run" mixes the fictional with the factual to great success. However, once the mystery is solved, what's a crime-loving sleuth to do? Well, if you want to further satisfy your need for fun murder mysteries, look no further as we've gathered 12 entertaining titles that might convince you to embrace your inner detective skills.
Clue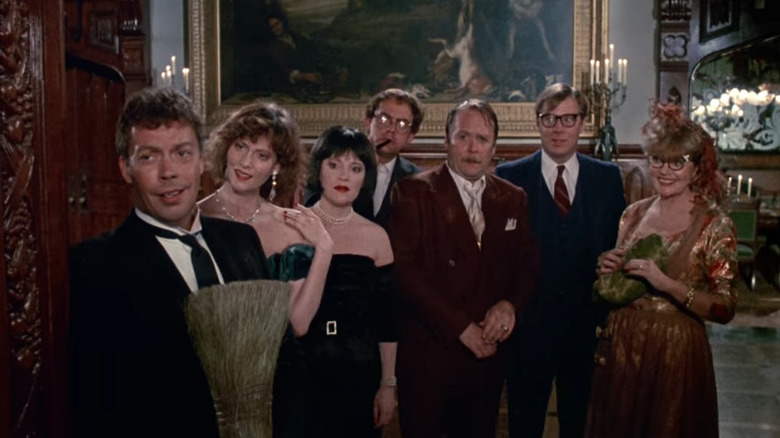 Paramount Pictures
A black comedy based on the classic board game, "Clue" takes course over one night at a creepy mansion, where six stranger have been invited by the enigmatic Mr. Boddy. Upon arrival, the guests are all granted colorful nicknames like Professor Plum and Col. Mustard, but instead of enjoying a nice evening, they soon find themselves the victims of blackmail, courtesy of their host. Things only get more complicated when Mr. Boddy winds up dead, and the guests are forced to find the killer hiding in their group.
Despite its poor box office turnout, the 1985 film went on to become a cult classic, thanks to its hilariously talented cast including Tim Curry, Madeline Khan, Christopher Lloyd, Michael McKean, and Eileen Brennan. Like "See How They Run," audiences will find that "Clue" also has a variety of interesting and eccentric characters whose chaotically good chemistry will definitely get you hooked on the film's unbelievable premise. The big difference is that "Clue" doesn't feature a capable or experienced character to investigate the murder, making it even more entertaining and funny. The film is also famous for having three alternate endings released during its theatrical run, which goes to show just how zany this movie gets.
Death on the Nile (1978)
Based on Agatha Christie's beloved Hercule Poirot novel, "Death on the Nile" takes the world-famous detective to Egypt, where heiress Linnet Ridgeway and new husband Simon Doyle are enjoying their honeymoon on the Nile River. However, they can't help but fear for their lives as they're being stalked by the hubby's heartbroken, angry ex. What's supposed to be a blissful vacation turns into a nightmare when Linnet is shot dead. Now, it's up to fellow passenger Poirot to solve the case and find the culprit among the passengers — several of whom may have motivations to kill the new bride.
With an adapted screenplay from Anthony Shaffer (the twisted mind behind classics like "Frenzy," "The Wicker Man," and "Sleuth"), this fun and thrilling story is brought to life by its charismatic all-star cast consisting of Bette Davis, Mia Farrow, Olivia Hussey, Maggie Smith, Angela Lansbury, and Peter Ustinov as the mustache-wearing detective. For Smith, Lansbury, and Ustinov's brilliant performances, they each received BAFTA award nominations for best supporting actress and best actor, respectively.
Like "See How They Run," "Death on the Nile" features a reliable detective who's determined to get the job done by carefully considering all evidence and interviewing potential suspects without jumping into conclusions. And yes, Kenneth Branagh did put his own spin on the story with a 2022 remake, but the 1985 version can't be beat. It's entertaining, compelling, and smartly balances the suspense and humor with Ustinov's iconic portrayal of Poirot.
Game Night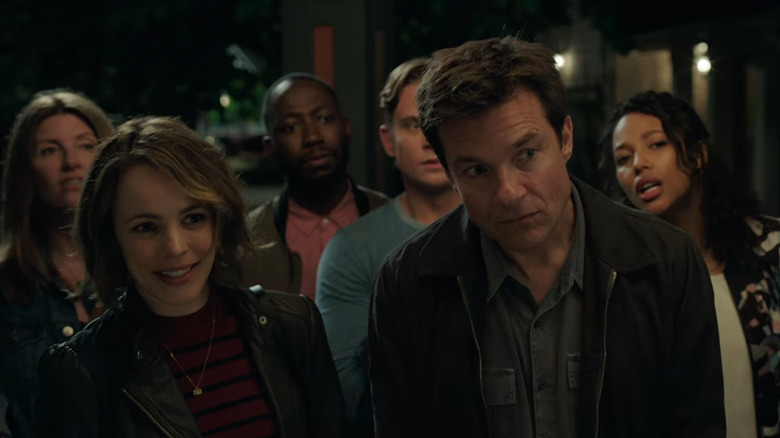 Warner Bros. Pictures
"Game Night" is an action comedy that features a refreshing, clever, and highly enjoyable story that takes the audiences on a rollercoaster ride full of twists and turns. The film follows Max and Annie, an uber-competitive couple who are fond of hosting weekly game nights with their friends. When Max's more successful brother, Brooks, offers to organize their next game night, the friends are not prepared for what's in store for them. After Brooks' murder mystery game gets hijacked by a pair of masked men who kidnap him, Max, Annie, and their buds must embark on an epic action-fueled night of adventure and danger as they try to find Brooks, all while figuring out if his kidnapping is part of his game or not.
The 2018 film is directed by John Francis Daley and Jonathan M. Goldstein, best known for co-writing "Horrible Bosses," "Cloudy with a Chance of Meatballs 2," and "Spider-Man: Homecoming." Leading the cast are "Ozark" actor-director Jason Bateman and "Mean Girls" vet Rachel McAdams, whose impeccable chemistry and charming humor completely elevate the storyline. Another standout cast member is Jesse Plemons, whose portrayal of an awkward, creepy neighbor who wants an invite to game night is hilariously convincing. Audiences who've just seen "See How They Run" will absolutely love the unexpected elements this film has to offer, and while it may not be your typical whodunnit film, it's surely packed with the same level of mystery and fun.
Hail, Caesar!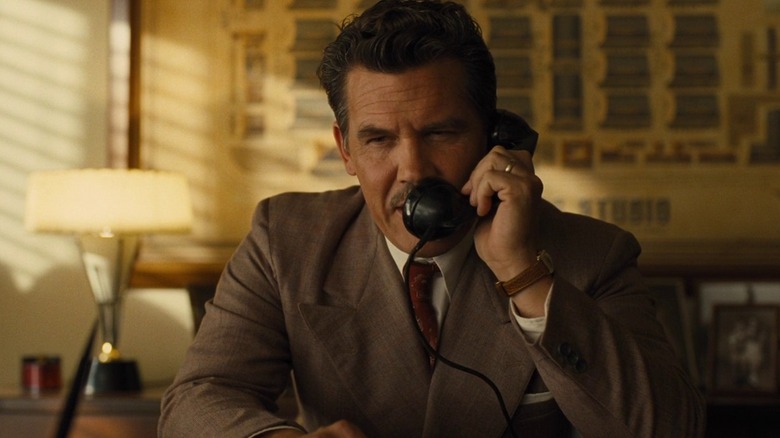 Universal Pictures
Directed by the legendary Coen brothers, "Hail, Caesar!" takes viewers to the 1950s Hollywood — specifically, film studio Capitol Pictures. It's here we're introduced to the studio's dependable fixer, the real-life Eddie Mannix who manages the issues and scandals concerning the company's talents. Eddie encounters one of the most difficult challenges of his job as he discovers that famous actor Baird Whitlock has been kidnapped by a group of Communist screenwriters, who demand ransom money in exchange for Whitlock's safe return. Meanwhile, he must also deal with a pregnant synchronized swimming actress, a Western film actor miscast in an upscale drama, and relentless twin gossip columnists.
The 2016 film features a star-studded cast led by Josh Brolin, George Clooney, Scarlett Johansson, Tilda Swinton, and Channing Tatum. Fans of period pieces like "See How They Run" — which also involves a show biz angle and a real-life figure in actor Richard Attenborough — will no doubt love this black comedy that pays homage to the Golden Age of Hollywood. "Hail, Caesar!" excels in showcasing its time period through incredible set designs, costumes, and visuals, with the film scoring an Oscar nomination for best production design. Besides the mystery aspect it clearly shares with "See How They Run," audiences will also find it interesting that the storyline of "Hail Caesar!" also revolves around a film-within-a-film concept, with both of their main cast portraying different types of actors and crew on a set of a film production.
Hot Fuzz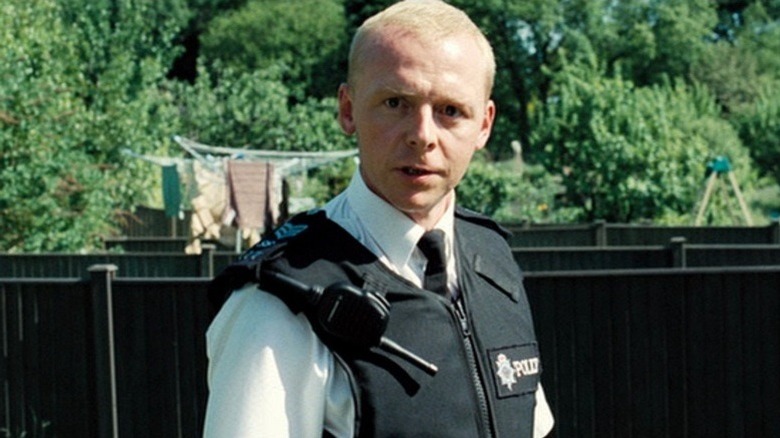 Focus Features
The second installment in Edgar Wright's "Cornetto Trilogy," "Hot Fuzz" is an action-packed comedy starring "Shaun of the Dead" duo Simon Pegg and Nick Frost. The film begins with Pegg's Nicholas Angel, a high-performing London cop who's embarrassing the higher-ups for being too good at his job. As a result, he's reassigned to Sandford, a small village with almost zero crime. He struggles to adapt to the mundane town, especially when he finds that his partner, Frost's Danny Butterman, is unbearable most of the time. But after a series of gruesome "accidents," Nicholas begins to suspect there's a killer on the loose.
Audiences excited to see the mentor-mentee bond between Sam Rockwell and Saoirse Ronan's characters in "See How They Run" will be impressed with "Hot Fuzz's" delightful take on the buddy cop genre. Nicholas and Danny's stark differences make their partnership more endearing, with Pegg and Frost delivering fantastic leading performances. They both effectively portray their respective characters' strengths and flaws, making them very easy to root for. Thanks to their outstanding comedic chemistry, this remains one of their most memorable performances to date.
They're also joined by a star-studded cast of very talented and funny actors including Timothy Dalton, Jim Broadbent, and future Oscar winner Olivia Colman. In addition to its fantastic cast and its layered, joke-a-minute storyline, audiences should also watch out for its smartly choreographed chase and action sequences in which Pegg gets to show off his athleticism through Nicholas' nearly unmatched combat skills.
Knives Out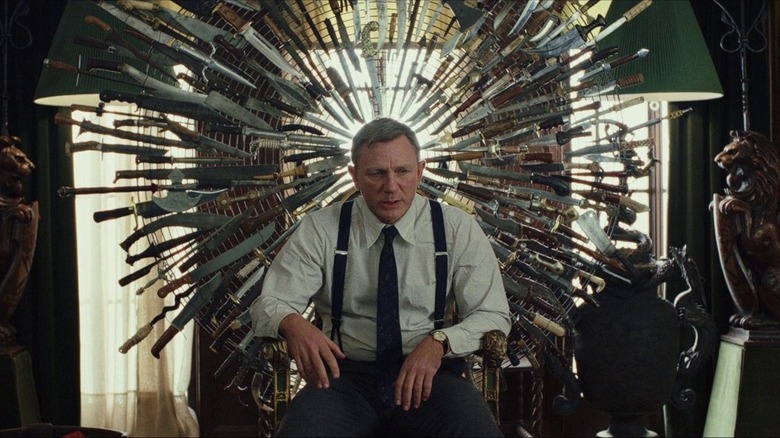 Lionsgate
"Knives Out" centers around the death of celebrated mystery novelist Harlan Thrombey, who, after his 85th birthday party, has apparently committed suicide. However, for private detective Benoit Blanc, there might be something more to the case than meets the eye. After being anonymously hired to investigate Harlan's death, Blanc is introduced to the dysfunctional Thrombey family, who may possibly have motives to commit murder. There's also the issue of Harlan's nurse, Marta, who might be hiding a damning secret. Now, it's up to Blanc's sharp eye and great intuition to solve the mystery as he navigates through all the lies and unexpected turns.
With Rian Johnson at the helm, the film absolutely crackles with witty banter, killer plot twists, and a murderers' row of talent. Leading the star-studded ensemble cast is Daniel Craig as Blanc, who effectively transforms into this gentleman detective with a distinct Southern accent. Like "See How They Run," "Knives Out" very much delves into the whodunit element by introducing multiple potential suspects with fascinating personalities, like Chris Evans' obnoxious scoundrel, Ana de Armas' secretive nurse, and Jamie Lee Curtis' elitist snob. The family drama serves to heighten the story, with "Knives Out" also telling a tale of the "haves" vs. the "have nots." Come for Daniel Craig's charming turn, stay for the scathing takedown of the upper class. 
If you or anyone you know is having suicidal thoughts, please call the National Suicide Prevention Lifeline by dialing 988 or by calling 1-800-273-TALK (8255)​.
Murder Mystery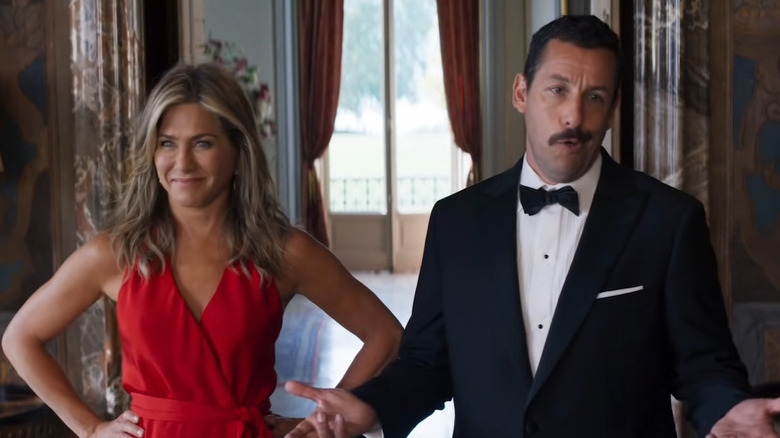 Netflix
"Murder Mystery" begins with NYPD officer Nick and his wife, Audrey, who are about to celebrate their 15th wedding anniversary. In an attempt to reinvigorate their relationship, they go on a European vacation where they meet the charismatic and wealthy Charles Cavendish. The billionaire invites them to his uncle's yacht where they meet a selection of rich, eccentric people. But what's supposed to be a vacation turns into an unbelievable mystery when Nick and Audrey become the suspects for the murder of Charles' uncle. To clear their names, our heroes embark on a once-in-a-lifetime adventure through Europe as they attempt to find the real killer.
Despite earning mixed critical reviews, the film was still considered a surprise hit for Netflix after it broke the record for the streamer's biggest opening weekend debut at the time of its 2019 release. Like any good whodunit, the film is led by some charming actors, with Adam Sandler and Jennifer Aniston reuniting after nearly a decade since first starring together in the romantic comedy "Just Go With It." Like "See How They Run," the story of "Murder Mystery" blends the titular genre with comedy, but instead of locking things down in one location, it takes audiences to glitzy European locales, with Sandler and Aniston keeping us laughing the whole way.
Murder on the Orient Express (1974)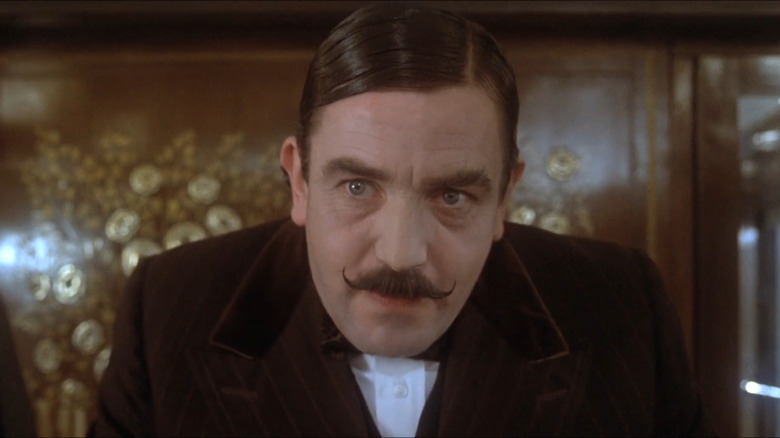 Paramount Pictures
Based on one of Agatha Christie's most celebrated Hercule Poirot novels, "Murder on the Orient Express" features the world-famous Belgian detective as he boards the luxurious Orient Express in hopes of having a relaxing journey back to home after just solving a case. However, fate has other plans as Poirot gets pulled into another murder investigation involving the suspicious death of an infamous gangster named Ratchett, who's found dead in his cabin with a dozen stab wounds. With Ratchett's connection to an infamous kidnapping, Poirot concludes his death may be an act of revenge, and in hopes of drawing out the killer, he meticulously interviews each of the passengers.
Director Sidney Lumet's 1974 classic film is undoubtedly one of the greatest adaptations of Christie's beloved novels. It's an extremely well-made mystery thriller that's further elevated by its stacked cast of Hollywood powerhouses including Albert Finney, Anthony Perkins, Lauren Bacall, Sean Connery, and Ingrid Bergman, who won her third Academy Award for her performance here. In addition to its flawless direction and top-notch acting, the film is also famous for its stylish set production and costumes that successfully depict the 1930s. Classy and compelling, this is something that fans of "See Who They Run" will find incredibly — and aesthetically — pleasing.
Sherlock Holmes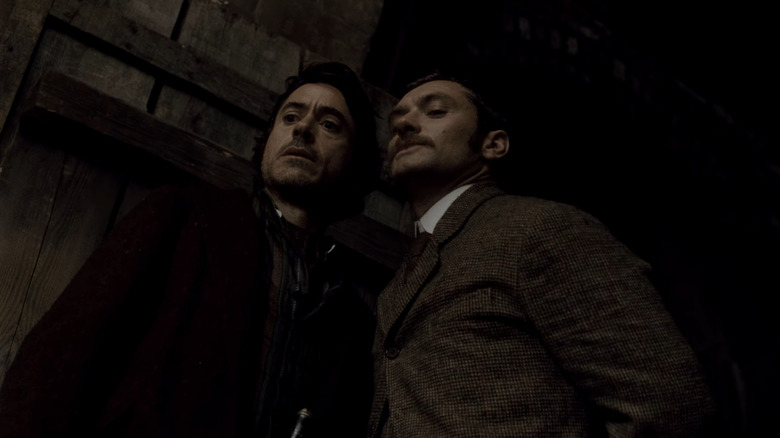 Warner Bros. Pictures
Following his successful Marvel Cinematic Universe debut as Iron Man, Robert Downey Jr. went on to headline another high-profile project in the form of "Sherlock Holmes." In the Guy Ritchie-directed action film, the famously clever detective gets involved in a case involving Lord Blackwood, a man who's said to be using dark magic to murder people in London. Through his in-depth investigation, Sherlock is plunged into the strange world of the occult. As a man of logic and science, Sherlock is determined to disprove Blackwood's claims of magic and uncover his tricks, with the help of his trusted crime-solving partner Dr. Watson, who has no choice but to go along Sherlock's out-this-world but brilliant shenanigans.
Apart from being a massive box office success with a worldwide gross of over $500 million, the 2009 film was admired by many critics, who praised Downey's energetic and charismatic leading performance as the world-famous sleuth. In fact, Downey even won the Golden Globe award for best actor in a musical or comedy. Audiences who love the dynamic between Saoirse Ronan and Sam Rockwell in "See How They Run" will totally adore the fun chemistry and bromance between Downey's Sherlock and Jude Law's Watson. Plus, the film's twists and turns will put you on the edge of your seat as you constantly question whether Sherlock is indeed facing a true warlock or a fake.
The Grand Budapest Hotel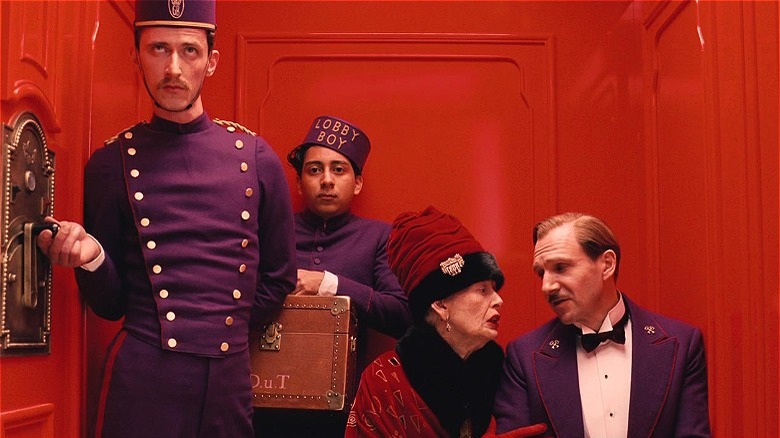 Searchlight Pictures
Set in the 1930s, Wes Anderson's dramedy "The Grand Budapest Hotel" tells the story of Zero Moustafa, a lobby boy at the titular luxurious ski resort, where he works under the leadership of the eccentric concierge Gustave H. One fateful day, Gustave and Zero find themselves in a murder mystery situation, following the death of Gustave's long-time lover and client, an 84-year-old dowager who leaves Gustave a priceless painting. This causes chaos leading Gustave to become the prime suspect, but with the help of Zero, Gustave must now find a way to prove his innocence and find the real killer, all as war looms on the horizon.
The 2014 film offers a cleverly written whimsical tale that perfectly blends humor, drama, and tragedy with Anderson's stylish and distinct storytelling. Like all of Anderson's movies, it showcases a star-studded ensemble cast consisting of the visionary filmmaker's frequent collaborators. In addition to receiving critical acclaim, it also became Anderson's highest-grossing film to date with a worldwide gross of over $170 million at the box office.
Fans of Saoirse Ronan and Adrien Brody's performances in "See How They Run" will be delighted to know that both acclaimed actors are part of "The Grand Budapest Hotel" cast. Additionally, audiences will also find how "See How They Run" shares a similar vibe found in most of Anderson's works in terms of its interesting collection of characters, visual tones, witty humor, and cinematography.
The Nice Guys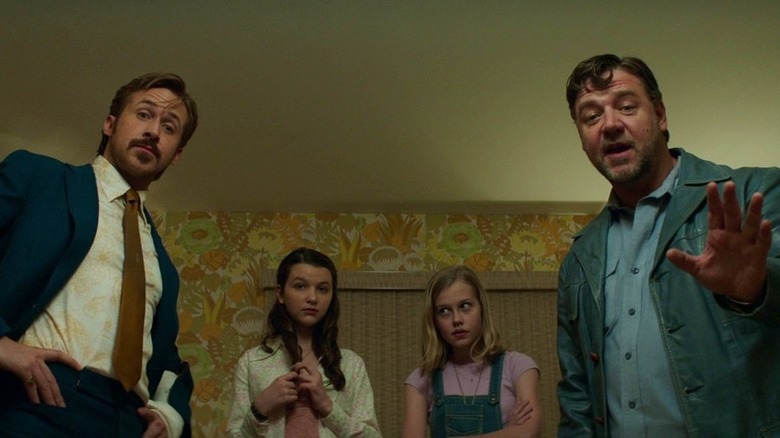 Warner Bros. Pictures
After directing the acclaimed crime flick "Kiss Kiss Bang Bang," Shane Black returned to the world of neo-noir comedy with "The Nice Guys." 
The film takes place in 1970s Los Angeles, beginning with a clumsy detective named Holland March as he forms an unlikely partnership with tough-as-nails enforcer Jackson Healy. Together, they're searching for the rebellious Amelia Kuttner, the missing teenage daughter of a top-ranking government official. But during their investigation, they'll discover that Amelia is actually being pursued by the mafia, making their mission even more difficult. What comes next is a series of mishaps and conspiracies as they find themselves entangled into one heck of an adventure, all while accompanied by Holland's wisecracking kid.
Leading the cast are Ryan Gosling as March and Russell Crowe as Healy, with both delivering solid performances. Their hilarious and chaotic chemistry as an odd couple detective duo absolutely shines here, and we're still baffled that this film bombed at the box office. But if fans of "See How They Run" enjoyed the mismatched characters played by Sam Rockwell and Saoirse Ronan, then they'll definitely love "The Nice Guys."
Who Framed Roger Rabbit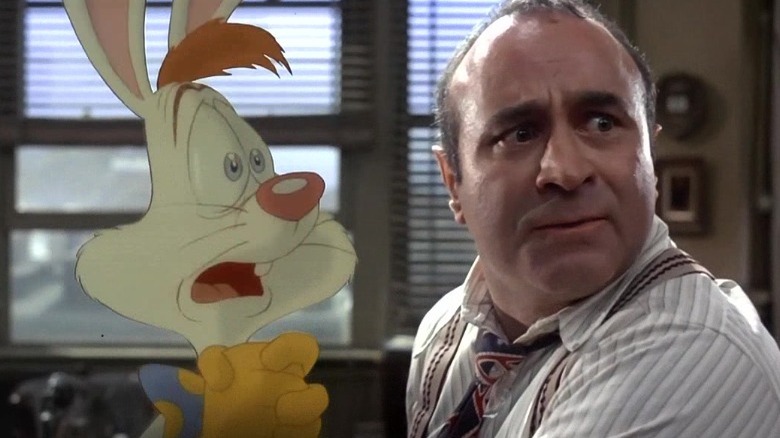 Touchstone Pictures
"Who Framed Roger Rabbit" takes place in alternate universe where humans and cartoon characters, aka Toons, live side by side. The tale takes place in 1940s Hollywood, when famous Toon star Roger Rabbit becomes the primary suspect for the murder of Toontown owner Marvin Acme. Enter Eddie Valiant, a Toon-hating private eye who's drawn into the case — one involving a dangerous judge, a voluptuous femme fatale, a whole lot of cartoon logic, and animated legends like Bugs Bunny and Mickey Mouse.
Loosely based on Gary K. Wolf's 1981 novel "Who Censored Roger Rabbit," the film is a groundbreaking blend of live-action and animation, which hails from premier filmmaker Robert Zemeckis. The film also reunites Zemeckis with "Back to the Future" icon Christopher Lloyd, who's terrifyingly incredible as Judge Doom. On top of becoming a certified blockbuster hit with a worldwide gross of over $350 million, the film also received widespread critical acclaim with critics praising it for its entertaining storyline, feel-good humor, and visual animation.
"See How They Run" fans who are into more silly and fantastical stories are surely going to appreciate "Who Framed Roger Rabbit." It takes the murder mystery genre into a whole new level by effectively introducing cartoon charm and non-stop absurdity into the real world.