After Cobra Kai Season 5, There's Only One Major Miyagi-Verse Player We're Still Waiting To See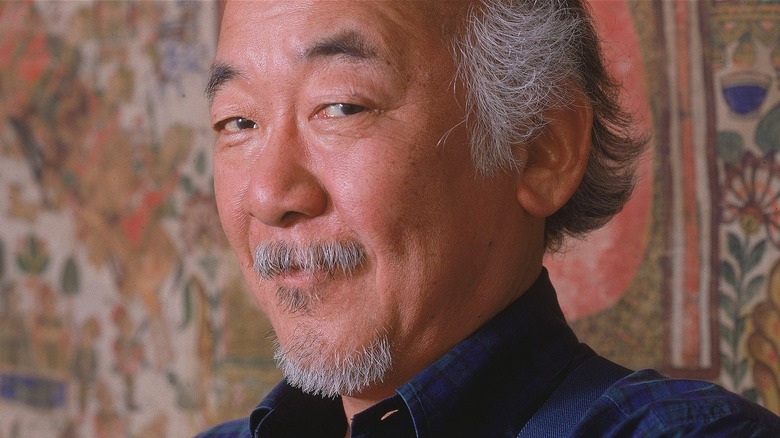 Nancy R. Schiff/Getty Images
Contains spoilers for Season 5 of "Cobra Kai"
"Cobra Kai" has delivered a steady trickle of characters from the "Karate Kid" universe since Daniel LaRusso (Ralph Macchio) and Johnny Lawrence (William Zabka) had their awkward reunion at Daniel's auto dealership in Season 1. First came Johnny's old dojo buddies Bobby (Ron Thomas), Tommy (Rob Garrison), and Jimmy (Tony O'Dell), then their old sensei, John Kreese (Martin Kove). Randee Heller pops in from time to time as Daniel's mother Lucille, and he has brief reunions with Yuna (Traci Toguchi) and Kumiko (Tamlyn Tomita) in Season 3.
Ali Mills (Elisabeth Shue), who dated both Johnny and Daniel way back when, makes a brief but much-anticipated and memorable appearance late in Season 3, but the biggest impact by a familiar character so far comes when the asteroid of evil that is Terry Silver (Thomas Ian Griffith) returns to run Cobra Kai in Season 4. As he leads the surge of dark energy that runs through much of Season 5, Mike Barnes (Sean Kanan) comes back and joins Johnny, Daniel, and Chozen (Yuji Okumoto) — another old rival — to bring down Silver and Cobra Kai. But with the roster of potential returnees all but run through and Kreese escaping from jail as Season 5 ends, who is left from the "Karate Kid" universe to come back and help stamp out evil in the San Fernando Valley once and for all?   
Hilary Swank's Julie Pierce has yet to appear in Cobra Kai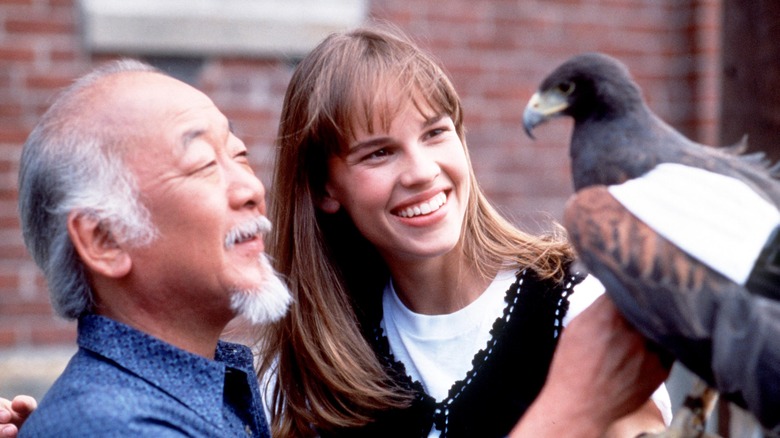 Getty Images/Getty Images
"The Next Karate Kid" was the fourth installment in the film series and starred Hilary Swank as Julie Pierce, the granddaughter of an old war buddy of Mr. Miyagi's (Pat Morita). He takes the recently orphaned and initially petulant youngster in as he did with Daniel, and once the old Miyagi magic takes hold, she becomes a disciplined and enthusiastic student. Because the girls' tournament was not birthed until Season 4 of "Cobra Kai," Julie has to settle for an outside-the-ring victory against the black hats of "The Next Karate Kid," the Alpha Elite.
At this year's PaleyFest, Entertainment Tonight's Will Marfuggi asked "Cobra Kai" actors about Julie potentially appearing in the series. Tanner Buchanan was wildly enthusiastic about the prospect, saying, "I keep asking for that ... I hope she does, I keep wanting her to come back, so maybe, hopefully at some point." William Zabka, Thomas Ian Griffith, and Mary Mouser all noted that each returning character has been written into "Cobra Kai" smoothly and without any disorienting storytelling gymnastics, and Ralph Macchio agreed that bringing back Julie would have to follow this pattern. 
Of bringing back characters, he said, "It was always to propel the story forward, and inform these characters ... it's about finding out how organically that can work." Julie and Daniel's common connection to Miyagi clears the way for her return; now all that's left is for Swank to Karate Waltz down that path.