House Of The Dragon Episode 4 Proves Matt Smith Wasn't Kidding About Those Awkward Intimate Scenes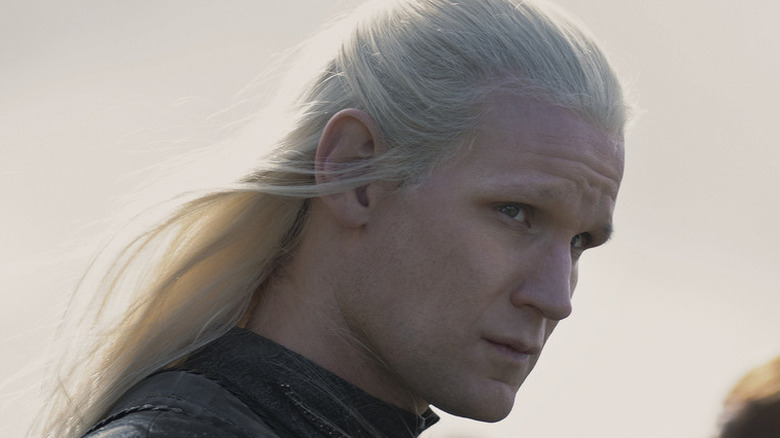 Ollie Upton/HBO
"Game of Thrones" was no stranger to weird sex scenes, and clearly, "House of the Dragon" is following in its hallowed footsteps.
The highly successful spin-off slash prequel is well underway, and by the inaugural season's fourth episode, there's plenty of gratuitous gore and nudity for any "Thrones" fans missing the original show's whole vibe. Before "House of the Dragon" even kicked off in August of 2022, star Matt Smith — who plays troublemaking prince Daemon Targaryen — had some misgivings about his sex scenes in particular. In early August, Smith basically said he was in way too many sex scenes, admitting to Rolling Stone UK that he couldn't believe there were so many. Though he followed up those comments by saying the set included an intimacy coordinator who was immensely helpful and put everyone at ease, he also addressed a brothel scene in the series premiere, which he believed helped show another side of his character. (No, not like that.)
It took a couple of episodes, but ultimately, viewers realized Smith wasn't kidding about his number of sex scenes — or how awkward they could be. Here's why the fourth episode of "House of the Dragon" ended up proving Smith's point about the series' sex scenes.
Daemon Targaryen is carrying on a longtime family tradition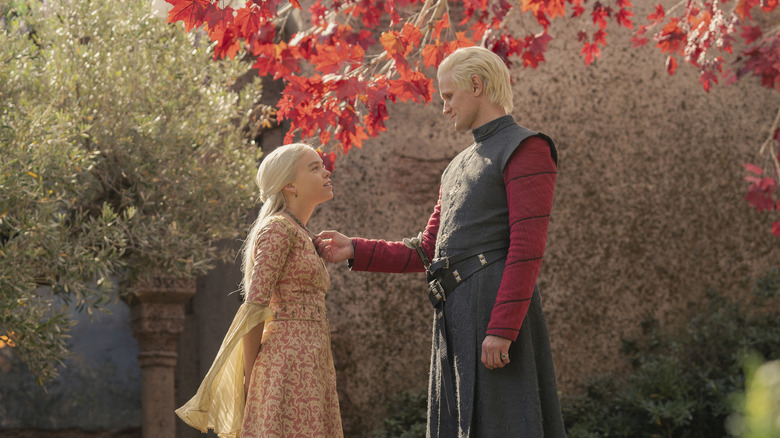 Ollie Upton/HBO
If you're a fan of the original series, you know that the Targaryens love a few things above all else: dragons, people bending the knee to them, and incest (intentional or otherwise). In "Game of Thrones," Daenerys Targaryen (Emilia Clarke) initially has no idea that her new boyfriend Jon Snow (Kit Harington) is actually her secret nephew... but when she does find out, it doesn't exactly put her off the relationship overall. Clearly, her ancestor Daemon isn't against the idea either.
In Episode 4, titled "King of the Narrow Sea" — a ceremonial title Daemon earns for freeing the Stepstones from the villainous Crabfeeder — Daemon returns to King's Landing in victory, befriending his brother King Viserys I (Paddy Considine) once again and reuniting with his beloved niece Princess Rhaenyra (Milly Alcock, in this episode's timeline). Things with Rhaenyra, however, soon take a turn... directly into the sleazy bowels of King's Landing, where she and Daemon visit a brothel and start engaging in some family contact that's, uh, definitely too close for comfort. Later, he begs Viserys for Rhaenyra's hand in marriage, saying he wants to continue the Targaryen bloodline, because that's definitely a sound plan.
Perhaps the most uncomfortable part about Rhaenyra and Daemon's tryst that Daemon seems, well, unable to perform, but it's tough to tell whether that's because it's his niece or this is just an ongoing thing for him — in Episode 1, he experiences the same problem with his companion Mysaria (Sonoya Mizuno). Regardless, it's definitely weird, and there's no reason to believe that Smith's words won't ring truer as the first season continues.