House Of The Dragon's Matt Smith Addresses The Weirdness Of Episode 1's Brothel Scenes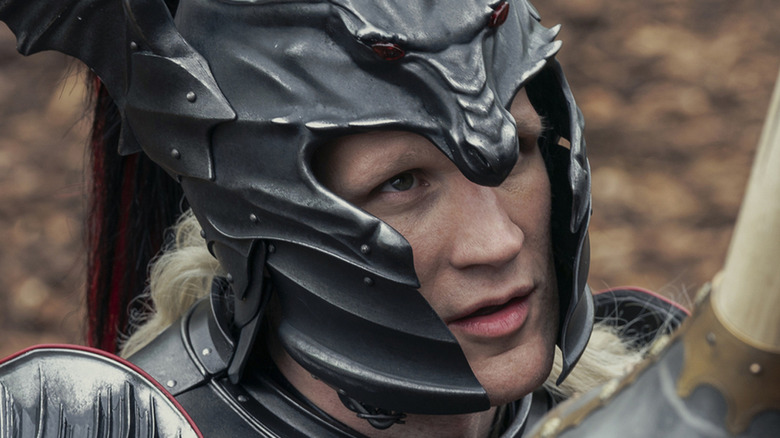 HBO Max
Spoilers for "House of the Dragon" season 1 episode 1 to follow.
It's practically impossible to write about a "Game of Thrones" property without mentioning sex, so let's jump right in.
Thanks to the way "Game of Thrones" handled sex, any subsequent show set in George R.R. Martin's universe is going to have some baggage when it comes to the topic.
"Game of Thrones" drew plenty of criticism for its depiction of sexual violence. "House of the Dragon" showrunner Miguel Sapochnik said that "House of the Dragon" would "pull back" on the amount of sexual violence and only depict it "carefully" and thoughtfully."
"If anything, we're going to shine a light on that aspect. You can't ignore the violence that was perpetrated on women by men in that time. It shouldn't be downplayed and it shouldn't be glorified," he told The Hollywood Reporter.
Even when the sex was consensual, "Game of Thrones" still caught plenty of flak for its use of "sexposition," or unnecessarily graphic depictions of the act that didn't move the plot forward. "House of the Dragon" is also trying to atone for that by only using sex as a way to illuminate its characters.
Now that it's out, it's clear that "House of the Dragon" is full of sex. "House of the Dragon's" first episode has two sex scenes involving star Matt Smith, who plays the volatile Prince Daemon Targaryen. Here's why Smith felt the scenes were necessary.
If you or anyone you know has been a victim of sexual assault, help is available. Visit the Rape, Abuse & Incest National Network website or contact RAINN's National Helpline at 1-800-656-HOPE (4673).
According to Matt Smith, both scenes show different sides of his character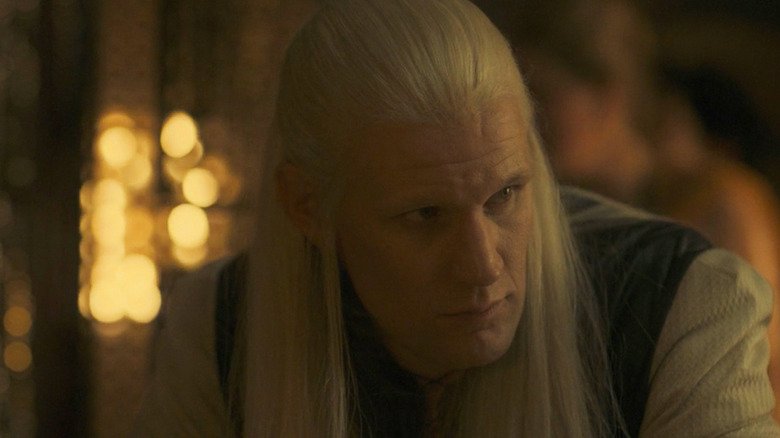 HBO Max
The first sex scene happens right after Daemon gets rebuked by his brother King Viserys I (Paddy Considine) for using the King's Watch to brutally crack down on criminals. Afterwards, Daemon is trying to have sex with his mistress Mysaria (Sonoya Mizuno), but finds himself distracted. Mysaria intuits that he's worried about Viserys replacing him. 
The second scene happens at a brothel, which Daemon has hired out to show his men on the King's Watch a good time. It also takes place right after the king's newborn son and heir Baelon I dies–making Daemon the presumptive heir once again. Daemon appears to be mourning his dead nephew, but when prompted to make a speech he can't hide his excitement. 
"Well I don't think it's exactly nice to be the saddest person at the medieval orgy, is it?" Smith told Polygon. "But I think it tells you something about Daemon."
"People keep saying he's a villain and all this, and he does really bad stuff. That's true," Smith continued. "But I think deep down there's a real sense of fragility about him. There's a strange vulnerability. And such a strange moral compass–which is warped, but it is a moral compass, in his own way."
Both sex scenes show different sides of Daemon. The first shows that he's not quite the menacing, impervious prince that he appears to be. The second is a lot more about Daemon's bond with his men, and the almost nonchalant, matter-of-fact way that sex is treated in this world.
Time will tell whether "House of the Dragon" will avoid the same missteps "Game of Thrones" made when it came to depictions of sex, but things are off to a good start.