Matt Smith Has A Brutally Honest Take On House Of The Dragon's Sex Scenes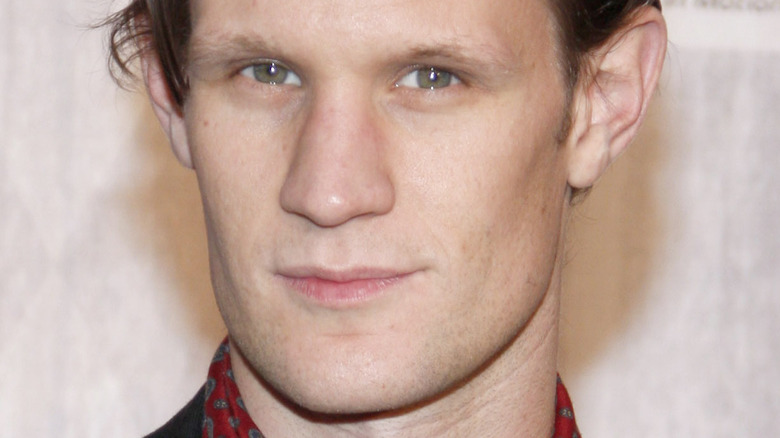 Tinseltown/Shutterstock
With its combination of exquisite fight scenes, compelling character arcs, and a fully fleshed-out world, it's not too hard to figure out how "Game of Thrones" became as popular as it did. Adapted from George R.R. Martin's best-selling novels, the series became a pop culture phenomenon that drew viewers in with political intrigue, well-developed characters, and quite a bit of nudity. That last bit actually went too far on more than one occasion, according to some viewers. Some of the more violent love scenes even started weighing on the cast. Sophie Turner — whose character Sansa was brutally abused — commented to The Cut how she needed to implement coping mechanisms to survive the dark material.
Executive producer Sara Hess made sure to point out that the upcoming series will be taking a different tack. Though violence against women is a large theme in "House of the Dragon," for the most part, the show will be depicting sexual assault offscreen. That isn't to say that explicit content will be held back entirely. This is still HBO. Prince Daemon himself, Matt Smith, had some choice words to say about the upcoming series when it comes to its mature content.
If you or anyone you know has been a victim of sexual assault, help is available. Visit the Rape, Abuse & Incest National Network website or contact RAINN's National Helpline at 1-800-656-HOPE (4673).
Daemon is involved in quite a few sex scenes himself
Ollie Upton/HBO
The "Game of Thrones" universe has a brand, and it seems that HBO will be sticking with it. At the heart of the "House of the Dragon" family drama lies Prince Daemon, an ambitious Targaryen hoping to ascend the throne when his brother (Paddy Considine) dies. According to Matt Smith, it will not all be dragon riding and war mongering. When speaking to Rolling Stone UK, the actor explained just how much "House of the Dragon" is like its predecessor.
"You do find yourself asking, 'Do we need another sex scene?'" Smith asked. "And they're like, 'Yeah, we do.' I guess you have to ask yourself: 'What are you doing? Are you representing the books, or are you diluting the books to represent the time [we're living in]?' And I actually think it's your job to represent the books truthfully and honestly, as they were written." 
The Targaryen prequel show does not specifically refer to "A Song of Ice and Fire" but instead a historical account called "Fire & Blood." The book details the Targaryen civil war and follows the form of an ancient history rather than a page-turning political thriller. This will not be the case in the series, according to Smith. The "Doctor Who" actor gave a little hint as to what viewers can expect from Daemon's love scenes. As it turns out, there are a lot of them. 
"[S]lightly too much, if you ask me," Smith admitted. Tune in this August to see Smith wearing a blonde wig and not much else, apparently.