Black Adams' Sarah Shahi Confirms What We Suspected About Noah Centineo's On Set Behavior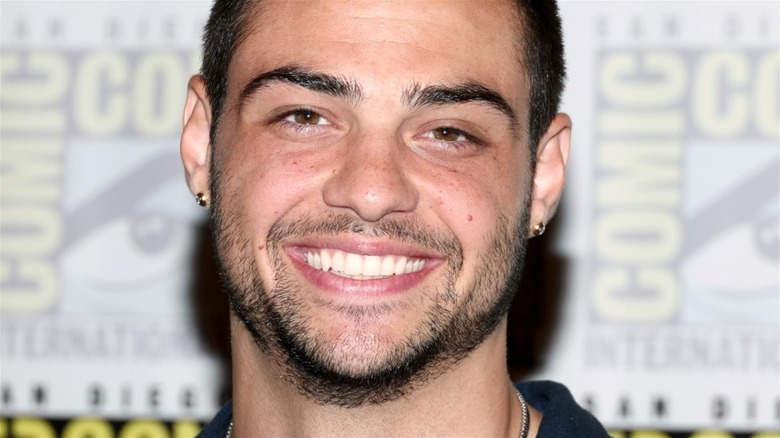 Emma Mcintyre/Getty
Like most big budget superhero blockbusters of the last few years, "Black Adam" has been faced with several delays due to the ongoing pandemic. Luckily, it's finally set to arrive on October 21, 2022. The film sees Dwayne Johnson stepping into his own live-action superhero franchise as the titular anti-hero who, if you haven't heard, will change the hierarchy of power in the DC Extended Universe. Johnson isn't alone though, as he'll be up against a group of heroes called the Justice Society of America — who have been around since 1940 (via DC).
Director Jaume Collet-Serra recruited an impressive squad of actors to fill out the JSA's ranks, and chief among them is Pierce Brosnan, who portrays Dr. Fate. Collet-Sera told Vanity Fair why he cast the former "James Bond" star, saying "You need a special actor to play, basically, a legend. Dr. Fate is a very powerful being, so you need someone like Pierce who can play powerful without it being overly done. He can do it in a very subtle way."
Obviously, Dr. Fate is not the only member of the JSA; He's joined by Cyclone, played by Quintessa Swindell, Aldis Hodge's Hawkman, and Atom Smasher, the latter of which is a hero who alters his molecular structure to grow in size and is played by "To All The Boys I've Loved Before" heartthrob Noah Centineo. And a "Black Adam" cast member recently confirmed what we all suspected about the young star's on-set behavior.
Sara Shahi says Noah Centineo is fun to be around
"Black Adam" is Noah Centineo's full foray into blockbuster action — although he got a little taste when working on Elizabeth Banks' "Charlie's Angels" back in 2019. Clearly he's got no issues with diving headfirst into the superhero genre, and he's already proved that he can work well in an ensemble thanks to projects like "The Fosters" and "T@gged." Obviously, a big budget picture like this comes with a lot of pressure on its stars, but according to Centineo's cast mate Sara Shahi, the young actor brought an exuberant energy to set.
Shahi told Collider what it was like working with him, saying, "I mean, you know, he's like a puppy. Yeah, I remember the first time I met Noah, too. It was in between, you know, the trailers. And he was just bouncing around, just bouncing around, bouncing around." She went on to say, "And he just reminds me of like, a labrador puppy. Or something. Like his energy is just so playful and so up and, and you know, and he's funny, and he's good. And he reads a lot which I was surprised. I was like, 'You read?'"
With so many talented actors, Dwayne Johnson's enthusiasm for the project, and Centineo's lovable puppy dog nature, it sounds like the "Black Adam" cast had a lot of fun working together. Whether they get to do it again will all depend on how successful the film is alongside Warner Bros.' roadmap for the DCEU going forward.