Coco Wins Weekend Box Office Once Again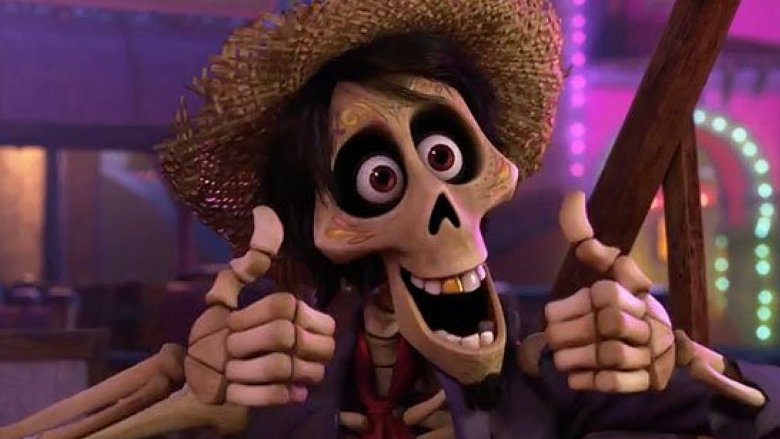 Pixar has topped the weekend box office once again. The studio's latest animated extravaganza, Coco, held onto the top spot during a slow weekend with an additional $18.3 million, good for a $135.5 million domestic gross after just three weeks in theaters.
Coco follows 12-year-old Miguel (newcomer Anthony Gonzalez), a young boy from a shoemaker's family who dreams of becoming a musician like his idol, the late Ernesto de la Cruz (Benjamin Bratt), despite his family having banned music for generations. When Miguel tries to follow in his idol's footsteps, he ends up transporting himself to the Land of the Dead, where he goes on an adventure to find out his real family history.
This is the third weekend in a row that Coco has topped the box office, which opened to an impressive $71.1 million over the five-day Thanksgiving weekend frame. The movie has been beloved by critics and fans, sitting at a 96 percent critics rating and a 96 percent audience score on Rotten Tomatoes. Coco is also doing well overseas-– the movie is the highest-grossing film ever released in Mexico. 
Coco will be knocked out of the first place spot next week when Star Wars: The Last Jedi hits theaters. The Last Jedi, which is already receiving rave early reactions, is projecting for a massive $200 million opening weekend, although the real test will be to see if it can match (or exceed) The Force Awakens' record-breaking $248 million bow.
DC's struggling Justice League held on to second place with an additional $9.6 million, bringing it to a domestic total of $212 million. After the film's lackluster box office and critical performance, Warner Bros. is said to be retooling their future slate, including moving Justice League producer Jon Berg out of his position as Warner Bros.' co-president of production. 
Third place once again went to Julia Roberts' and Owen Wilson's Wonder, which has continued to impress thanks to its heartwarming message and family appeal. Thor: Ragnarok lost its fourth place spot to The Disaster Artist, James Franco's biopic about The Room director Tommy Wiseau. The movie, which has rapturous reviews and holds a 94 Rotten Tomatoes score, expanded to 840 theaters and pulled in $6.4 million for a solid $7,661 per theater average.
The weekend was not so kind to Morgan Freeman's Just Getting Started, which took tenth place with just $3.1 million from 2,146 locations. The movie holds a nine percent on Rotten Tomatoes. Elsewhere, Guillermo del Toro's The Shape of Water expanded to 41 theaters and brought in $1.1 million, while Margot Robbie's figure skating biopic I, Tonya opened in four theaters to $245,602 and a per-theater average of $61,400. Also in limited release, Gary Oldman's The Darkest Hour expanded to 53 theaters and brought in $777,000.
You can view this weekend's full box office results (via ComScore) below. 
Top 10 Weekend Box Office Gross
1. Coco: $18,303,000 (-34 percent), $135,508,690 Total Domestic Gross   
2. Justice League: $9,595,000 (-42 percent), $212,060,371 Total Domestic Gross  
3. Wonder: $8,450,000 (-30 percent), $100,303,106 Total Domestic Gross   
4. The Disaster Artist: $6,435,514 (+431 percent), $8,032,288 Total Domestic Gross 
5. Thor: Ragnarok: $6,291,000 (-36 percent), $301,158,064 Total Domestic Gross
6. Daddy's Home 2: $6,000,000 (-21 percent), $91,159,459 Total Domestic Gross   
7. Murder on the Orient Express: $5,100,000 (-25 percent), $92,707,515 Total Domestic Gross   
8. The Star: $3,675,000 (-10 percent), $32,279,046 Total Domestic Gross  
9. Lady Bird: $3,547,469 (-17 percent), $22,331,138 Total Domestic Gross   
10. Just Getting Started: $3,181,568 (– percent), $3,181,568 Total Domestic Gross