The First Reactions To Star Wars: The Last Jedi Are Here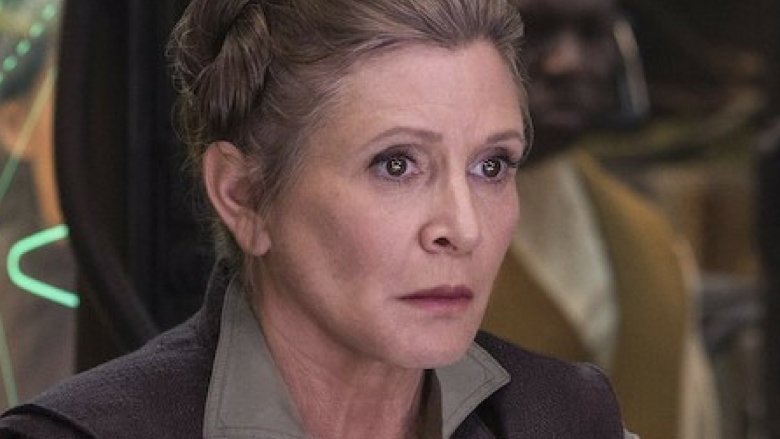 The first reactions to Star Wars: The Last Jedi are here, and they are out of this world. A few lucky people got to see the film at its swanky Los Angeles premiere on Saturday night (including John Boyega, who made it there after nearly getting snowed out), and they for the most part have great things to say about Rian Johnson's franchise outing.
The Hollywood Reporter's Aaron Couch called the movie "incredibly satisfying" and praised Mark Hamill's performance as Luke Skywalker, which he said was "hands down" his best to date. IGN's Terri Schwartz also praised Hamill and his co-stars Carrie Fisher, Daisy Ridley, and Adam Driver, saying that she particularly didn't expect the developments with Rey and Kylo Ren, which became her favorite part of the movie.
"There's a scene in #StarWars #TheLastJedi that I keep playing over and over in my head, that is so stunning and unexpected that I don't want to forget how I felt seeing it for the first time," she wrote. "This movie feels unlike any other Star Wars movie in all the ways I hoped." Entertainment Weekly's Anthony Breznican also cited the movie's unpredictability before adding, "#TheLastJedi will shatter you– and then make you whole again." 
MTV News correspondent Josh Horowitz wrote that the film "had more goosebumps moments than any Star Wars movie I can remember" and said he was "grinning" for most of the film's unprecedented two and a half hour run time. "A worthy and great Star Wars film," he concluded. "The franchise is in great hands. Kudos to @rianjohnson." Horowitz also warned to avoid spoilers, as "most of the best moments are not in any trailers." 
Jen Yamato of The Los Angeles Times wrote, "#StarWars: The Last Jedi is so beautifully human, populist, funny, and surprising. I cried when one POC heroine got her moment because films like these leave their mark on entire generations– and representation matters." Yahoo! Entertainment's Kevin Polowy called the movie "a triumph," adding that it had "so many big moments, so much emotion, so much to digest."
Added Fandango's Erik Davis, "#TheLastJedi is absolutely fantastic– gripping, touching, funny and powerful w/ gorgeous shots and the most badass battles. When it gets going, holy crap does it get going. Hands down the best #StarWars movie since Empire." ABC News' Clayton Sandell wrote, "Guys. @rianjohnson has made the most epic, emotionally powerful @starwars film ever. Hands down. My strong advice is to be very wary of spoilers. The less you know about #TheLastJedi, the better. Bravo, bravo, bravo." 
Access Hollywood's Scott Mantz was slightly critical, noting that the film was "a little too long [and] dragged in the middle," but he still called it "great fun overall." "As good as The Force Awakens; Rogue One is better," he wrote. "More humor than expected, great #StarWars moments, #MarkHamill is awesome! A worthy Episode VIII."
You can view more reactions to Star Wars: The Last Jedi below. The movie hits theaters on Dec. 15.
Massive congrats to my friend @rianjohnson for the dazzling writing and directing work he shared tonight! Yes, a great chapter of a blockbuster franchise, spectacular and unpredictable, but also his own voice shining through... kudos!

— Mangold (@mang0ld) December 10, 2017
IT DOES NOT GET BETTER THAN STAR WARS THE LAST JEDI!!!!!!

— robertliefeld (@robertliefeld) December 10, 2017
Star Wars: The Last Jedi is everything. Intense, funny, emotional, exciting. It's jam-packed with absolutely jaw dropping moments and I loved it so, so much. I'm still shaking. pic.twitter.com/fHddWjo201

— Germain Lussier (@GermainLussier) December 10, 2017
#StarWarsTheLastJedi floored me. @rianjohnson and the team nail so much – thrills, laughs, heart and most of all, pushing the characters/overall franchise a major step forward. Some really rich material to explore in the future. Can't wait for more.

— Perri Nemiroff (@PNemiroff) December 10, 2017
Holy wow. I'm stunned at @starwars #TheLastJedi. An adventure as epic & sweeping as all the other films combined, with laughs, tears, and moments that will make your head pop off. I CARED about this movie. What a great feeling.

— Grae Drake (@graedrake) December 10, 2017
Star Wars: The Last Jedi is so very different, exciting, surprising. So many emotions, so many amazing moments. Stay away from spoilers.

— Peter Sciretta (@slashfilm) December 10, 2017
I am STUNNED by #StarWars #TheLastJedi. I gasped, I laughed, I screamed, I cried and I had the time of my life. Rian Johnson pulled it off, making what might be the best Star Wars movie ever. pic.twitter.com/0VE5M90dsH

— Joshua Yehl (@JoshuaYehl) December 10, 2017