The Real Reason Tom Hanks Never Played Doctor Who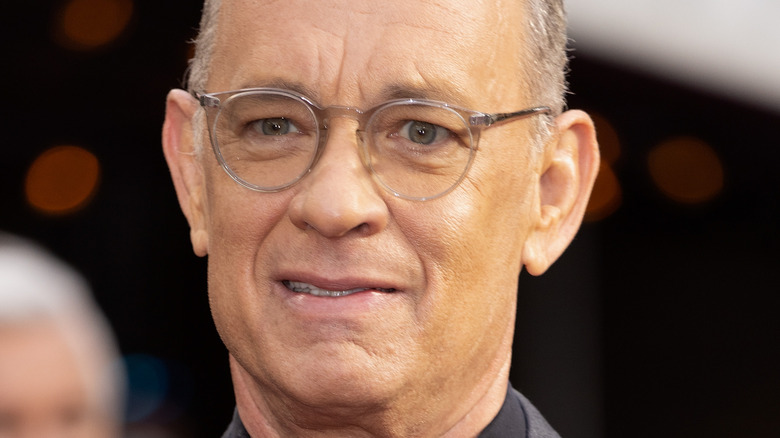 Dave J Hogan/Getty Images
Doctor Who. Tom Hanks. Two very different pop culture icons. One is a madcap hero of time and space who, for more than 50 years and several incarnations, has embodied the best and kindest impulses in the vast universe. The other is known for playing relatively grounded characters –- albeit to pitch-perfect effect. At first glance, past the most essential and basic, there isn't much overlap.
But if there's anything we were reminded of by Hanks' turn as Colonel Tom Parker in "Elvis," it's that he has a range and versatility that is often surprising. Baz Lurhmann himself told Entertainment Weekly that his decision to cast Hanks came from a curiosity about how it might play to have such a legendarily affable actor take a stab at a villain. "The gargantuan size and complexity of Parker would define the air for Elvis to be internal and spiritual," Luhrmann told EW. "Without that, it would be hard to reflect Elvis against it. And I went, 'I bet Tom Hanks would be into a playing a dark note on his instrument that no one could see coming.'"
In other words, we have all been freshly reminded of Hanks' ability to bring something fresh and believable to a wide array of roles. Perhaps considering him for the role of the Doctor might not be quite so off-base after all.
Peter Capaldi lobbied to have Tom Hanks play the Doctor
Appearing on the "Happy Sad Confused" podcast, Tom Hanks claimed that Peter Capaldi –- now known to all as the Twelfth Doctor -– approached the producers of "Doctor Who" about having Hanks appear as an incarnation of the Doctor. Whether Capaldi's aim was to have Hanks replace him as the next Doctor or perhaps have him guest as another incarnation –- a la John Hurt's War Doctor -– isn't really clear. But, according to Hanks, it would definitely have been the Doctor.
Recent years have seen the producers of "Doctor Who" listening to a growing number of fans and introducing some racial and gender diversity into the lineage of Doctors. Starting directly after Capaldi, Jodie Whittaker became the first female Doctor, and her replacement was recently announced to be Ncuti Gatwa, the first person of color to play the Doctor.
But to Hanks, the main reason he doesn't think he'd be a good Doctor is a bit more straightforward: he isn't British. "Can you imagine the outrage?" Hanks asked host Josh Horowitz. "I'm an American, and I'm gonna go over, and I'm gonna jump in that you know, red telephone box, and you know, and either wear a scarf and whatever it is. I don't think Anthony Quinn could play Zorba the Greek in today's popular judgment, you know. But why? You know why Josh –- cause he's not Greek."
Of course, as any true Whovian will tell you, the telephone box –- aka the TARDIS -– isn't red. It's blue. Maybe it's for the best that producers passed on Capaldi's idea.