Paddington In Peru Release Date, Cast, Plot, Director And More Details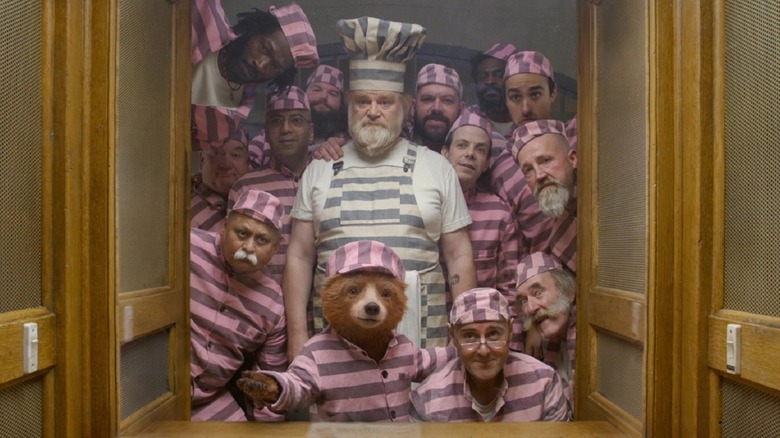 StudioCanal
Based on the beloved writings of the late Michael Bond, 2014's "Paddington" introduced the cinema world to the titular bear in his first incredibly heartwarming feature. Unsurprisingly, the adaptation became a huge hit, grossing nearly $283 million at the worldwide box office and winning over critics everywhere. As Hollywood tends to do with such success, sequel talks began shortly thereafter, resulting in "Paddington 2" hitting the big screen only three years later. Much like the first, the second chapter in Paddington Bear's story stole audience's hearts — as well as their funds, taking in roughly $228 million over the course of its theatrical tenure.
In the half-decade since "Paddington 2" graced the cinema, talks of a third movie to round out the trilogy had grown scarce at best. But that all changed on February 17, 2021, when Variety reported that the highly anticipated "Paddington 3" was in motion. A representative from production company StudioCanal said in a statement that accompanied the news, "We can confirm StudioCanal is working very hard on film 3 with the utmost craft and care — as with film 1 and 2." That untitled sequel later got an official name: "Paddington in Peru."
With it now set in stone that "Paddington in Peru" is on the way, what can audiences expect whenever it premieres in the distant future? 
When will Paddington in Peru be released?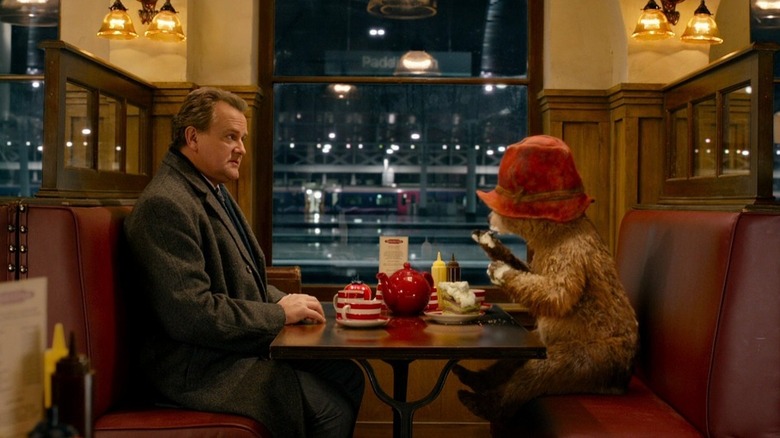 StudioCanal
"Paddington" is about as British as it gets. After all, it's based on a series of iconic children's books from English author Michael Bond, and the movies feature a who's who of U.K. actors. So it makes total sense that the "Paddington" movies are first released in the United Kingdom before making their way to the United States. The first "Paddington" hit British theaters in November 2014 before heading over to North America in January 2015, and "Paddington 2" debuted in the U.K. in November 2017 before visiting stateside the following January.
Similarly, "Paddington in Peru" will play overseas before making its adorable way over to the U.S.A. After the movie hit a snag due to the SAG-AFTRA strike — which caused American actor Rachel Zegler to eventually be replaced — it was announced the third installment in the "Paddington" series would premiere across the pond on November 8, 2024. But when will U.S. audiences get to see their favorite marmalade-loving bear? "Paddington in Peru" will arrive in American cinemas on January 17, 2025.
What is the plot of Paddington in Peru?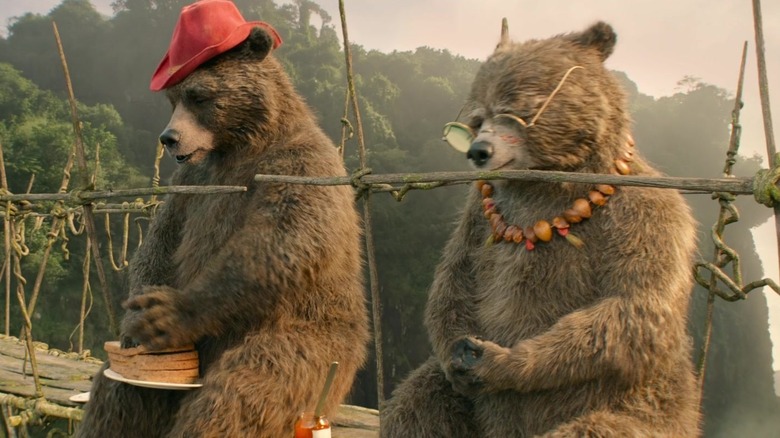 StudioCanal
Michael Bond's series of "Paddington" books are quintessentially British, and the first two entries in the "Paddington" cinematic universe dutifully kept the titular bear in and around London. But the films offered hints and scenes of Paddington's early years in the jungles of South America, a concept which the upcoming third film will lean into full time. 
According to Variety, "Paddington in Peru" will feature Paddington Bear leaving London and embarking on a great journey, traveling all the way from England to return to his homeland in Peru. The reason? He wants to visit his Aunt Lucy, who raised him as her own. Now a bear of advanced age, she resides at the Home for Retired Bears, and in order to see Aunt Lucy, Paddington — and the human family of the Browns — must brave the Amazon rainforest and Peruvian mountains.
Who is starring in Paddington in Peru?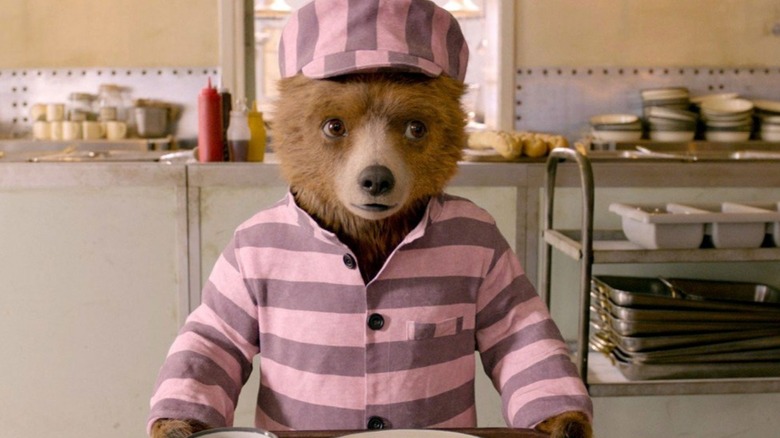 StudioCanal
The "Paddington" movies are a well-established cinematic entity at this point. As such, most of the principal human, non-CGI cast will play the same roles they have twice before in "Paddington in Peru." Hugh Bonneville will once again play London dad Henry Brown, alongside returning actors Samuel Joslin as Jonathan Brown, Madeline Harris as Judy Brown, Julie Walters as Mrs. Bird, and Jim Broadbent as Mr. Gruber. On the voice side, Ben Whishaw will reprise his audio-only part of Paddington Bear, and Imelda Staunton is set to portray Paddington's Aunt Lucy once more.
As far as new cast members, Emily Mortimer will step into the role of Mary Brown, vacated by Sally Hawkins, who is moving on after playing that part in the first two "Paddington" movies. Oscar-winner Olivia Colman joins the cast as the bubbly, guitar-playing nun The Reverend Mother, who operates Aunt Lucy's Home for Retired Bears. Antonio Banderas is also making his "Paddington" debut as riverboat captain and adventurer Hunter Cabot. Rachel Zegler of "West Side Story" was initially cast as Banderas' daughter, Gina Cabot, but had to drop out due to the SAG-AFTRA strike. Spain-based actor Carla Tous has since landed the role.
Who is directing and writing Paddington in Peru?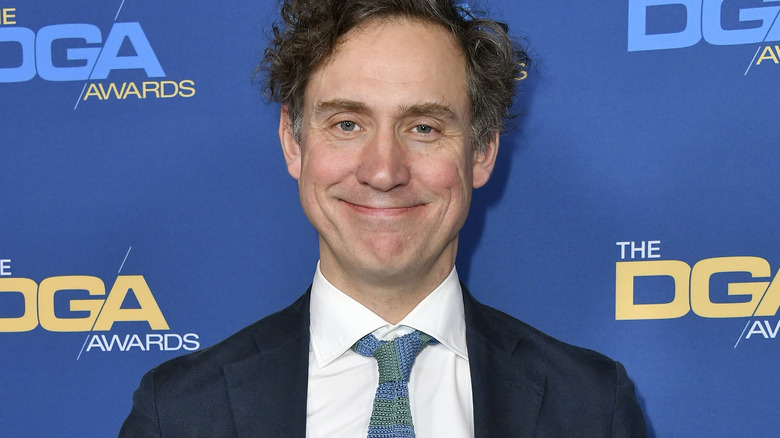 Frazer Harrison/Getty Images
Director Paul King oversaw the first two "Paddington" projects. However, he won't be returning to movie no. 3, "Paddington in Peru," in the same role. As he told Empire in June 2020 (via Yahoo! Movies), he decided against directing the film in favor of a less creatively intensive executive producer spot, giving him the chance to focus on other ventures.
Taking King's spot at the head of the "Paddington" cinematic world will be Dougal Wilson. After working as a director of television commercials and music videos (for the likes of Apple and Coldplay, respectively) for the past decade and a half, Wilson will make his feature film debut with "Paddington in Peru."
The third "Paddington" film also experienced some turnover in the writing side of things. King co-wrote "Paddington 2" with Simon Farnaby. King bowed out of writing too, so Farnaby composed "Paddington in Peru" with Mark Burton, who contributed additional to "Paddington 2" and co-wrote the scripts for Aardman productions including "Early Man" and "A Shaun the Sheep Movie: Farmageddon."