Queen Elizabeth II Was Very Unhappy With One Particular Depiction On The Crown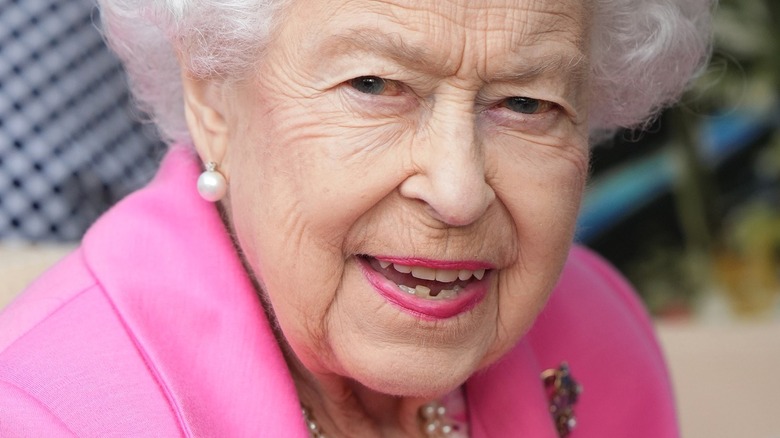 Wpa Pool/Getty
In addition to receiving numerous awards for its cast, costumes, and effects, Netflix's "The Crown" has earned its share of criticisms, particularly regarding its relationship to real-life history. The series focuses on the lives of the royal family, starting when Queen Elizabeth II (Claire Foy) unexpectedly becomes Queen at the young age of 26. While its individual storylines are derived from actual events, much of the show is embellished, consisting of fictionalized accounts of conversations and interactions that may or may not have actually happened. At one point, the United Kingdom's culture secretary, Oliver Dowden, said that "The Crown" should add a fiction disclaimer, telling The Mail on Sunday, "I fear a generation of viewers who did not live through these events may mistake fiction for fact."
While both Netflix and "The Crown" creator Peter Morgan have stated they believe audiences to be smart enough to figure out that the show is, in fact, fiction, this sentiment is not shared by all relevant parties. Helena Bonham Carter, who portrays Princess Margaret in Seasons 3 and 4, told a podcast for the show that "It is dramatised. I do feel very strongly because I think we have a moral responsibility to say, 'Hang on guys, this is not ... it's not a drama-doc, we're making a drama.' So there are two different entities" (per The Guardian).
While the royal family has made it known they aren't fans of the show on the whole (via Insider), apparently the late Queen Elizabeth II was especially unhappy with one particular scene.
The depiction of Prince Philip and Prince Charles' relationship angered the Queen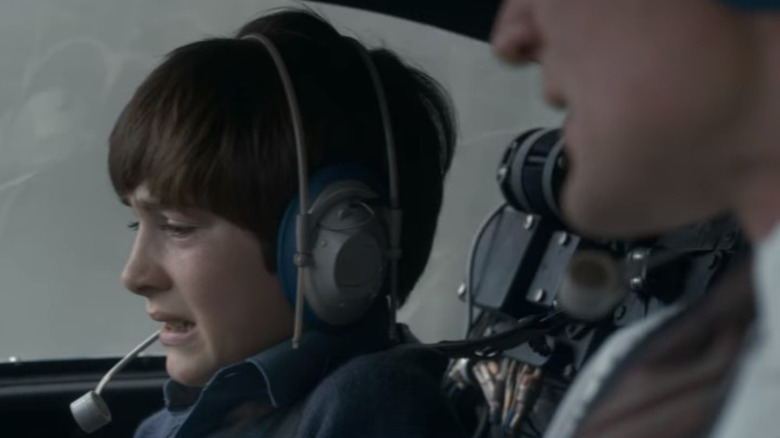 Netflix
While many royals have made it clear they aren't fans of Netflix's "The Crown," the late Queen Elizabeth II expressed that she was most upset about how Prince Philip was portrayed as a callous and insensitive father to Prince Charles. "She was particularly annoyed at a scene in which Philip has no sympathy for a plainly upset Charles while he is flying him home from Scotland," a senior royal source told The Express.
In Season 2, Episode 9 ("Paterfamilias"), Prince Philip (Matt Smith, who plays Doctor Who) flies a clearly upset Prince Charles (Julian Baring) home from Gordonstoun after Charles attempts, and fails, to participate in a school challenge. As Philip tries to tell Charles how he did during the challenge is of no consequence to him, Charles looks frightened and anxious as they fly through turbulence. Philips continues with his pep talk, telling Charles, "It's just air," before telling him that he's weak and ordering him to the back of the plane. "That simply did not happen," the senior royal source said.
Queen Elizabeth II habitually watched episodes of The Crown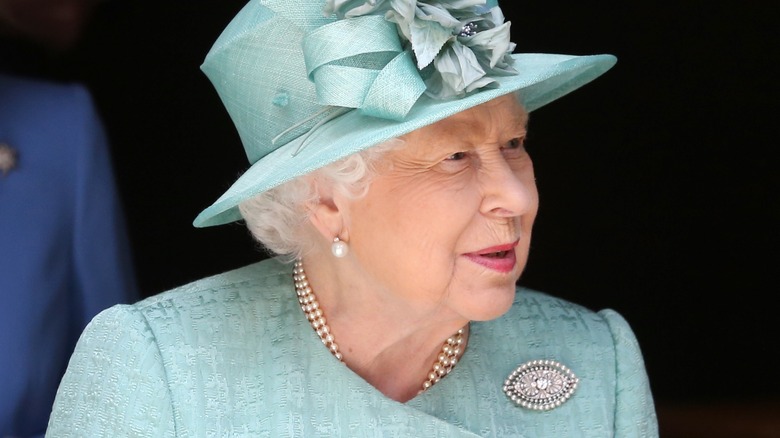 Fred Duval/Shutterstock
Despite her distaste for the way "The Crown" depicts Prince Philip's relationship with a young Prince Charles, it's since been publicly revealed that Queen Elizabeth II, did, in fact, regularly watch "The Crown" on Netflix.
A report by Entertainment Weekly recounts how, during a broadcast of the Queen's funeral, leading royal authority George Jobson happened to mention that Queen Elizabeth II once made a habit of watching "The Crown" on Sundays. He even brought up the fact that Prince Philip would sometimes discourage his wife from tuning in, knowing that it would make her upset. This latter detail suggests that the relationship between Prince Philip and Prince Charles might not have been the Queen's only gripe with the show, but rather one of many.
Given that it mines their real lives for drama, it's no surprise that members of the royal family may have taken unique issue with some of the contents of "The Crown." Of course, while series creator Peter Morgan has stated he plans to make at least six seasons, whether or not Queen Elizabeth II's passing affects the show's future could remain a point of interest moving forward.