Emma Thompson's Queen Elizabeth II Portrayal Is More Accurate Than You Realized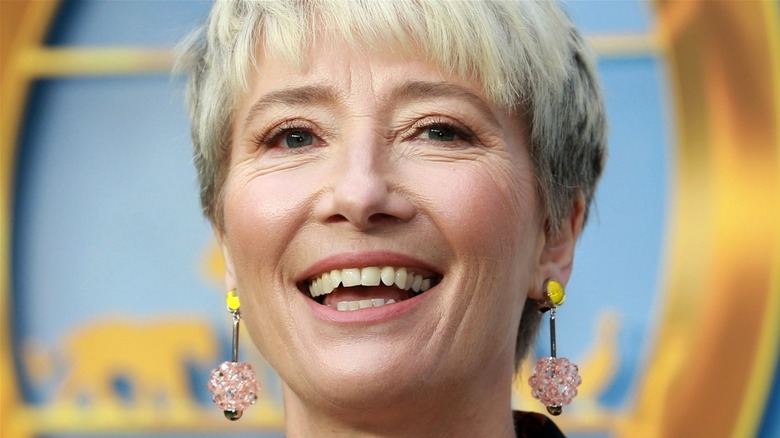 Fred Duval/Shutterstock
The death of Queen Elizabeth II on September 8, 2022, has caused people across the globe to look back and remember her extraordinary 70-year reign as Britain's longest-serving monarch, along with all the movies and TV shows her life inspired. This includes Netflix's "The Crown" and Helen Mirren's Oscar-winning performance in 2006's "The Queen." But there's another Queen Elizabeth portrayal — provided by two-time Academy Award winner Emma Thompson — which has largely flown under the radar of Hollywood for the past decade, with it being a lot more accurate than people realize. 
Throughout her reign, Queen Elizabeth II was portrayed on both television and the big screen, along with various stage productions. In addition to Mirren and Thompson, countless others have played Her Royal Highness over the years. Some of the most famous performances include Freya Wilson in the 2010 historical hit "The King's Speech," Stella Gonet in 2021's "Spencer," and "The Crown" actors Claire Foy, Olivia Colman, and Imelda Staunton, who plays the Queen in Season 5 (via Independent). But for the most part, these stars and their roles all seemed to avoid one very real and frightening moment in the life of Queen Elizabeth from the 1980s, which was covered in Thompson's aforementioned portrayal of the Queen as part of the Sky Arts "Playhouse Presents" anthology series.
Walking the Dogs covers the 1982 Buckingham Palace break-in
Known to some as the Michael Fagan incident, "Walking the Dogs" starring Emma Thompson is a 2012 made-for-TV dramedy that covers the real-life Buckingham Palace break-in of 1982, which was committed by Fagan and reportedly sparked a massive security scandal (via Town & Country). Longtime actor Eddie Marsan plays the infamous intruder. "Walking the Dogs," which is a short film, reportedly shows what went down during the time that Fagan was alone with Queen Elizabeth before finally being captured and arrested, including how he accidentally woke Her Majesty up out of bed while she was sleeping.
"They say she must have been frightened," recalled Fagan in a 2010 interview with The Sun. "I didn't frighten her too much but I was quite shocked. She used a phone on the bedside table to call security but when nobody came she got out of bed. Her nightie was one of those Liberty prints and it was down to her knees. She said, 'Just one minute, I'll get someone,' swept past me and ran out of the room, her little bare feet running across the floor." Fagan reportedly denounced Thompson's "Walking the Dogs" after its release in the U.K. and said in interviews that he felt the entire ordeal should've remained private — and definitely not played up in a dramedy. 
"I can't believe they're now putting so much attention on it, particularly in her jubilee year," Fagan told The Daily Telegraph (via Metro). "The Queen deserves respect and I'm sorry that all the focus over all these years has been on the fact that I was in her bedroom."