Fans Just Got A First Look At Imelda Staunton As Queen Elizabeth II In The Crown Season 5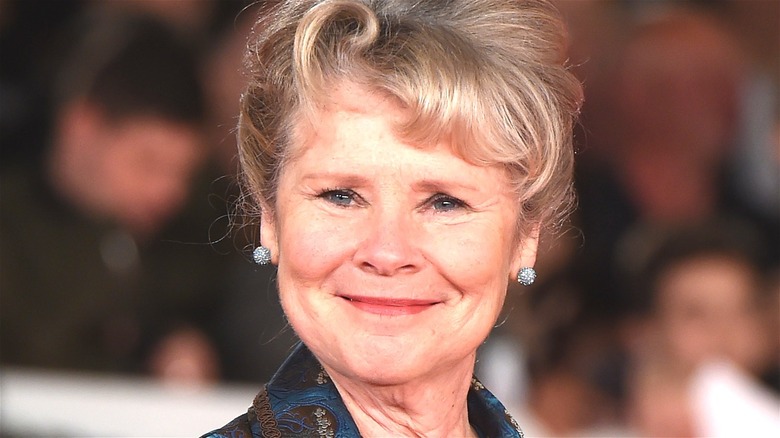 Stefania D'Alessandro/Getty Images
Season 4 of "The Crown" concluded in November 2020, wrapping up the 1980s portion of its ongoing, decade-by-decade dramatization of the life of Queen Elizabeth II. In real life, Prime Minister Margaret Thatcher loomed large over British politics in the '80s. Fittingly, "The Crown" brought in a heavy hitter in "X-Files" and "Hannibal" star Gillian Anderson to portray the Iron Lady.
Since Thatcher left office in 1990, "The Crown" will also retire Anderson moving into its fifth season. That's far from its only personnel change, however — "The Crown" regularly recasts its central stable of actors every couple of seasons in order to age up its characters and approximate the ways people change over time. Thus, Olivia Colman, Tobias Menzies, and Helena Bonham Carter will all be absent from their respective Seasons 3-4 roles as Queen Elizabeth II, her husband Prince Philip, and her sister Princess Margaret come the next outing of "The Crown."
Instead, the cast of Season 5 will feature prolific British performer Imelda Staunton as Queen Elizabeth II, Jonathan Pryce of "Game of Thrones" fame as Prince Philip, and the Oscar-nominated Lesley Manville as Princess Margaret. While fans of "The Crown" will have to wait and see how Pryce and Manville embody their respective characters, Netflix has just released an image of Staunton as Queen Elizabeth II, providing the first look at her take on the aged royal.
New season, new Queen
Netflix shared its first image of Queen Elizabeth II in Season 5 to the official "Crown" Twitter account with the caption, "an early glimpse of our new Queen Elizabeth II, Imelda Staunton."
The photo of Staunton's Queen is essentially contextless. In it, she is centered in a medium shot, the interior of what appears to be Buckingham Palace at her back. Staunton's hands are clasped in front of her stomach as she looks sternly at what is presumably an off-screen second party. Netflix, then, is simply opting to introduce its new Queen visually, without delving into any Season 5 story beats or even showcasing Staunton in action.
In response to the tweet, fans have both shared their anticipation for the latest "Crown" star and some memories of Queen Elizabeths of seasons past. User @jillygilliana, for example, juxtaposed past Queen actors Claire Foy and Oliva Colman with the new photo of Staunton. The post received more than 750 likes. Similarly, user @until_elysium wrote, "thank you to Claire Foy and Olivia Colman for giving a beautiful and touching performance of Queen Elizabeth II. Can't wait for season 5 Imelda will be perfect in the role."
Netflix has yet to detail a release date for "The Crown" Season 5, but given that filming only just began in July (via Variety), a premiere date around or after mid-2022 is most likely.