Are Steve Martin And Martin Short From Only Murders In The Building Friends In Real Life?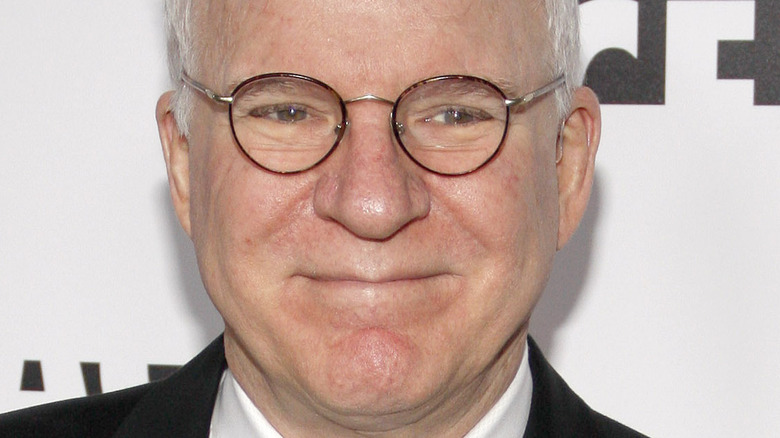 Tinseltown/Shutterstock
In "Only Murders in the Building," Charles-Haden Savage (Steve Martin) and Oliver Putnam (Martin Short) are friends ... sort of. They share an address, and they work together — on their true crime podcast, along with fellow resident Mabel Mora (Selena Gomez). At first Charles and Oliver appear to mainly annoy one another, but it's true, their relationship does grow to the point you could call them companions. Even, yes, friends. Perhaps this is the normal outcome when people spend a lot of time together trying to solve crimes and clear their own names in the process.
Charles and Oliver are, of course, fictional characters played by a pair of comedy's greatest legends. So what of the actors behind these roles? Do Martin and Short also push each other's buttons, perhaps both on and off set? Or have they also forged a real bond, with a shared interest in show business that's led them to become friends?
Let's examine the clues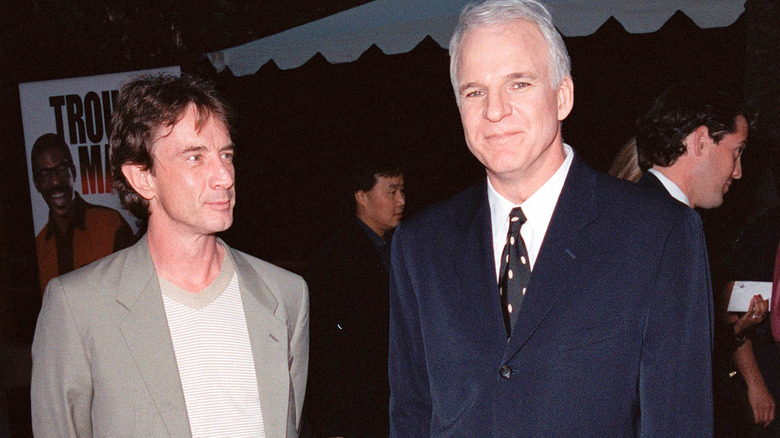 Featureflash Photo Agency/Shutterstock
Steve Martin and Martin Short first met in 1984 (per InStyle). They were backstage at "The New Show," a prime-time version of "Saturday Night Live." At the time, Short was an "SNL" cast member, and Martin was there as the guest host. Nothing much came of that meeting beyond the quick exchange of greetings, but they reconnected through working together on the 1986 film "Three Amigos!" They played characters who were close, along with Chevy Chase, and all three started spending time together to create the right chemistry for their onscreen performances. It began with Scrabble sessions between takes and lots of laughter, which only makes sense considering this trio. "And laughter is a great bonding mechanism," Short told InStyle. "If you make someone laugh or they make you laugh, you want more of that."
By the time their work on the movie was done, the three men were hanging out and going to dinner together with their wives. In 1991, Martin and Short starred together in another film, "Father of the Bride." And they did it again in "Father of the Bride II" in 1995. Throughout it all, they continued socializing outside of work. "There was never a phase where I didn't see Steve for a couple of years," Short said.
While "Only Murders in the Building" looks to more mysteries still needing to be solved, in this case, the clues all point in one direction. Martin and Short clearly appear to be friends in real life. But is there more to the story?
It's kind of the perfect friendship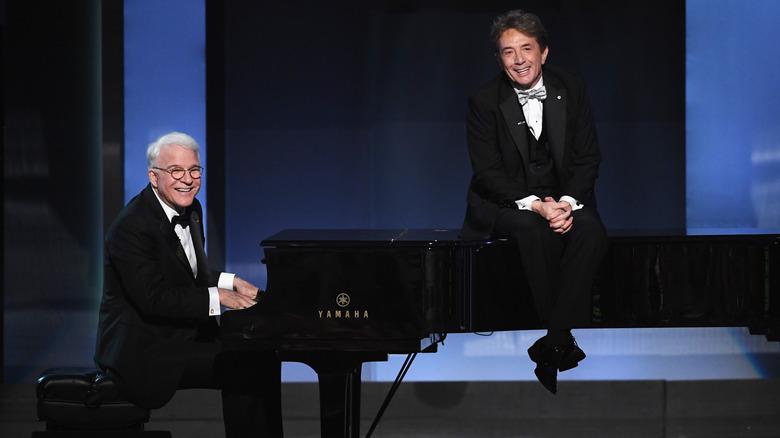 Kevin Winter/Getty Images
Over the years, Steve Martin and Martin Short have shared the stage, screen, and many career successes. Eventually, they figured out a way to bring it all together. In 2015, they went on tour, naming their show "A Very Stupid Conversation." It was basically the two of them talking about their lives and careers (via People). Just going out on a limb here, we're guessing it was pretty entertaining and probably not stupid at all.
It's telling of their relationship that three years later, Martin and Short did the Best Friends Challenge on "The Tonight Show." Also in 2018, they released the Netflix special, "An Evening You Will Forget for the Rest of Your Life." (And again, let's just say it was more likely funny and memorable than anything.) By 2021, they were touring together again with a show called "The Funniest Show in Town at the Moment," a choice they made because they got along so well (via 313 Presents). And after the tour, they decided to continue their partnership with "Only Murders in the Building."
What do they have to say about each other after all these years? Only good things — proof their friendship is solid. Martin told People that Short is "kind of the perfect person." As for Short, he revealed what he loves most about Martin is simply who he is. "He's very moral, he's very loyal, very, very ethical," Short said. "And this is beyond all that talent."