Sidney Poitier Agreed To Be In The Heat Of The Night Only After One Major Change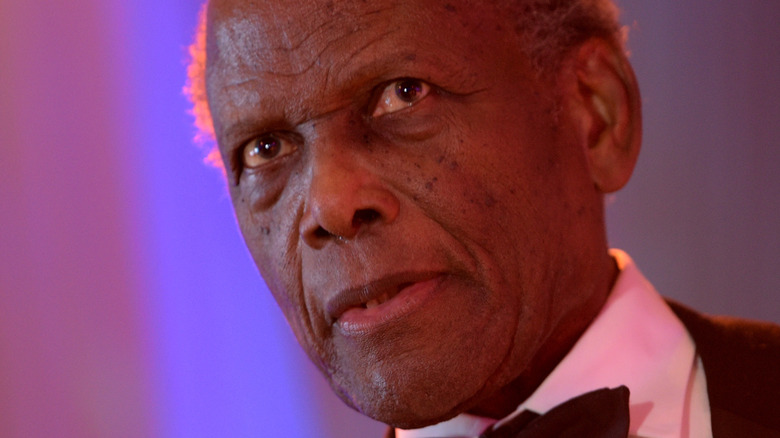 Jason Kempin/Getty Images
Sidney Poitier was one of the most important actors of his generation. The pioneering performer was one of the first major black stars to break into mainstream success during and after the Civil Rights era of the 1960s and was also the first black actor to win the Academy Award for Best Actor. On top of these notable achievements, Poitier was also a diplomat, activist, and director.
Still, one of the actor's most famous and recognizable roles is that of Virgil Tibbs in Norman Jewison's "In the Heat of the Night," per IMDb. Adapted from the novel of the same name by John Ball, the film follows a homicide detective arrested in the south simply for being a black man at a train platform in Sparta, Mississippi. Despite this indignity, Tibbs decides to stay in town to help the local police department find the killer. Though the part is easily among the star's most iconic performances, Poitier would only agree to take on the role after a critical change was made to the script.
Poitier insisted that Tibbs defend himself in a key scene
Virgil Tibbs speaks to many of Sparta's residents throughout "In the Heat of the Night," most don't take his questioning very kindly, despite his cordial and professional demeanor. The worst of these reactions comes from Mr. Endicott (Larry Gates), who slaps Tibbs for even having the audacity to question him in a murder case. Though the original script had Tibbs keeping his cool after the assault, Sidney Poitier thought that was the wrong message to send at the time. "If [Endicott] slaps me, I'm going to slap him back," Poitier recalled in a 2013 interview with CBS. "You will put on paper that the studio agrees that the film will be shown nowhere in the world with me standing there taking the slap."
Poitier knew his kind of cache and talent as a performer, and the studio agreed to his demands. "I knew that I would have been insulting every Black person in the world," Poitier went on. Considering the many racially charged issues that were raging during the 1960s and how "In the Heat of the Night" challenged black stereotypes and racism so directly, it's easy to see Poitier's point and why he wanted to change the message in the scene from being docile to standing up for what's right. Since the film would go on to win Poitier an Oscar for best actor and the best picture trophy, most audiences were more than happy to see Tibbs give Endicott a taste of his own medicine.