Cobra Kai Season 5 Confirms The Staggering Power Difference Between Daniel LaRusso And Terry Silver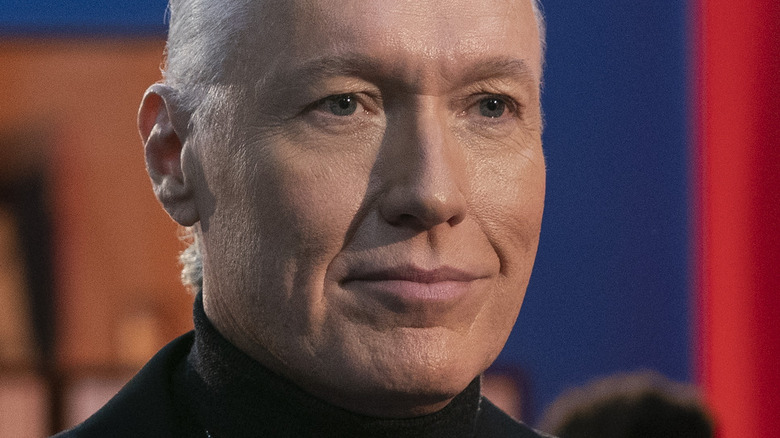 Curtis Bonds Baker/Netflix
Contains spoilers for "Cobra Kai" Season 5
As the overall central character of the decades-spanning Miyagi-verse, Daniel LaRusso (Ralph Macchio) has battled a whole bunch of antagonists over the course of the years. From Johnny Lawrence (William Zabka) to Chozen Toguchi (Yuji Okumoto) and Mike Barnes (Sean Kanan), Daniel's ever-growing array of secret techniques has vanquished enemy after enemy. Even villainous sensei John Kreese (Martin Kove) gets a taste of the original Karate Kid's most recent moves in "Cobra Kai" Season 3. 
However, there's one notable enemy Daniel hasn't been able to defeat in one-on-one combat: "The Karate Kid Part III" villain Terry Silver (Thomas Ian Griffith), the dangerous millionaire with plans to expand Cobra Kai and bring its ruthless ideology to the masses. Since Terry is the big bad of "Cobra Kai" Season 5, the season finally gives us the Silver-LaRusso fight that has been a long time coming — and when they face off, it's clear that their power difference is downright staggering.
Terry Silver dominates Daniel in their big Episode 5 fight
In Episode 5, Daniel heads back to Stingray's (Paul Walter Hauser) house to make amends for threatening him and breaking his PlayStation 5. However, Terry has found out about Daniel's exploits, and awaits in the empty house. After a tense face-off, the two finally engage in physical combat, and viewers get to find out if Daniel can beat Terry Silver. Unfortunately for Daniel, the answer is: Nope. He can't. At all. 
Much like Terry has systematically destroyed all of Daniel's careful plans, he now beats up the Miyagi-do sensei with great ease, sending Daniel flying with powerful strikes and almost gleefully blocking the majority of the younger man's attempts at offense. Granted, it's not exactly a flawless victory, and Daniel is in an extremely disheveled state of mind during the fight, which no doubt impacts his performance. Still, a devastating loss is a devastating loss. 
Daniel eventually gets a rematch in Episode 10, and manages to beats Terry — with a crane kick, no less. However, this time Terry's at a significant disadvantage, since Daniel is coming in fresh, and Terry has already been beaten six ways to Sunday by Chozen. As such, it remains unclear just how a fight between Daniel and Terry would go if the playing field was truly level ... but judging by the Episode 5 fight, the odds certainly aren't favoring Daniel.