It's Time To Talk About That Terry Silver Scene In Cobra Kai Season 4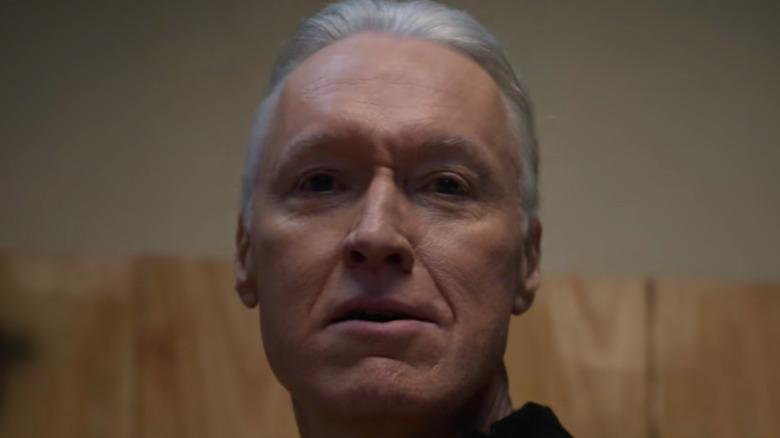 Netflix
The Season 4 introduction of Terry Silver (Thomas Ian Griffith) welcomes yet another classic character of the original "Karate Kid" franchise to "Cobra Kai." Though Silver previously only appeared in "The Karate Kid Part III,' the importance of Silver's role in the lives of Daniel LaRusso (Ralph Macchio), Johnny Lawrence (William Zabka), and John Kreese (Martin Kove) cannot be understated. 
One of the original founders of the first Cobra Kai dojo, Silver's close relationship with Kreese goes all the way back to the karate-teaching duo's days in the Vietnam War. As shown during flashbacks in "Cobra Kai" Season 3, Kreese saved Silver's life in the war and the latter has sought to repay his debt to Kreese for decades (sort of like a super intense and rather odd Forrest Gump/Lieutenant Dan relationship, if you think about it). However, Silver and Kreese's relationship sours throughout Season 4 culminating in multiple betrayals, both of which shock Kreese to his core and seem to leave him with few options. 
Let's take a closer look at the scene that changed everything for "Cobra Kai."
Kreese rejects Stingray, but Silver offers him a deal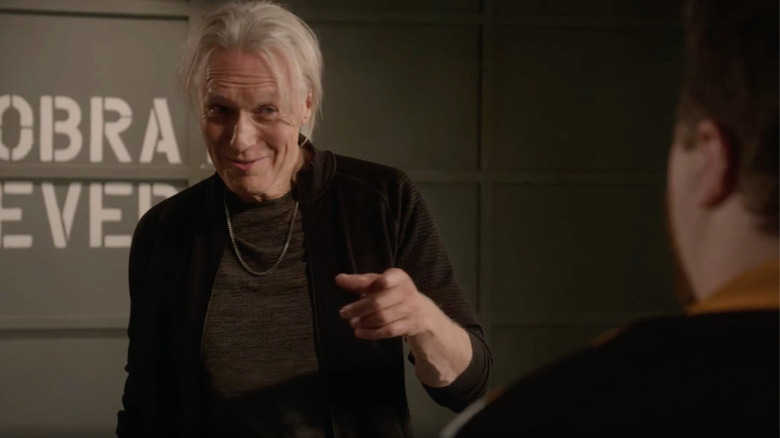 Netflix
Paul Walter Hauser's Stingray is probably one of the more ridiculous characters in the history of the Miyagi-verse, but he's also one of the most popular. His absence in Season 3 caused many fans to question where he had disappeared to at the end of Season 2. Though Stingray submits an application to work as a school security guard and definitely takes an active role in the massive fight between Cobra Kai and Miyagi-Do, his job application is summarily rejected and he is never officially hired in any capacity. In the aftermath of his fight with multiple youngsters, he is said to be on probation and not allowed within 500 feet of any child. 
However, Stingray returns in Season 4, Episode 8 ("Party Time") and is ready to annoy his neighbors and rejoin his Cobra Kai compadres. Sadly, Kreese and Silver are not nearly as welcoming to Stingray as Johnny once was. After Stingray strolls into the dojo with a friendly "Wazzup," Kreese tells him he is "a buffoon, a joker, [and] an embarrassment," adding "You have no value here" and "You will never be Cobra Kai." Silver remains alarmingly quiet during Kreese and Stingray's exchange, but is sure to take special note of the disappointment on the latter's face as he exits the dojo. 
In an effort to plead his case once more, Stingray later returns to the Cobra Kai dojo and discovers Silver in a drunken-and-enraged state. After Stingray insists that he will prove himself, Silver attacks him and proceeds to severely beat him. However, not everything is as it seems. 
Stingray betrays Kreese for Silver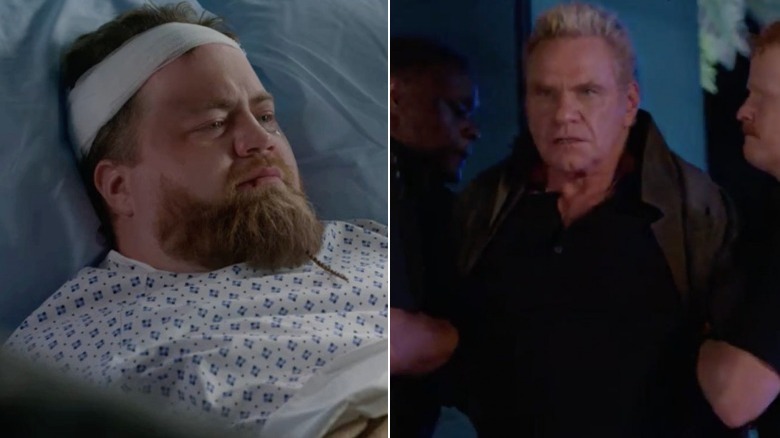 Netflix
In the opening moments of Season 4, Episode 10 ("The Rise"), Stingray is shown lying in a hospital bed as he recovers from his fight with Silver. As he awakens, a nurse tells a colleague to alert a detective that he is awake. While Stingray's condition seems dire, we don't see him again until near the end of the episode when it is revealed that Silver is using Stingray in an effort to take Cobra Kai away from Kreese.
Just as officers arrive to arrest a clearly confused Kreese, a flashback shows Stingray consulting with a detective assigned to investigate his assault. As Stingray considers his options, a volley of short cuts show Silver offering Stingray the opportunity to truly prove himself as a dedicated member of Cobra Kai. "I'll make you Cobra Kai," Silver tells Stingray. "But you've got to do something for me." In tears, Stingray agrees and reports to the detective that his attacker was actually Kreese, not Silver.
Silver and Stingray's partnership results in the sudden arrest of Kreese, leaving a definite power vacuum at Cobra Kai as Silver accedes to the leading Sensei of the dojo. When "Cobra Kai" returns for Season 5, Silver's troubling tendency to manipulate his students is sure to lead plenty of troubled teens down a difficult path.