The Only Modern Family Cast Member Sofia Vergara Had A Beef With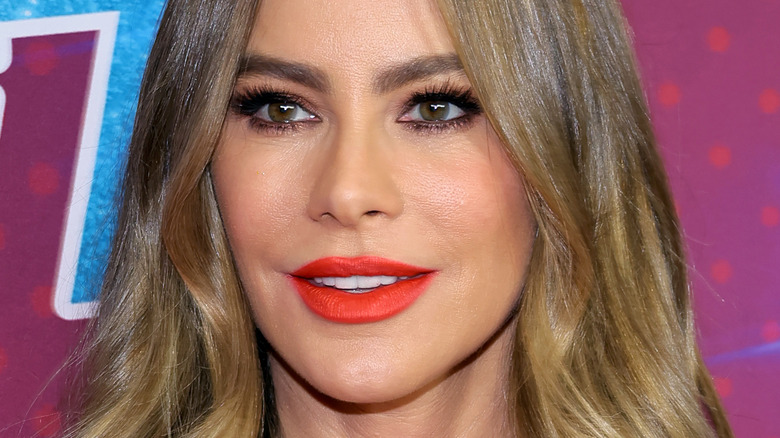 Amy Sussman/Getty Images
Starring as suburban homemaker Gloria Delgado-Pritchett on all 11 seasons of ABC's reliably hilarious sitcom "Modern Family," Sofia Vergara spent much of her time in the company of her co-stars and crew on the series. With this much shared, up-close-and-personal time together on the set of the show, it's entirely reasonable to expect that she developed a variety of intense relationships with her fellow performers since the very first episode — some friendly and respectful, others not so much.
In the case of her on-screen hubby Jay Pritchett (Ed O'Neill) for instance, Vergara was quick to sing the actor's praises, saying that O'Neill is a consummate pro and that the two of them got along exceptionally well during their time making the show. During an episode of Rob Lowe's "Literally" podcast, the actress declared at the 21-minute mark, "It was so amazing, in 11 years, we didn't even have one disagreement." She then went on to add, "He never annoyed me. We tried to do our thing and go home. We didn't like drama," she explained, admitting that they both made sure to be prepared for the show. 
So, if O'Neill was an ideal castmate to spend time with, which particular performer on "Modern Family" really got Vergara's hackles up?
One diminutive Modern Family cast member rubs Vergara the wrong way
As it turns out, the one member of the "Modern Family" ensemble who Sofia Vergara finds it hard to tolerate is none other than Stella, the Pritchett clan's French bulldog.  And the truth is, Vergara isn't required to do much acting to make her true, less-than-adoring feelings about the little dog look convincing.
As reported by People, Vergara revealed her no-Stella-for-me attitude while attending the 2012 PaleyFest, a yearly TV festival held in Los Angeles. After some kidding from series creator Steven Levitan about her harsh feelings toward the animal, Vergara responded, "It's not that I hate the dog! It's that I'm not used to having a little dog on top of me licking." The actress then explained that her reaction wasn't directed at Stella per se, but was simply due to the fact that in her home country of Colombia, people have their own way of relating to the dogs in their lives. In her country, Vergara continued, the dogs are generally kept outside in the yard and they also sleep out there. "They don't go into your bed," she noted, adding, "It's a different thing." 
The sad truth, however, is that Beatrice, the second canine actor to give Gloria fits as Stella, passed away shortly after the final "Modern Family" episode was completed (per The Blast).