Modern Family Funniest Moments Ranked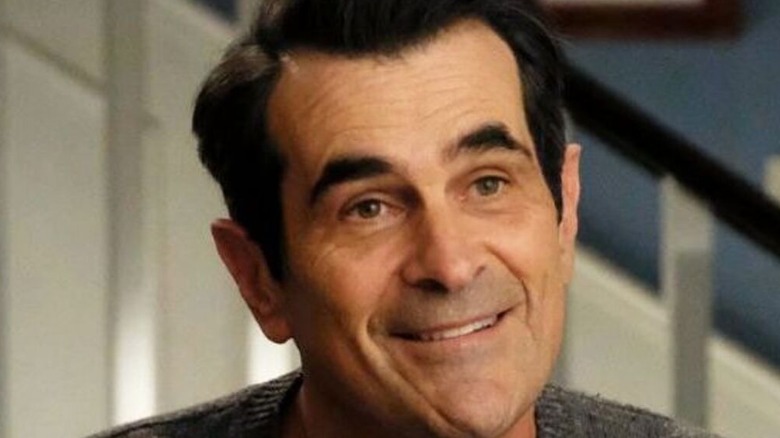 20th Television
The Dunphys, the Pritchetts, and the Tucker-Pritchetts are three very different households, all living close to each other in the Los Angeles area. Phil (Ty Burrell) and Claire Dunphy (Julie Bowen) are the head of a nuclear family. Claire's father Jay Pritchett (Ed O'Neill) started a blended family with Gloria (Sofia Vergara), while Jay's son/Claire's brother Mitchell Pritchett (Jesse Tyler Ferguson) is in a same-sex relationship with Cameron Tucker (Eric Stonestreet). 
Together, the three very different family groups face the challenges of raising a new generation of kids, and the issues that arise due to a difference in generations and cultures. "Modern Family" was created by Christopher Lloyd and Steven Levitan for the American Broadcasting Company. It ran for eleven seasons, from September 23, 2009, to April 8, 2020. During its run, the show picked up a total of 22 Emmy awards from 75 nominations, also winning the Golden Globe Award for Best Television Series – Musical or Comedy in 2011.
Filmed in the style of a mockumentary, "Modern Family" was praised for its ability to combine grounded humor with genuinely touching moments and pathos. Over the years, the series has provided audiences with some delightfully humorous moments. Here are 14 of the funniest scenes from "Modern Family."
Manny backs up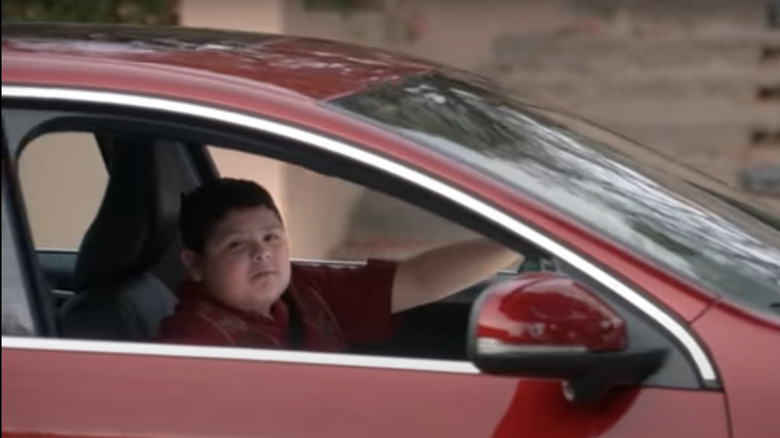 20th Television
Manny Delgado (Rico Rodriguez) is Jay and Gloria's precocious son who has a preoccupation with girls (which became a bit annoying by later seasons). Often, Manny relies on his romantic nature and love for poetry to impress the opposite sex. But one time, in "Virgin Territory" (Season 3, Episode 16), Manny decided to experiment with more of a "bad boy" vibe. 
The story starts when Manny becomes concerned that he is growing up, and can no longer depend on his cuteness to impress others. This opens Manny up to a bit of an existential crisis, as he wonders whether a more grown-up approach to impressing girls might now be required. To test the hypothesis, Manny drives Cam's car to the house of a girl he likes.  
At first, the plan works well. Manny coolly drives the car by the front of the girl's house, and she watches him with open surprise. Unfortunately, Manny could not find space to turn the car around, and is forced to drive back in reverse. This time, the surprise on the girl's face is hilariously contrasted with Manny's embarrassed expression. 
Phi is a "cool dad"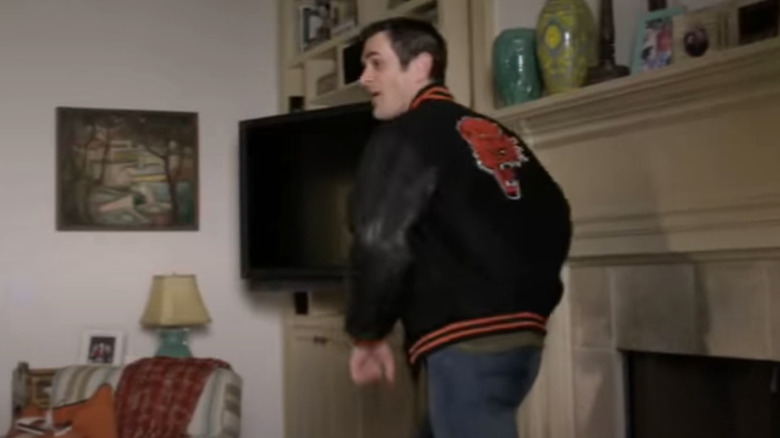 20th Television
Phil Dunphy was a breakout character in "Modern Family" right from his introductory scene in the first episode of the series, when he introduced himself to the audience as a "cool dad." To back up his "cool cred," he pointed to his ability to "surf" the web, his ease with texting in acronyms, and the fact that he knows all the dances from "High School Musical."
In the pilot, the next shot is of Phil dancing to the movie's songs in full costume in front of his children, clearly less impressed with Phil's moves than he realizes. In that short sequence, the audience gets a very clear picture of Phil as a father who believes in being a peer to his children rather than trying to be their superior.
This initial impression of Phil as a sweet-natured man trying his best to relate to his children remained a cornerstone of "Modern Family" over the years. Phil may not always stick the landing with his dances to teen bop movies — and his children might not always appreciate his efforts — but even when he fails he does so with flair, and with the best interests of his children at heart. 
Lily gets locked in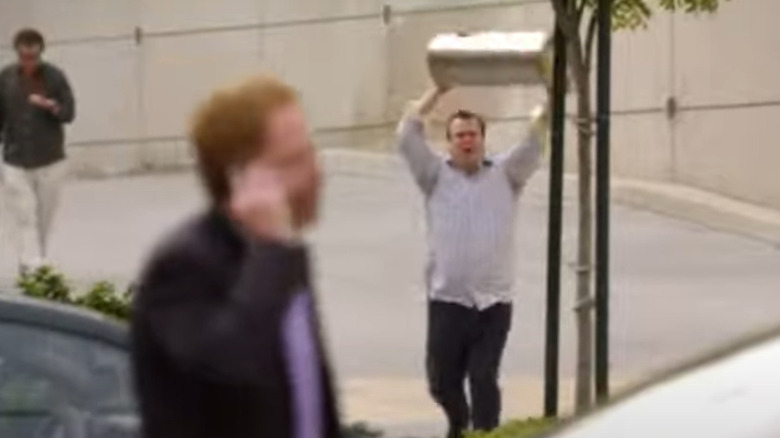 20th Television
Just as Phil got the perfect introductory scene for his character, Mitchell and Cam also had a scene that perfectly encapsulated their shared dynamic in "Run For Your Wife" (Season 1, Episode 6). After worrying all day about the safety of their adopted daughter Lily (Ella & Jaden Hiller ), Cam and Mitch were horrified when they accidentally locked her inside their car. 
Immediately, the two dads reach panic mode and we see their base personalities emerge. Mitch tries to calm Lily down by singing a lullaby even though she is the only calm one in the situation. Meanwhile, Cam is looking around hysterically for help while telling Mitch that people get arrested for doing something like this.
When we return to the scene some time later, things have only escalated. Cameron has given over fully to hysterics and intends to smash their car window open with a trash can. Meanwhile, Mitchell is on the phone with emergency aid, and one of the first things he tells them is "We locked our baby in our car and people are judging us." Thankfully the person on the phone is able to unlock the car remotely, and the mini-crisis is averted before it can escalate further.
Saying goodbye to a car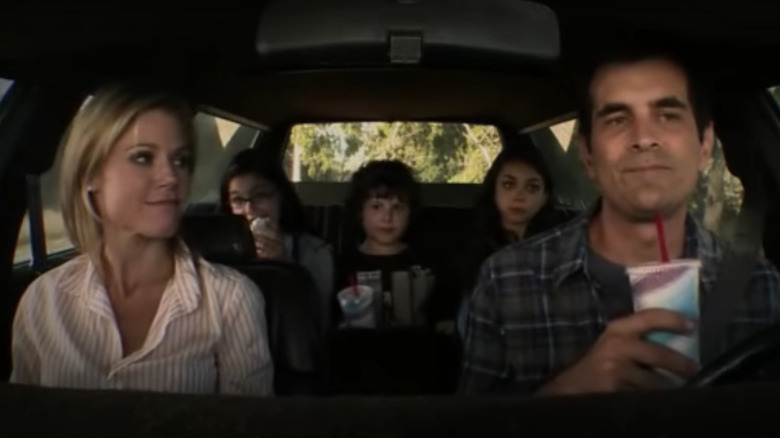 20th Television
Most of the time, Claire Dunphy believes in being practical rather than emotional. But while clearing out their house's junk, Claire gets unexpectedly sentimental over the prospect of selling the family car in "The Old Wagon" (Season 2, Episode 1), re-connecting with all the memories made in the vehicle.
To take her mind to a happier place, Phil arranges for the whole family to take one last ride before they sell it. Things start out well at first, but then the negative side of being in a family vehicle with the full family emerges. Luke (Nolan Gould) starts to feel sick from eating too much. Haley (Sarah Hyland) keeps kicking Phil in the front seat in hopes of dislodging an errant spider. The door jams as they are trying to exit the car. 
When they do manage to get out, the family vehicle begins rolling downhill (how's that for symbolism?). Phil heroically, ill-advisedly stops the vehicle by throwing himself onto the bumper, leading Claire to exclaim, "What's the plan, Phil?" In the end, the car gets trashed, but the family gets one last memorable evening to remember it by, as they trudge home on foot.  
Teaching Haley to drive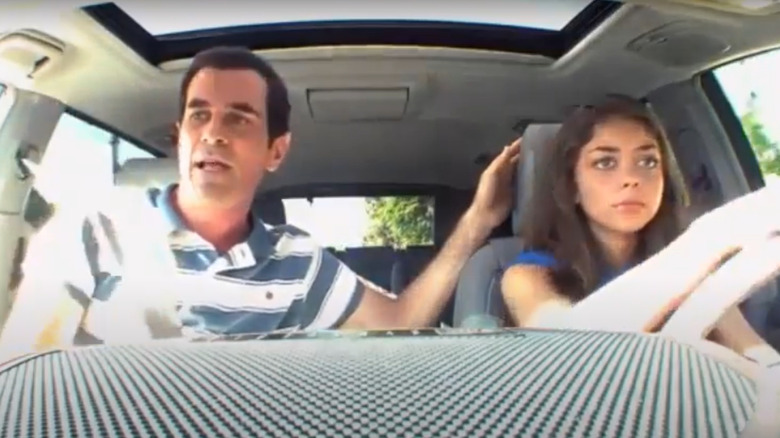 20th Television
Haley was the self-absorbed, scatter-brained eldest daughter of Claire and Phil, who wanted to learn how to drive. Unfortunately, Haley's desires did not line up with her abilities, as Phil and Claire learned the hard way when they attempted to teach her driving in "Run For Your Wife" (Season 1, Episode 6).
We see scenes from various days when Claire took Haley out for a spin. With Haley at the wheel, Claire's anxieties are dialed up to 11, and the two end up screaming at each other the whole time. With Phil, things are a little bit calmer... until Phil he Haley drove them into the park and screams, "Away from the kids!"
In the end, it appears Haley has gotten the hang of the whole "driving" thing ... until a cop car signals them to stop. Instead, Haley guns the car forward faster with the whole family in it, saying she doesn't like cops. Even as Claire tries to make Haley stop, Phil eggs her on while he reveals he has not paid a parking ticket. The scene ends with Haley assuring everyone hysterically, "I can outrun them," while they start panicking together.
Cam and Mitch try to be diverse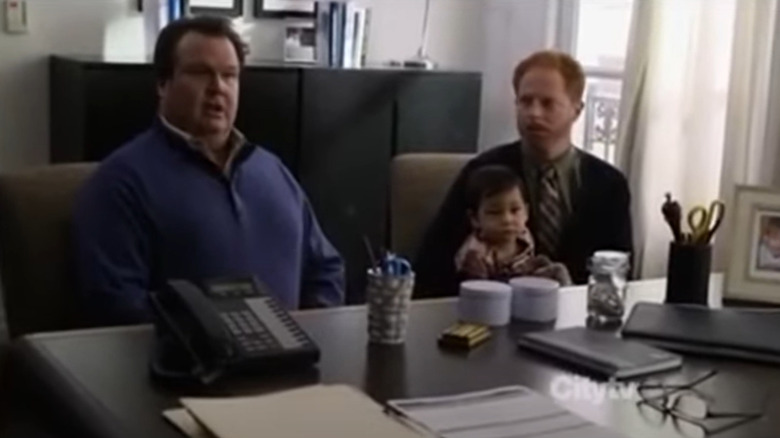 20th Television
Being a same-sex couple with an adopted Vietnamese daughter has often proven challenging for Cam and Mitch. But there was one time that the duo thought their circumstances could put them at an advantage: helping get Lily into a good preschool in "Unplugged" (Season 2, Episode 5).
After learning that the prestigious preschool they hope to get Lily into greatly values diversity, Cam and Mitch feel they have the thing in the bag. Unfortunately, they notice that one of the other candidates is a family that consists of "disabled interracial lesbians with an African kicker," who might be able to out-diverse them. 
Panicking, Cameron tries to pass himself off as a native Indian, claiming, "Well, my white-man name is Tucker. I am 1/16 Cherokee. Ready for child to soar like eagle." Cameron tries to keep up the charade for several excruciating moments, while Mitchell can only sit next to him twisting in embarrassment. Needless to say, the ruse does not work.
The secret alliance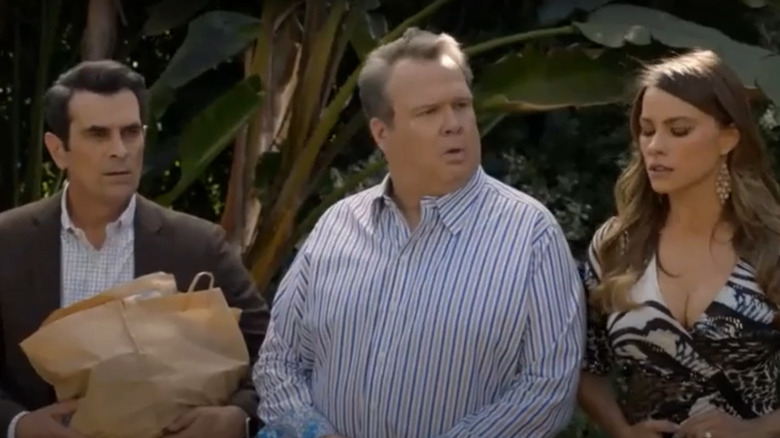 20th Television
It has been repeatedly pointed out throughout the series that it is not an easy thing to be married into Jay's family. Luckily, Phil, Gloria, and Cameron have each other to depend on. The three even formed a secret coalition, first showcased in the fittingly-titled episode "The Alliance" (Season 8, Episode 8).
It turns out that the members of the alliance are tired of their judgmental spouses, and formed the group to dispose of their mistakes before Claire, Jay, or Mitch find out about them. To that effect, Phil and his cohorts embark on a secret escapade to hide a reindeer Phil bought for Christmas, remove the Russian brothers squatting in the apartment above Cam and Mitch's, and locate Stella's electric collar before Jay sees it. 
The entire escapade plays like a hilarious parody of a heist movie, complete with confused Russian mobsters, Phil getting electrocuted yet again, and Claire, Mitch, and Jay trying to uncover the grand conspiracy that centers around the code word "orange juice." 
Chaos at the Dunphys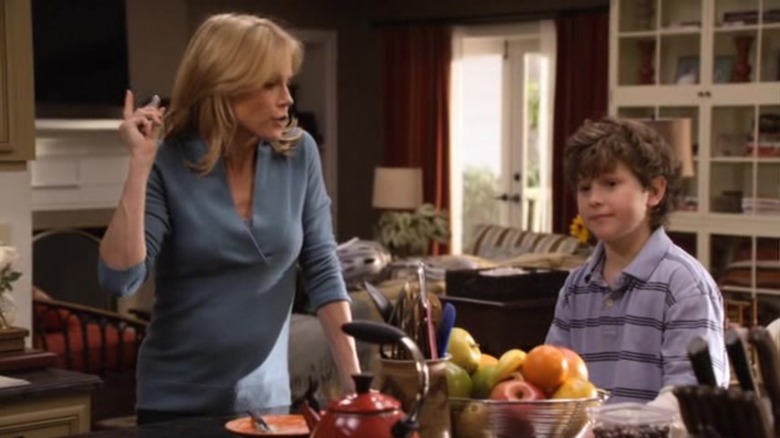 20th Television
Phil and Claire's household is generally considered the most "traditional" representation of a family unit on "Modern Family." Naturally, when Cam and Mitchell were looking for prospective godparents to take care of Lily in the event of their passing, it was one of the first houses they visited. But the scene that met them in "Someone to Watch Over Lily" (Season 2, Episode 20) was anything but reassuring.
Cam and Mitch arrive to the sound of crockery breaking while Haley screams at Claire, "You win the award for worst mother ever!" Phil has somehow managed to set the frying pan on fire, and is so preoccupied with the issue that he does not notice Luke trying to learn juggling with knives. Meanwhile, no one has noticed that Alex (Ariel Winter) was trapped in the garage for 20 minutes, screaming for help.
When Mitchell tactfully asks if they came at a bad time, Claire bitterly tells him "Come back in seven years and five months, when they're all gone!" It's clear that such chaos is the norm rather than the exception in the Dunphy household, so Cam and Mitchell beat a hasty retreat before things could escalate any further. 
Phil's "favorite" artist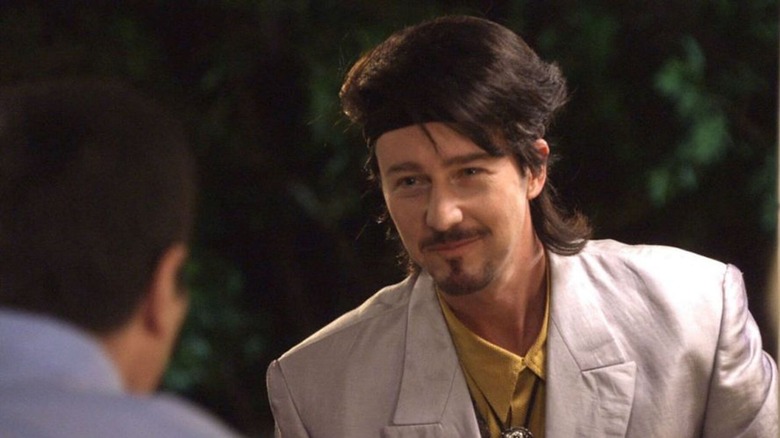 20th Television
It has long been established that Phil is the romantic one in his relationship. So, on their anniversary, Claire is determined to pay Phil back for all his thoughtful gifts over the years by hiring his favorite musician, Izzy LaFontaine (Edward Norton) to perform a private concert for them in "Great Expectations" (Season 1, Episode 8).
The only problem is, Phil has no idea who Izzy is, or why he is supposed to get excited over the guy being in their home. Still, Phil tries to appear excited for Claire's sake, even though he's not even sure he's pronouncing the name of Izzy's band correctly. While Claire looks on proudly, Phil has no choice but to attempt to sing along with Izzy's songs by making up lyrics and mumbling the words. 
The most adorable part is watching Claire's glee in finally giving Phil a gift he would treasure. Which makes things all the more heartbreakingly hilarious when she realizes Phil has no idea who Izzy is. Even though the gift does not end up working out, Claire and Phil do reaffirm their love for each other, and the whole thing ends on a positive note.   
Claire's election-losing team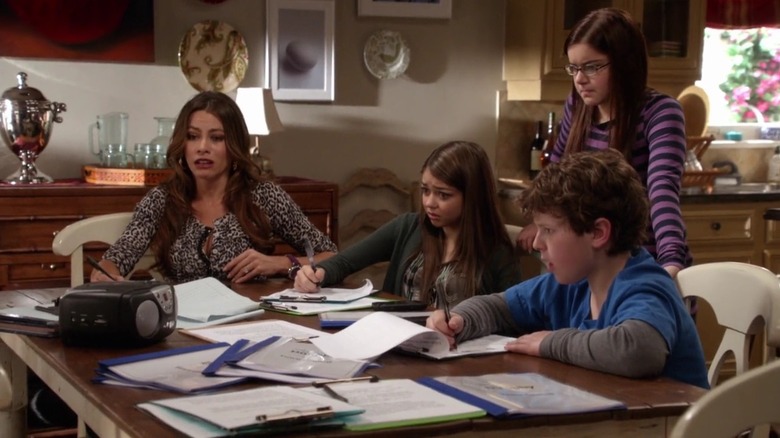 20th Television
After years of being a stay-at-home mother, Claire discovered a taste for politics when she decided to run for the office of town council in "Election Day" (Season 3, Episode 19). Although her extended family enthusiastically tries to help her, it is soon evident that a well-oiled electioneering team they are not. 
On the day of the polls, Cam and Mitchell drive around town with a loudspeaker, telling people to vote for Claire. But they soon get sidetracked when they discover that the loudspeaker lets them air their opinions on a number of petty subjects to a captive audience. Meanwhile, Phil has trouble getting one old neighbor to make it to the polls in time to vote. Gloria is unable to impress voters with her looks while calling to ask them to vote for Claire, and Jay is unable to vote due to a run-in with an old flame at the polling station.
In the end, Claire thanks her "election team" for their help that day. Cam and Mitchell privately state they probably did very little to help Claire, while Phil glumly admits he could only get one guy to the polls to vote. For his part, Jay is unsure he even voted at all.   
Phil turns strict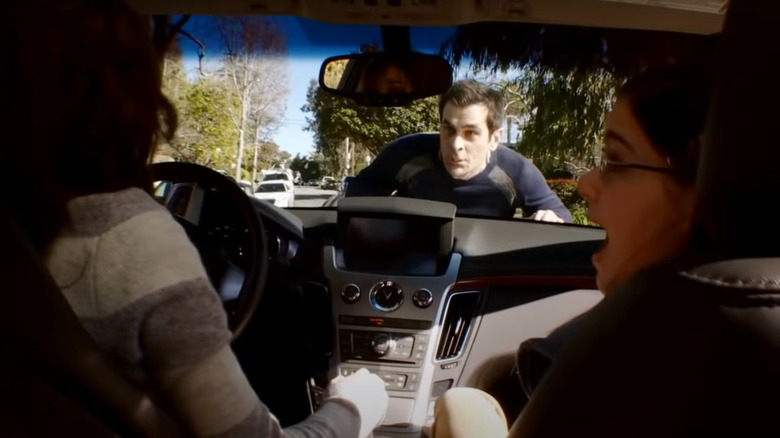 20th Television
It is generally understood that Phil is the fun, cool parental figure in the Dunphy house, while Claire is the strict disciplinary figure. This state of affairs does not always appear fair to Claire, and that is why in "Good Cop Bad Dog" (Season 2, Episode 22), she forces Phil to switch up their dynamic. 
While Claire takes Luke and Manny out for a day of "fun," Phil is charged with making sure Alex and Haley clean their bathroom. At first Phil tries his "nice" approach. But the girls end up taking advantage of him by doing a poor job. For once, Phil is legitimately, hilariously angry at his offspring. Taking a running start, he throws himself on the hood of Haley's car just as she and Alex are about to leave. The girls start screaming, but Phil yells back, "You poked the bear, girls!"
It turns out a strict Phil is much worse than Claire at her strictest. He forces them to clean the bathroom under his frowning gaze, and refuses to let them eat until the work is done. When Claire confronts Phil over the state of their daughters, he hisses at her. 
"They're monsters, Claire," he says. "Deceitful, manipulative monsters. And they need to be broken." In the end, both conclude that their family is not ready for Phil and Claire switching roles.
Jay's ex attacks Gloria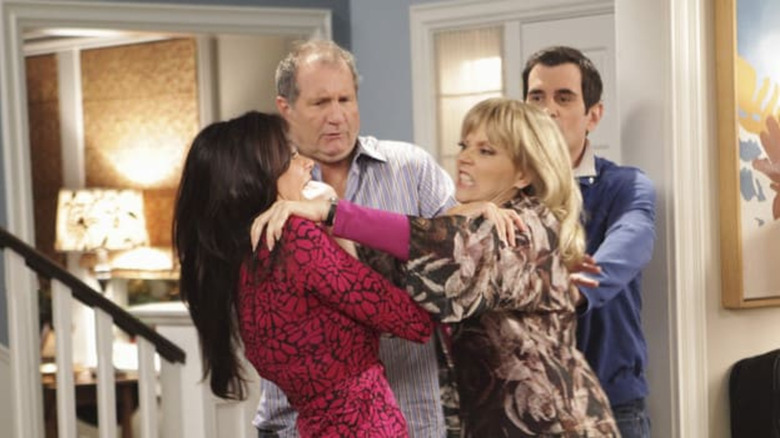 20th Television
It has long been a source of slight friction that both Jay and Gloria were married to other people before the start of the series. In the case of Jay, he was married to DeDe (Shelly Long), who still has a relationship with him and their kids. But DeDe's attitude towards Gloria is as far from welcoming as you can get.
In "The Incident" (Season 1, Episode 4), we find out that the bad blood between DeDe and Gloria began right from Jay and Gloria's wedding day. An inebriated DeDe was lifted and carried out of the reception while mimicking Gloria's accent with ""I'm Gloria!, I'm Gloria! Oh hey, kiss me, hey, kiss me," while destroying the wedding cake with her foot.
Although DeDe and Gloria tried to make up on a few later occasions, DeDe's insecurities always came to the fore. In the same episode, DeDe tried to make amends with Gloria, but ended up physically attacking her instead. Then in "Princess Party" (Season 2, Episode 15), she attacked Gloria physically yet again, this time prompted by fears of being reduced to the role of "crazy nana." Needless to say, the altercation did not help DeDe's cause.    
Phil'sosophy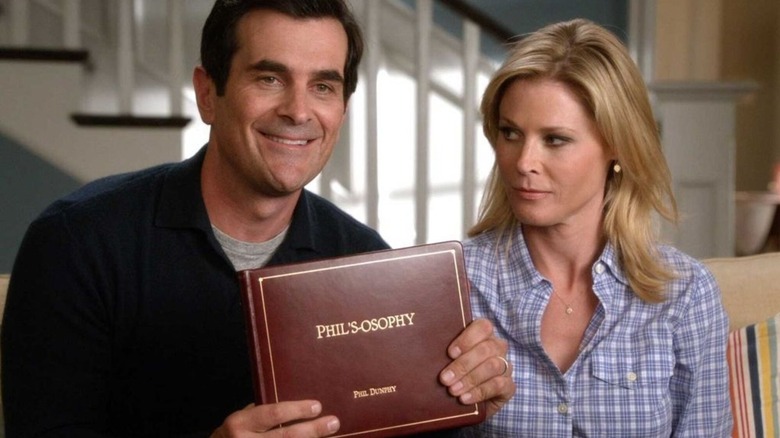 20th Television
Phil has always considered himself a bit of a renaissance man, and has taken up a number of hobbies and careers over the years; perhaps the strangest of these was as a philosopher. In "Schooled" (Season 4, Episode 2), when Haley is leaving for college, Phil hands her a book of his wisest sayings, gathered under the title "Phil'sosophy" 
Over the rest of the episode, the audience gets golden nuggets of Phil's wisdom from the book, such as "Always look people in the eye, even if they're blind." At the end of the episode, the other family members take turns reading quotes from the book, such as "You can tell a lot about a person from his biography," and "Watch a sunrise at least once a day." Perhaps the best one, however, might be: "When life gives you lemonade, make lemons. Life will be all like: 'What!?!'"
The best part is watching the characters do a double take as the full idiocy of each saying sinks in. Even though the quotes make Phil look much dumber than he actually is, it's sweet that he tried to prepare Haley for the real world by giving her the book. 
Phil gets trapped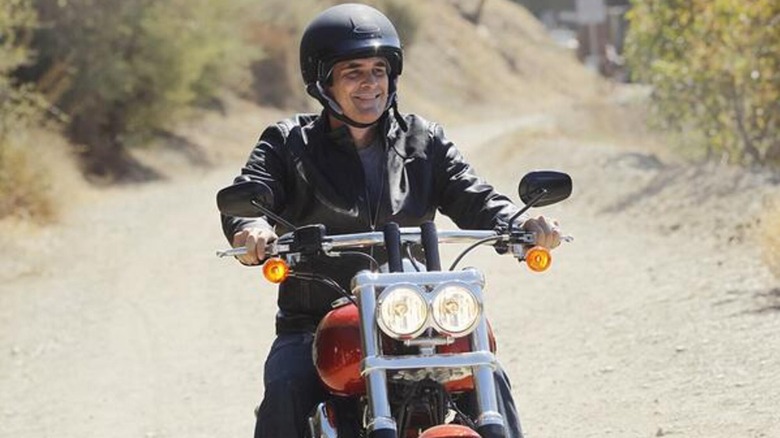 20th Television
While the cast of "Modern Family" shares an excellent chemistry, Phil is that rare character who can be hilarious without anyone else in the scene. Perhaps no better proof of this exists than in "Yard Sale" (Season 4, Episode 6), when he attempts to show Claire how much of a "man's man" he is by taking Jay's old Harley Davidson bike for a ride. In no time, the bike collapses on top of him and he manages to get himself trapped under it.
The entire unfortunate episode devolves into a "127 Hours"-type situation, one with Phil convinced he is going to die all alone under the bike. He composes messages to his family, tries cutting himself out of his jeans, (all the while regretting that he was not wearing his cutaway jeans), and finally manages to break away from the bike and return home to safety.
What makes all this so funny is Phil's ramblings while he is convinced death is approaching. He goes from crying over his fate to composing a playlist for the situation to telling his family to throw away his shoebox full of DVDs that he was "holding for a friend."